Dreamland Beach Bali
TIME : 2016/2/25 13:59:05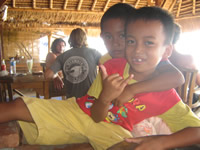 Dreamland is a white elephant, donated to the people of Bali by Tomy Suharto. Actually it wasn't really donated, it was grabbed, mangled, then taken back. Riding along Jl. Uluwatu on the Bukit, one passes a grand looking entrance complete with statute. A long 4 lane road takes you down towards the coast, passing construction that seems to be frozen in time. 'Is this place on the way up, or on the way down?' you might ask. When I arrived in Bali in 2003, the place was on the way down, with locals manning a barrier, demanding a fee from vehicles accessing the beach. They were replaced by soldiers, who themselves tried, on occasion, to get a fee. Yesterday it was the security staff of the new resort construction company, who waved at us as we sped past.

Before all this nonsense began, Dreamland was the biggest white-sand beach on the Bukit. The beach is still in good shape and there are maybe 20 warungs there too. Construction is in full swing, at the point on the 4-lane road that branches off to Dreamland beach. Devin and I had to ride through road construction, over slick mud and then down the heavily rutted slope to the parking area. It is possible to get bikes and cars down almost to the beach.

Around 4.30rp yesterday the tide was in and surfers were getting decent swell. "Definitely not a place for snorkeling," said Devin. Finding a shady warung, we slipped a soda each and admired the crashing wave in front of us. The scorching sun didn't entice me out onto the sand, although many tourists were making good use of it. Sunshades were available for hire also. Our drinks (diet Coke and a Sprite) cost 17,000rp.
Dreamland has a sandy bottom, the surf coming in rather flat, so this isn't a top notch surf break, but okay for beginners / intermediates, depending on the day. We watched 2 local kids aged around 6 dive into pumping surf with their body boards. Another 2 came over to us, laughing and checking us out.
Dreamland is a handy beach from people staying in Kuta. Driving time about 25 minutes.