Wayan: Waitress Kuta Bali
TIME : 2016/2/25 14:01:14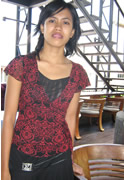 Interesting who you run into around Kuta. Today while checking out shops in Kuta, I walked past ESC, the 3 storey place across from Poppies Lane II. ESC is a 24 hour food place, which also has the Sky Lounge on the top deck for the late night party crowd. People have told me the food there is good, so I decided to try it. Walking in, customers were lining up at the front counter, and a voice said "hello Nick." Apart from the cute looking waitress, I didn't see anyone else around. Who called my name? After a 'double-take', I realized the little hottie in the red top and black skirt, was none other than little Wayan, who used to smile sweetly at the customers, at Kori Restaurant. She's been at ESC for a month or so, and told me the hours, 10am-6pm suit her more than working late night.

One wonders how the life of a Balinese local must be, stuck in an economy that isn't going anywhere. Most westerners get frustrated and downbeat, when they find themselves in a situation of working to stay alive and nothing more. Balinese seem to have a better outlook.
Wayan has has some other big changes lately, she learned to swim last week, in the pool behind the restaurant. She also broke up with her local boyfriend, who she said, was violent (showing me the broken finger and recalling black eyes). Funny old world we live in, and amazing what a bit of a change of scene can do. If Wayan lived in a western country, guys would be falling over each other to meet her. Every time I run into her, she ask me how I'm doing, how my baby is and how my brother Chris is (we all met when she worked at Galaxy in Seminyak).
Anyway I wish Wayan well, hope she finds the man of her dreams and is happy. She said she would like open a small shop near her village near Bedugal.