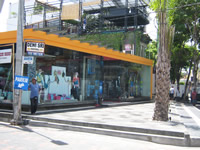 Taking a walk around the bombing site in Kuta, one will notice a recent addition to the stores on the street. The Station surf shop (formerly Aloha Surf) on the corner of Jl. Legian & Poppies II, now has another branch across the street. The new branch occupies the site of the old Paddy's which was destroyed by one of the bombs back in 2002. Some people were not happy about the site being used for commercial purposes, but what are you going to do? We live on a small island, with 3 million people, who will be 4 million in several years. The new Station does not have a sign outside, but the staff handed me a business card. The shop is open from 9am to 11pm.

The shop itself stocked only surfing accessories, the boards on display were not or sale. Looking around I saw that half the store was devoted to everything Quiksilver, the other half to Roxy, the women's accessory manufacturer.

Prices include:
Quiksilver Baseball Hat for 155,000rp
Quiksilver t-shirt for 315,000rp
Quiksilver large holdall for 1,300,000rp
Quiksilver daypack for 355,000rp
Quiksilver snakeskin belt for 349,000rp
Quiksilver casual black sneaker for 638,000rp
Quiksilver short -sleeve shirt for 365,000rp
Quiksilver flip-flops for 85,000rp
Quiksilver sun hat for 125,000rp
Quiksilver board shorts for 499,000rp
Roxy long women's khaki pants for 545,000rp
Roxy women's long sleeve t-shirt for 229,000rp
Roxy women's shoulder bag for 160,000rp
Across the street in the other Station branch you will find sunglasses, boards and more action oriented gear. Prices are non-negotiable.
The Station
Jl. Legian #56X
Kuta
Bali
(0361) 758286