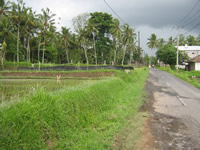 Friend's of mine from Oregon, recently visited me, here in Bali. During our time in Ubud, they elected to stay at the Pradha hotel, at the bottom of Jl. Kajeng, which is centrally located in downtown Ubud, next to the Royal Palace on Jl. Raya Ubud. Another friend is coming out on the 31st of this month, who also wants a few nights in the same hotel. Trouble was, the online rates were considerably higher than the 225,000rp we got. My friend asked me if I would go to Ubud, and try to get the same rates for her.
This afternoon in Seminyak it looked like rain, with a similar chance the sun would break through. Dressed in long pants, a long sleeve jogging shirt, gloves and shoes. On the way up to Ubud the conditions remained dry, but as I went exploring a bit, just to the north of Ubud, things got dark and wet very quickly. My silver plastic poncho, stashed under the seat came in handy, even if it has a giant rip in the neck.
Back on Jl. Raya, I popped into an internet cafe to check something, the rain picking up. Wearing my helmet, without the poncho, I sprinted over the road to Cafe Moka, for some respite and a tuna sandwich (Thon sandwich, foot long sub with egg, mayo, tuna, tomato, lettuce, and a pot of ginger tea was 30,000rp).
An hour later, the rain was still pouring, streets flowing with brown water. When it rains hard in Seminyak / Kuta, we get flooded streets, in Ubud, they get fast flowing streams of water rushing down certain streets.
The staff at Pradha remembered my friend Toby's daughter, 3 year old Maya. The 3 girls laughed and whooped, when I mentioned her. The price for a twin room for 2 people was $40. They came down to my price of 225,000rp in a matter of 1 minute.
Pradha isn't a super deluxe place, but it has a fantastic location, for someone looking to walk around town, enjoying the delights of Balinese dancing at night, shopping during the day and of course, the selection of restaurants.
Pradha
Jl. Kajeng #1
Ubud
Bali
(0361)975122