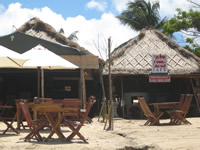 If something works, repeat it. This simply strategy has firmly taken root at Jimbaran Bay, where long ago, some bright spark thought grilling fish on the beach, might attract customers. Jimbaran Bay is now so firmly associated with grilled fish, that restaurants in Kuta, offer Seafood Jimbaran, on the menu. Ika told me there is even a grilled fish area in Semarang Java, that calls itself 'Jimbaran'. The seafood warungs are spread out in various areas. Just south of the fish market is a long section of warungs, including Sharkey's. Keep going south and you'll see parts of the beach that haven't been developed and have fishing boats. Down by Jl. Pemelisan Agung, is another tightly packed set of Warungs, including Roma Cafe.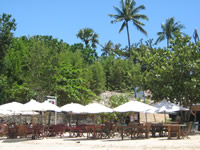 If you are travelling by car, this is where you'll have to turn back to the Jl. Raya Uluwatu, and loop around to the section of warungs close to the Four Seasons. People taking a taxi from Kuta / Seminyak have a choice. You can ask your taxi driver to wait for you while you enjoy grilled fish under the stars. You can call Bluebird (0361) 701111, or you can get dropped off here, and after dinner, walk out to Jl. Raya Uluwatu (the taxi drivers know 'the Big Tree', that stands there) where you will see taxis passing. Seafood at Jimbaran isn't the deal it once was. The raw ingredients (rice, fish, veg) are cheap, but you can end up spending 300,000rp for 2 with drinks. If you go to Jimbaran, you will have to choose the fish you want, before eating. They will quote you a price per kilo for prawns, lobster, squid, snapper, etc. Get the guy off to the side, away from other tourists and offer him 50%.
Don't be afraid to walk away, you have the power and plenty of choice. In my experience, all the warungs are doing virtually the same thing, offering the same seafood, with extras, condiments etc. For people on holiday, the experience of sitting under the stars, with hundreds of other people, plus the roving band, that hits you up for money, is part of the fun.