Bali Travel Guide – Things to Do
TIME : 2016/2/27 14:55:34

Things to Do



Blackie's seafood restaurant




Whilst at Jimbiran Bay if you like fresh seafood you must go to a restaurant on the beach (actually on the sand). There are about 40+ on the beach but then best one is the Intan Café. The owner is a Balinese nicknamed BLACKIE (actually on his business card), and he is married to a Sydney girl. He is a real character.

You chose your own fish (several varieties), lobster, calamari, etc. He supplies all salads and dips and again it is very reasonably priced. Beautiful sunsets and you are sitting on tables ten feet from the water's edge. Food and beer will cost about A$35 per head (expensive for Bali but so cheap actually).

Ring Blackie on his mobile 0818 352 931 and he will come and collect you at a pre-arranged time and bring you back again when you have finished your meal. Taxi drivers all have their own restaurants that pay them for bringing customers so make sure you are at Intan (they are all in a row anyway).
A must do is to take a Beemo to the Mother Temple. It is actually many hectares of temples the main one of which is the Mother Temple. This can be incorporated into a full day trip – say 9-5 and should cost you about 100,000 Rp for GEDE the Beemo driver. (Remember, an extra 10,000 Rp is only A$2!)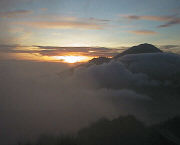 Mt Batur at sunrise



A trip to the Volcanoes would be a good day and could include an hour or two in Ubud which is a place worth seeing. GEDE takes regular groups on this trip. As above it would be a day trip at a cost of about 100,000 Rp ($20). If you were to use the organized tour companies to do this trip it would cost at least US$30 per person!! = A$90 total.

Ask Gede to take you on the Tanah Lot/Sunset trip. It's not far from Kuta and is enjoyable. Not sure what it would cost but probably about 80,000 Rp – Just barter hard!

Remember they will always start at a very high figure. Tell GEDE at the very first negotiation that you would like to use his services on a few occasions whilst you are in Bali and he has been strongly recommended and want his best price. He will still want to barter because that's the Balinese way, but you should do OK.

Restaurants
Poppies Restaurant
Western and Indonesian Cuisine. Regarded as one of Bali's best restaurants. A short taxi ride from the Padma Hotel and you will need to book ahead. Phone: 751-059.
LaLucciola Restaurant
Located on the beach with stunning sunsets while you eat (definitely worth being there for the sunset) and regarded as THE BEST restaurant in Bali. Very expensive – went there Jan '99 – 7 people A$146.00.

Must book ahead possibly a week – suggest you make a booking on your first day. Also a short taxi ride from the Padma Hotel. Phone 261-047.
Thai Restaurant & Bakery JL
Pura Bagus Taruna 523 Phone 753-573. This is a fifteen-minute walk from the Bali Padma Hotel or a very short taxi ride. Excellent food and prices are ridiculously cheap. We went there three times last year.
Intan Seafood Restaurant
Jimbiran Bay – See under "things to do" above.
Within the grounds of the Padma Hotel are five eating places:-

1. A Pizzeria near the pool – very nice.
2. Main Restaurant – also breakfast place.
3. Batavia Restaurant – near the pool. Higher quality, excellent prices.
4. Japanese restaurant near the pool – very nice but more expensive than the rest.
5. Coffee Lounge and Bar – snacks here for that little break in the afternoon with a drink.