Taking a 13-year old boy on a vacation anywhere can be a challenge. Originally Bryan was against the whole idea of visiting Japan, but warmed up when we included a visit to Akihabara so he could enjoy the anime scene watch all the other teens dressed up in strange costumes like their favorite characters. However, I wasn't sure how he would react to visiting Nikko for a day trip, the burial place of the first Tokugawa Shogun. But my husband Jeremy had his heart set on seeing it, so we included it on our itinerary.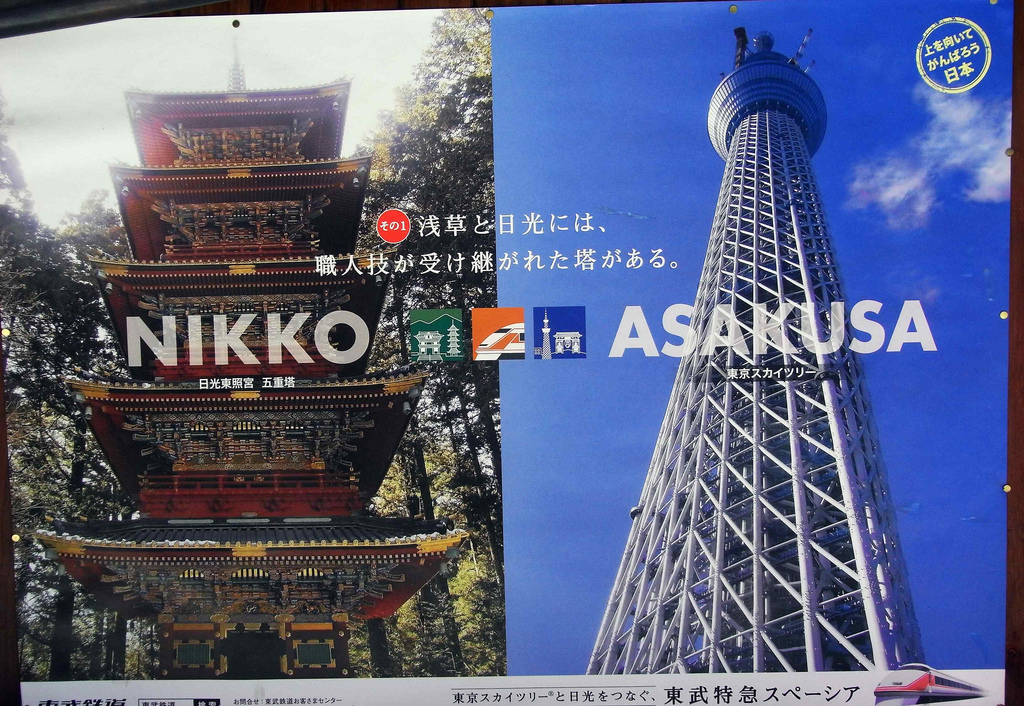 Fortunately Jeremy researched what to do in detail, so it was no problem taking the train from Asakusa into the mountains to the north. I had not realized how inured I had become to all the neon, concrete, and background noise of Tokyo until we were about an hour into the trip. The skyscrapers gave way to hills and valleys dotted with little villages of tile-roofed houses. People walked along narrow paths between flooded rice fields or rode tractors on small roads. Then the little towns gave way to the steep mountains covered with pine trees.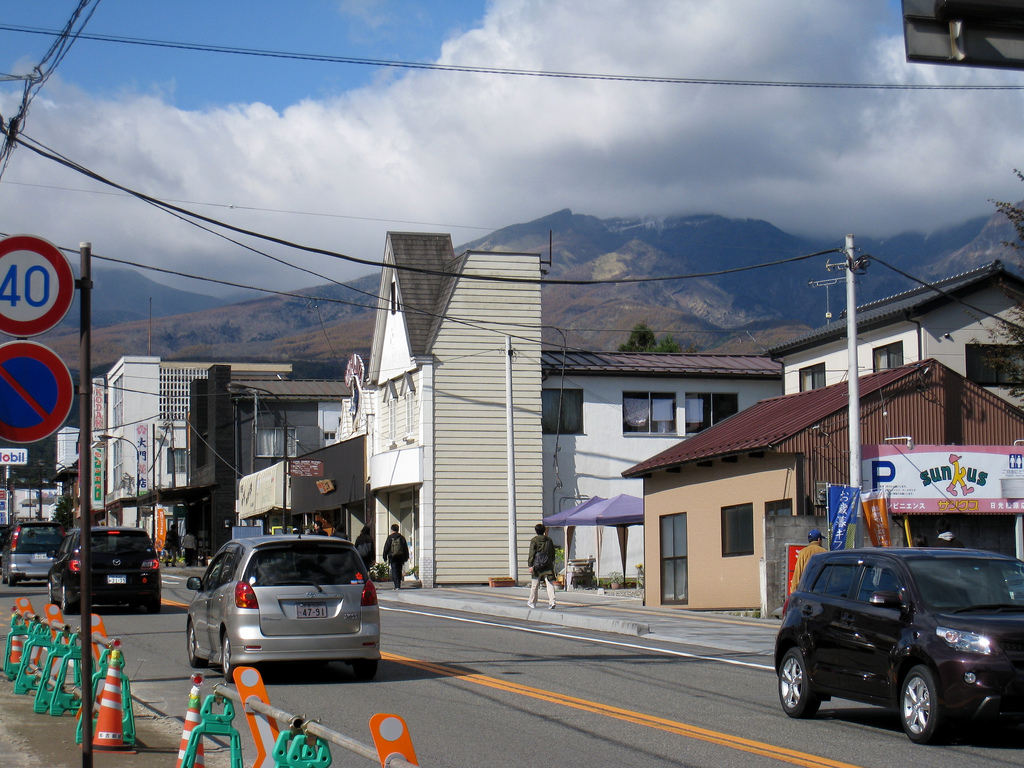 Nikko was a quaint little town with many shops and restaurants; I imagine all of its income comes from tourism. But that also means it was easy to get around. Jeremy wanted to eat when we arrived because he said that there would not be much food at the places we were going. He had picked out a restaurant on the main street called Yubatei Masudaya Restaurant that featured the local delicacy, yuba.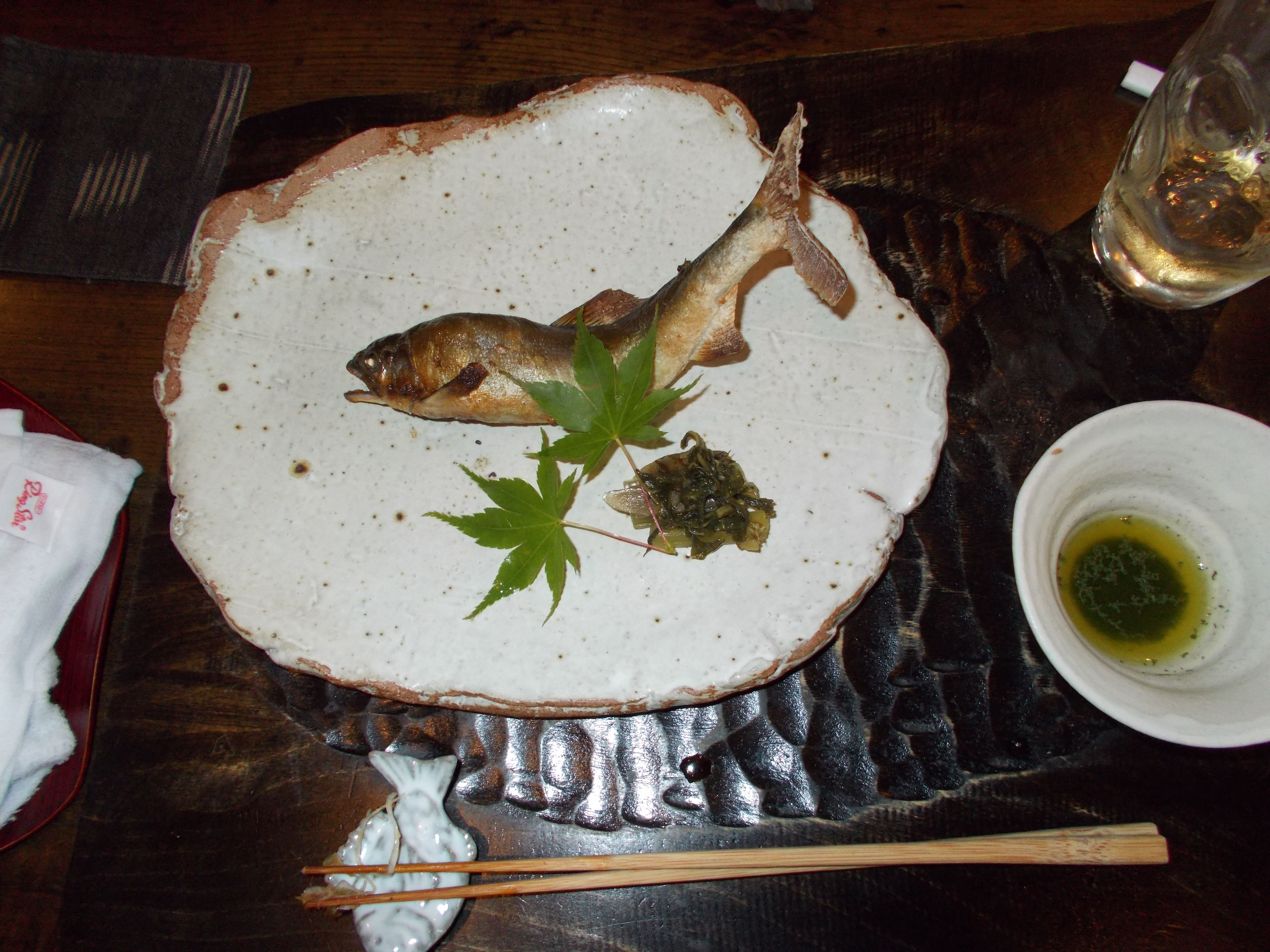 The yuba was strange, like soft rolled tofu. Jeremy really liked the deep-fried version, but I opted for yuba and soba noodles because of my diet. Actually, it was very good and I would be happy to eat more. Bryan refused to buy in to any of the health benefits and chose the trout cooked in salt. The salt caked around the fish while cooking, and was later broken off by the chef. Unfortunately it still had its head attached, with revolted Bryan. Then Jeremy pointed out the show-off value, and Bryan took multiple photos to send to his friends back home. Then we cut off the head, removed the innards, and Bryan grudgingly admitted that it was delicious. Apparently you are supposed to eat the innards, but he was happy to leave them behind.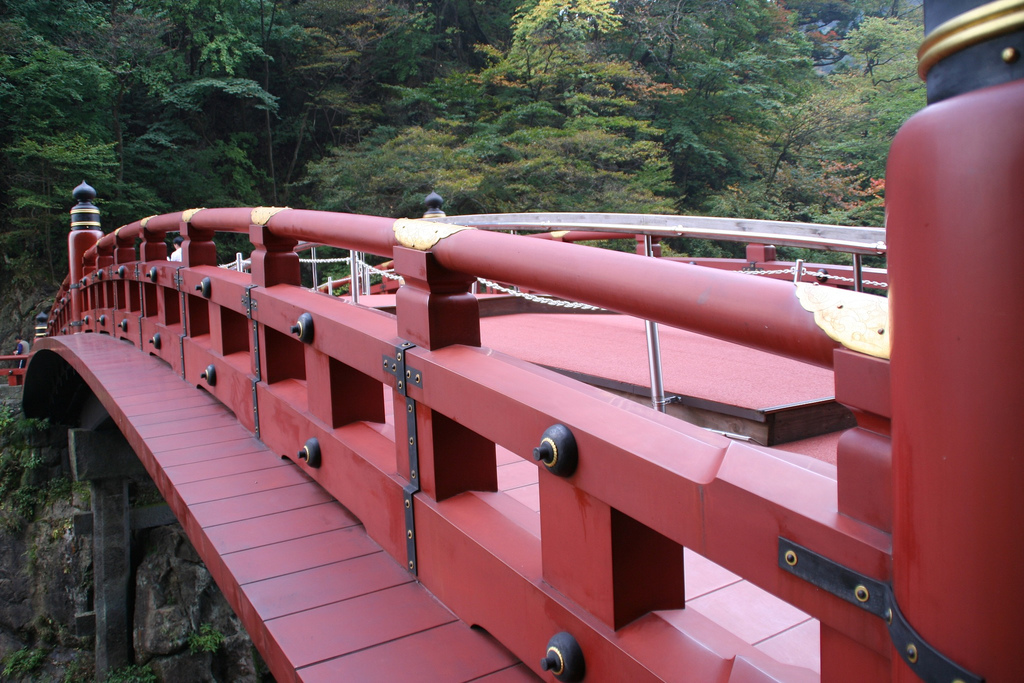 We then walked up the main street to the famous shrine area. I would have enjoyed browsing more in the little boutiques, but did not want to press anyone's patience. We went at a gentle pace and after about a half hour came to Shinkyo Bridge.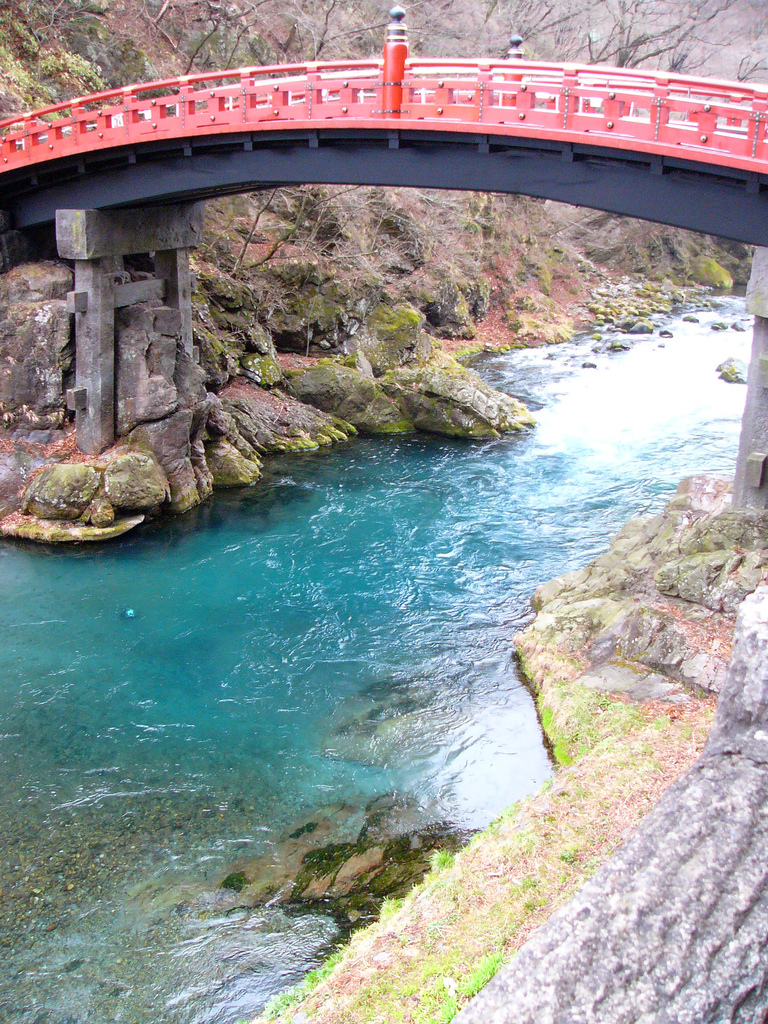 I had seen a lot of pictures of the bridge, and Bryan summed up our impressions well, "It is rather small, don't you think? I was imagining something more monumental, maybe over a chasm." It was beautiful, and the water of the stream was crystal clear. But instead of a raging river, it was a creek only a few yards wide. We decided not to spend the money to walk across it, and instead walked on to Rinno-ji temple, the next spot that Jeremy had decided we needed to see.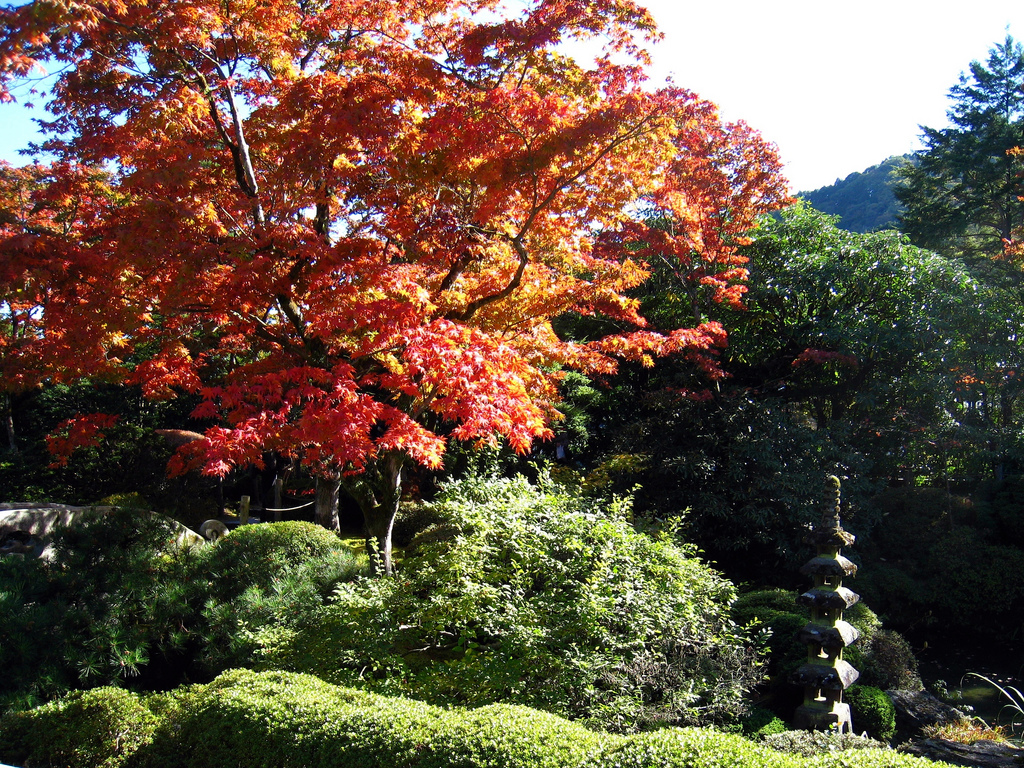 I must admit that I knew nothing about Rinno-ji before going, so maybe the fact that I was so impressed came from my lack of expectations. It was amazing. The main building was covered in scaffolding, but we could still go inside. The statues of Buddha seemed to glow with an inner light, the gold radiating subtly in the dimness. I was fascinated by a god with a horse head. The thousand-armed Kannon had us quite skeptical since there were definitely a lot less. Jeremy explained that he had read that there are 42 arms, two normal ones, and 40 that reach into the other worlds, and when all the planes of existence are multiplied out, there are 1,000 arms to help ease souls from suffering. Though there were crowds of tourists packed in the temple, it somehow felt very holy. Even Bryan was quiet and refrained from snide remarks. The incense was almost overpowering.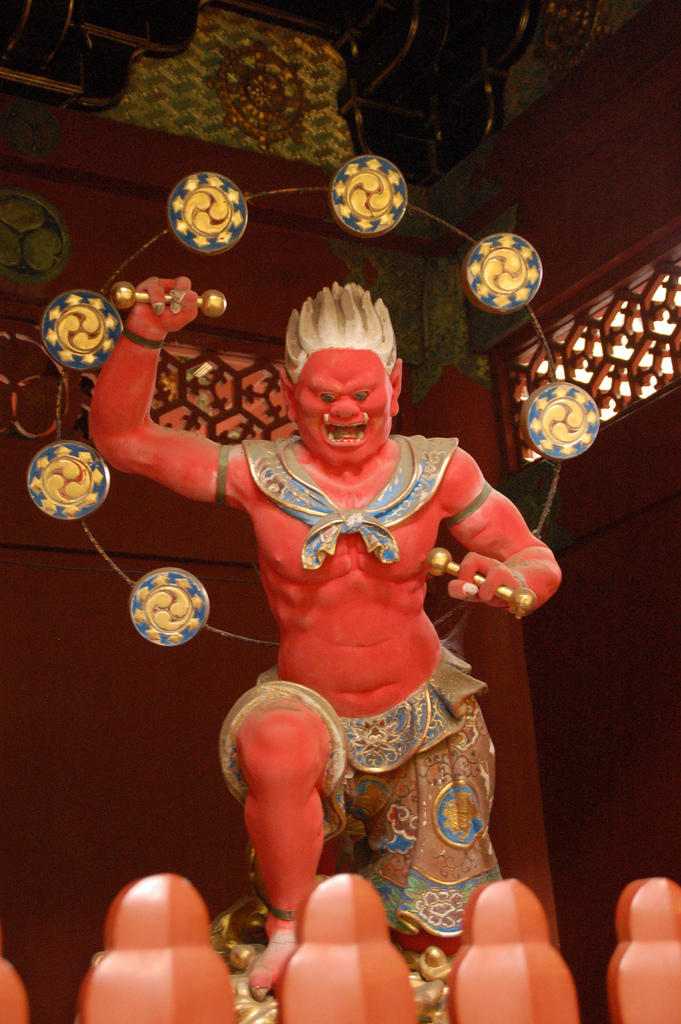 Blinking in the sunshine when we came out, we then went to the nearby garden. It was quite lovely, very much my image of a Japanese garden. There were rocks and trees and a pond, and many little shrubs and plants artfully arranged and beautifully pruned. It was a nice place to stroll and relax a bit.
            The garden ticket also allowed us into the museum. I was not as interested as the guys. They were most excited about the armor and weapons that belonged to generations of the Tokugawa clan. There was some pretty calligraphy on documents that turned out to be regular handwriting on various mundane messages. It was definitely more a place for history buffs than for a mom who likes shopping.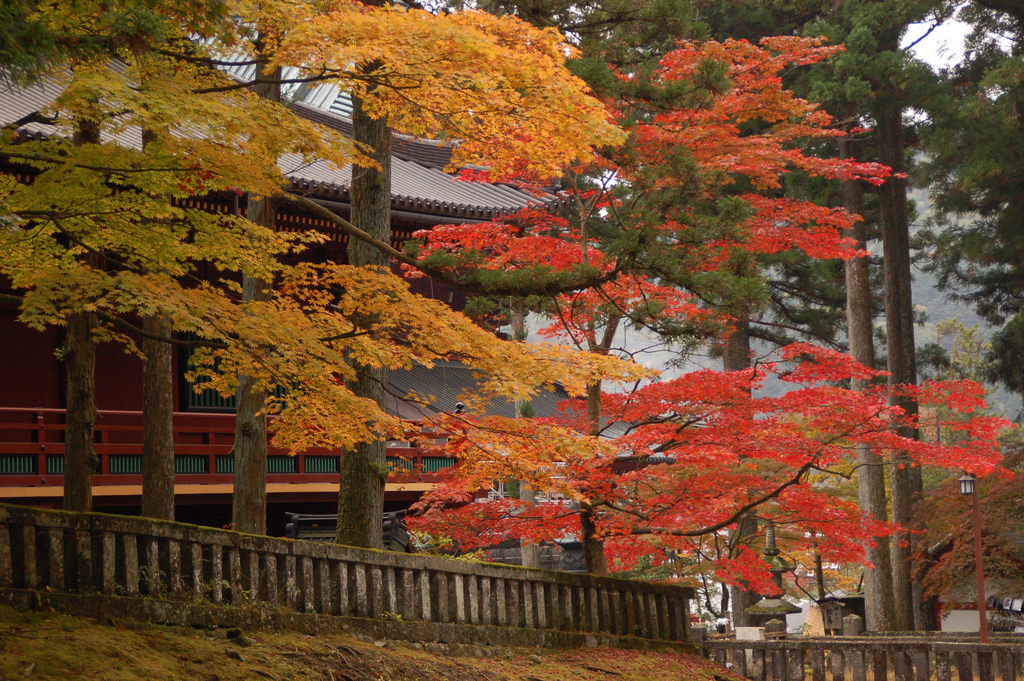 There was no doubt that the next stop was the highlight of the day. Beautiful is not quite the correct word, possibly awesome or unbelievable. Incredible? We had all seen plenty of pictures of the Toshogu Shrine, but none of them did justice to the place. It was not just one building, but a complex that seemed to go on and on. And each building was covered with panels of the most elaborate relief carving I have ever seen. All sorts of animals, real and mythical, cavorted through flowers and plants, insects flying around. The reliefs were all painted brilliant colors so the whole effect was a riot of visual stimulation.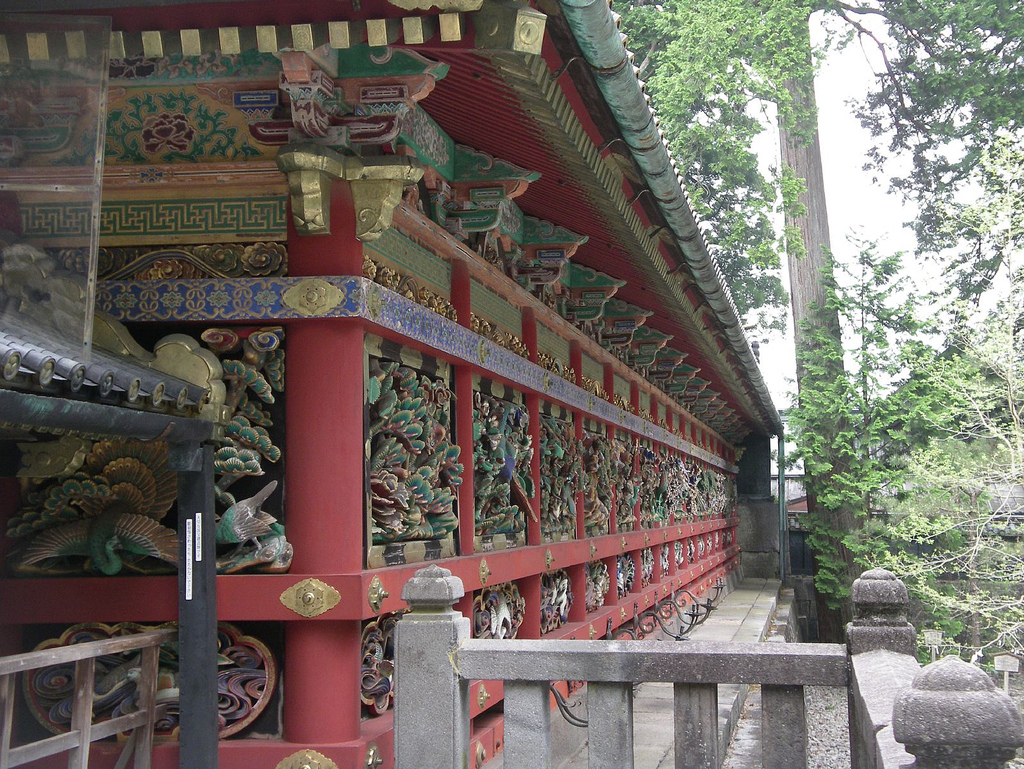 Jeremy kept pointing out one thing after another, a peony, a dragon that he especially liked. Bryan just walked around in a daze, and anyone who did not know him might suspect that he was bored. But he seemed to be looking for something, and exclaimed in excitement when we got to the stable and showed us the famous "see no evil, hear no evil, speak no evil" monkeys.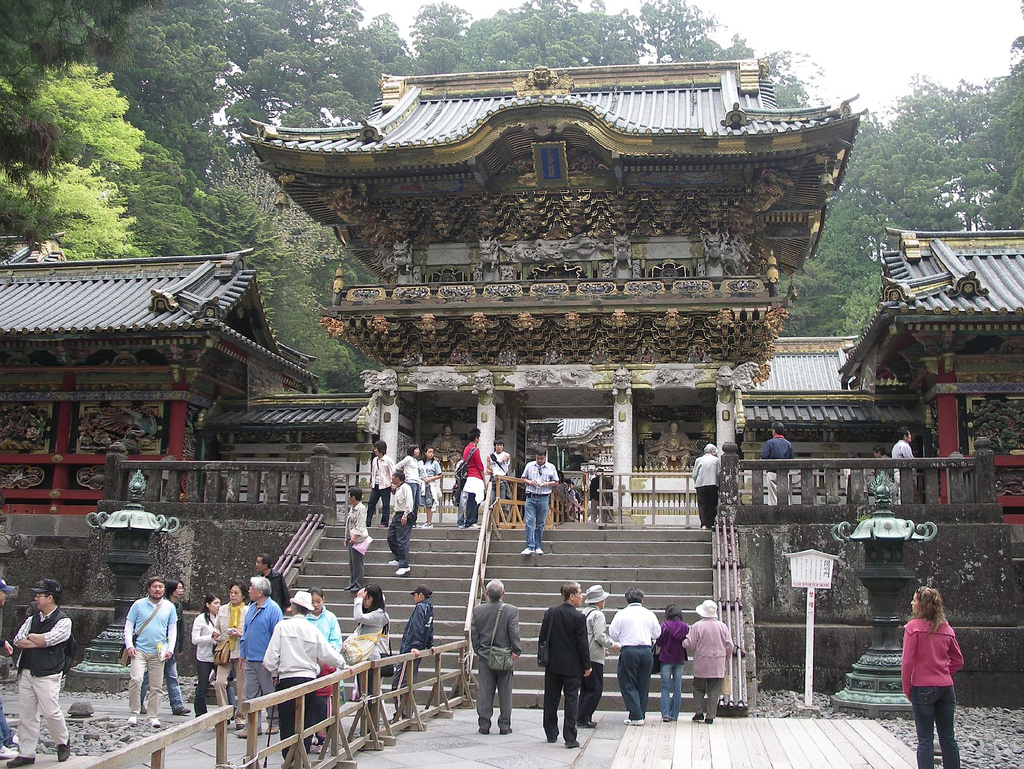 They were just one tiny detail among so many, I marveled why those might be famous whereas the rest were not. Bryan explained that they were a pun based on the Japanese pronunciation of the phrase, which sounded like "a seeing monkey, a hearing monkey, and a speaking monkey." He said it was a very clever image, and I just marveled that he had spent so much time reading about the shrine on the internet once he found out that we were coming.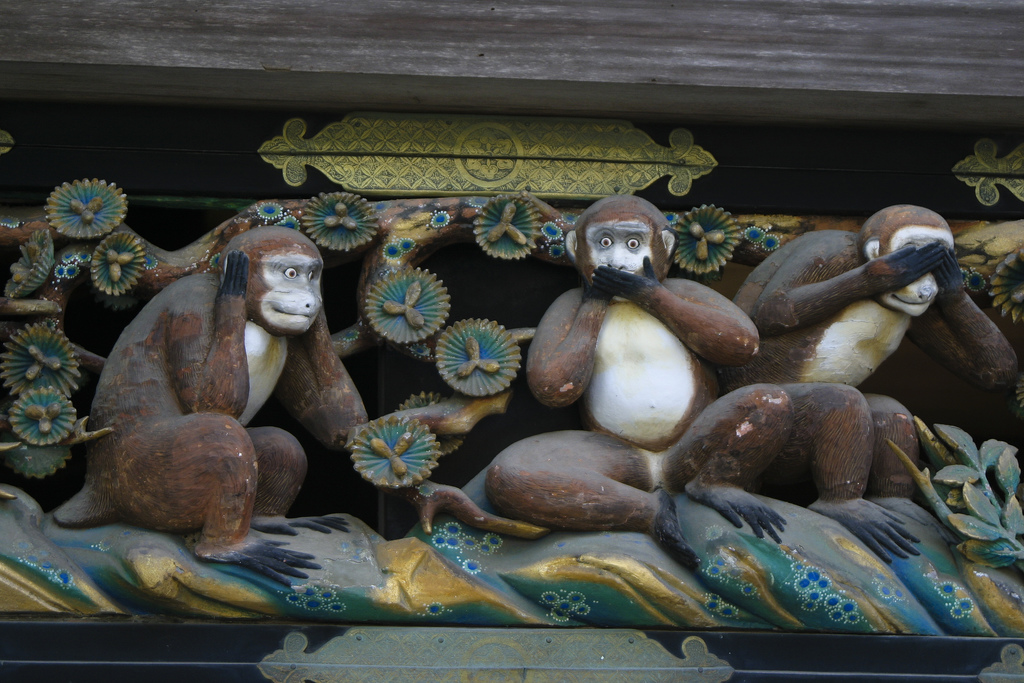 It was hard to take in everything, there was so much to see. Gates and walls, towers and bells. Everything was covered in ornament. The shrine itself was just as elaborate, though more hushed and solemn than the outside.
            We finally came to a small gate in a fence, and on the other side was another carving of a small, sleeping cat. Again, I had no idea why it was so popular and famous, when everything else was just as lovely. This time Bryan had no explanation other than, "It is really cute."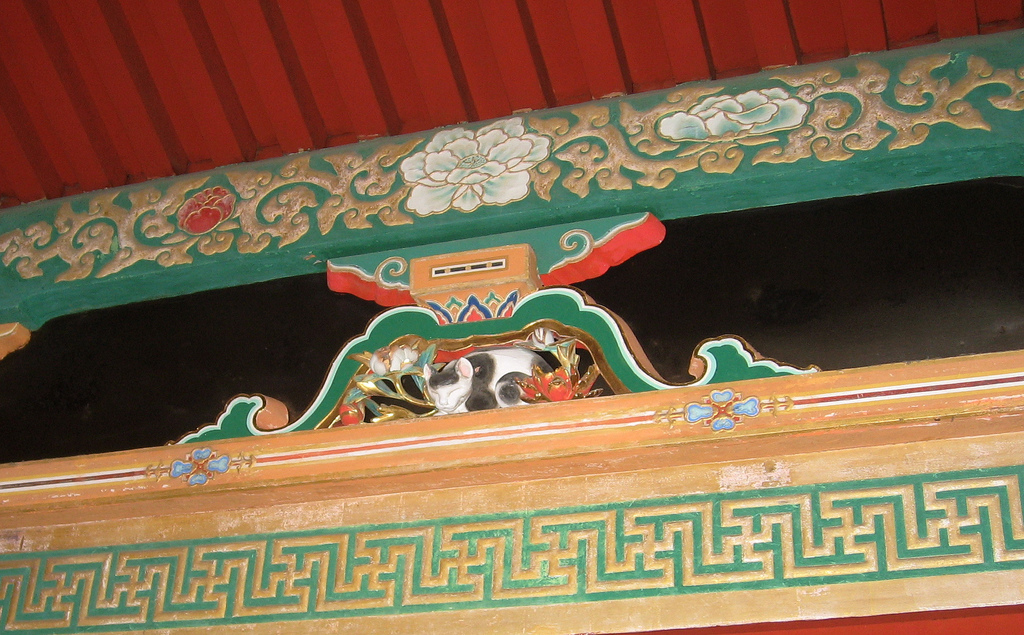 On the other side of that fence, the scenery was totally different. There was a simple rock stairway leading up through the woods. Jeremy insisted we climb it, and we finally did, though I had to call multiple rest stops. After that, I knew I would not feel guilty getting dessert in one of the cafes in town on the way back to the station after our Nikko day trip! The stair seemed to go on forever. We would see an end, but it turned out to be a landing with more steps beyond. At least it was cool among all the cedars, and I am glad that we had bought some bottled drinks from a vending machine at the station to keep us going.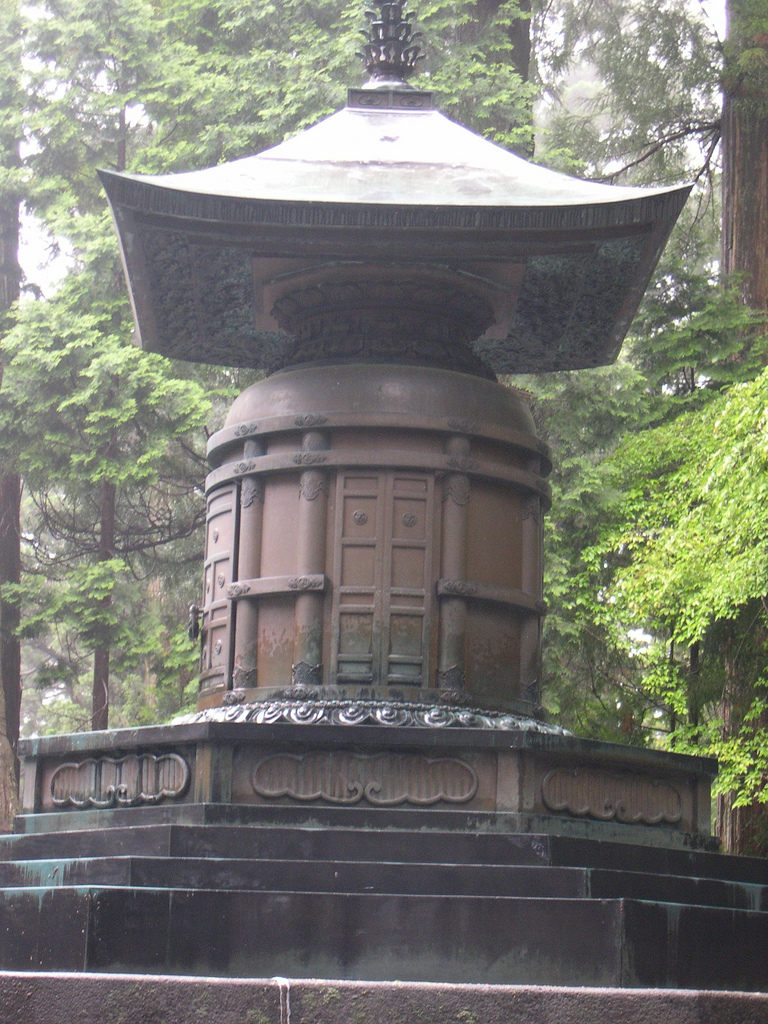 At the top was a small clearing with a copper urn, all green with age. Nothing spectacular, except that considering how many tourists were crammed into the shrine below, it was amazing to be standing there with no one else around. There was one older Japanese man, but that was all. We were virtually alone with the remains of the first shogun, listening to birds calling and insects buzzing in the forest. Jeremy said that this is what the shogun, Tokugawa Ieyasu, had requested. Apparently the shrine with all the decoration was the idea of his grandson.
            Though it was not fancy, the little clearing felt as if there was some power waiting. We talked in low whispers and bowed when we left, feeling a little silly but a little like that was the thing to do. We then trudged back down all those stairs to the brightly-colored shrine buzzing with tourists.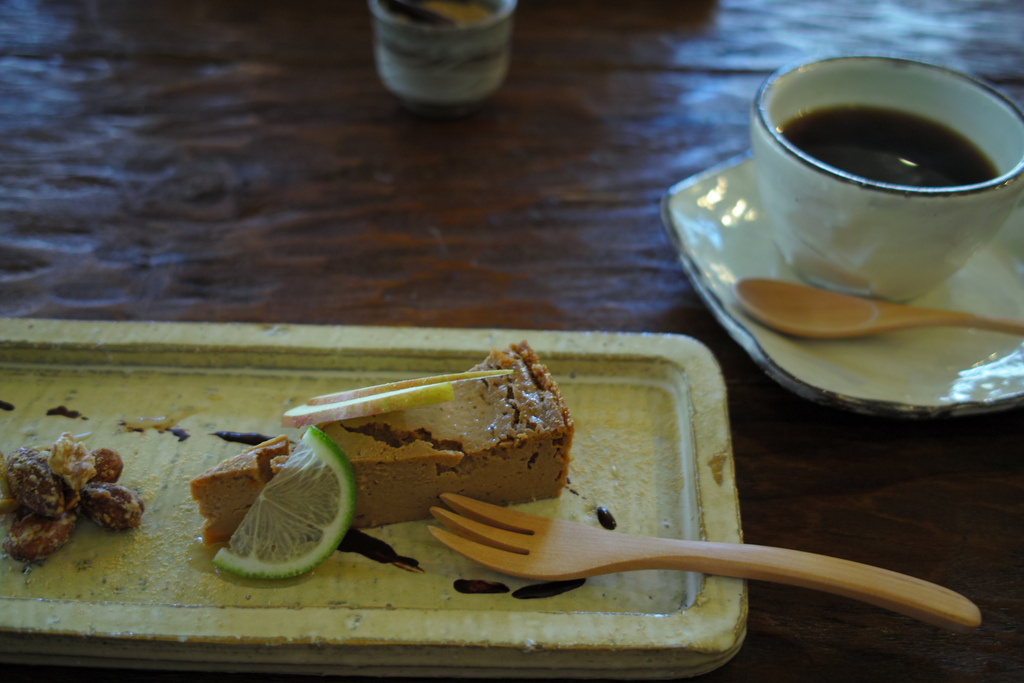 At that point we were quite tired from our Nikko day trip, so opted to skip yet another long walk to Taiyuin, another shrine that was in our combination ticket. Instead, we took a leisurely walk back to the station. I picked up a few souvenirs on the way, and the guys certainly did not complain when I suggested we stop at a café for roll cake and coffee.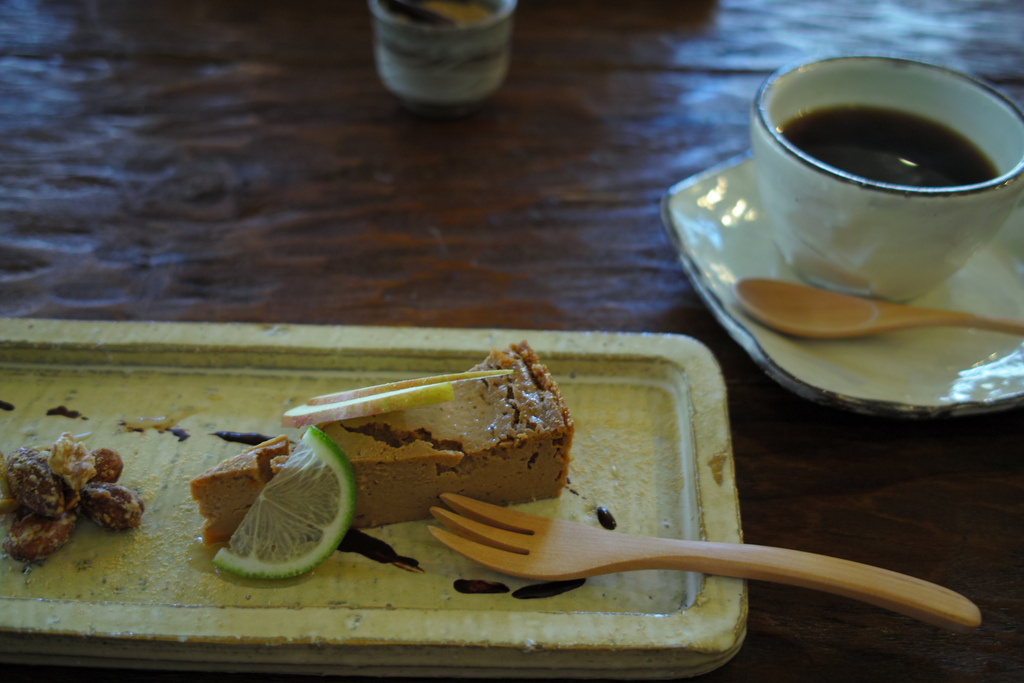 On the train home, Jeremy went on and on about details of things we had seen. But Bryan captured the experience concisely, "That was cool. I am glad we went."
photos by: Krowten & Michael Cornelius, chaojikazu, robertpaulyoung, Michael Cornelius, Marufish, Marufish, Shadowgate, Shadowgate, beggs, kalupa, Dawn Zarimba, JenniKate Wallace, yukop