Kyoto, Japan, Asia
June 15-21
Tokyo, Kyoto & Nara, Part II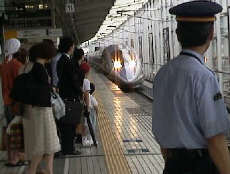 A Nozomi Shinkansen arrives in Kyoto Station.



In this story:
Kyoto & Nara
A Note from Kyoto

Kyoto & Nara

The next morning, I loaded up my medium-sized backpack and laptop, left my bigger bag behind at my hotel, and headed for the metro. It was a good thing I was a little early, because I hadn't realized that the Shinkansen bullet train that left for Kyoto wasn't leaving out of Shinjuku station. So I had to take the subway to the Tokyo central station to get to my train. I wasn't sure when the next train would leave, so I was glad I made it.
Travelling at over 300kph (about 180mph) the Nozomi Shinkansen is the fastest bullet train in Japan, and as far as I know, the fastest train in the world. It almost felt just a little too fast. It was great that we could get to Kyoto in half the time it would take a normal train. But it gave me a headache trying to look out the windows for more than an extended period of time, especially when closely passing by neighboring buildings, through tunnels, and by electrical or telephone poles. Which was about most of the time! It was all a blur really, and difficult to take pictures, but it was also comfortable and very fast.
Arriving in Kyoto, there were hundreds of students sitting on the floor of the main terminal, taking up most of the floor in the wide corridor. Then again, was that anything new? Through my time thus far, there always seemed to be a large number of students everywhere, dressed in their blue and white uniforms, with cute "hello kitty" backpacks and clip-on stuffed animals.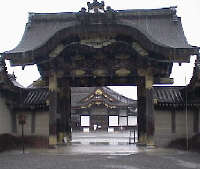 Nijo Castle in the rain.


From the station, I took a short taxi trip to the ryokan that I had reserved. Ryokan are traditional Japanese guest houses. And mine, with about 10 rooms in the main building, was small and quaint. Inside, there was a shoe rack and two bins of slippers. After checking in with the elderly manager who spoke very good English, I walked up the wooden stairs to my room. The room was small and barren, but comfortable, and had a great "terrace" window that looked out over the small bicycle alley in front. In one corner was a folded bed mat, a towel, and a thin Japanese robe. In the other was a small television, and a low coffee table with a thermos of hot water, a mirror, and a telephone. There were two showers and bathrooms that the 10 rooms shared. And two types of toilets – traditional Asian squat holes, and 2 Western toilets. I had used the squats before, and it was a lot of work and a feat of balance, so I was glad that they had both.
Like Tokyo, Kyoto was full of little bicycle alleys. But outside of the center, most of the buildings were only a story or two high. It felt less like an old imperial capital, and more like a small college town. So, like the elder ladies at the tourist information center, who were extremely helpful and spoke pretty good English, people were everywhere gracious and helpful.
Throughout my travels in Asia thus far, I was everywhere struck by a sense of political change. Japan was no different. As this was an election time in Japan, there were posters of Junichiro Koizumi everywhere, even some larger-than-life posters. In the news I read, it was often so interesting to be seeing a non-American political contest from the "inside", and to be hearing about more local issues and a struggle over a different national identity.
Over the next two days I bicycled around the city, toured several ancient palaces and temples, and enjoyed the relative quiet. I managed to catch glimpses of a few maikos and geisha in Gion, took several strolls by the river, and did a lot of window shopping at little boutiques in the older more scenic parts of the city. My second day, I signed up for a bus tour that drove out to Nara, about an hour away, and saw more temples and palaces. The quiet countryside, without the rush and hubbub of the crowded cities, seemed much more what Japan was about. And while Shinjuku and Tokyo were formidable in their intensity, I enjoyed the peaceful life of simple contentment that seemed to be Kyoto.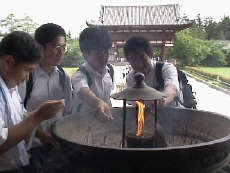 Schoolboys light incense at Todaiji Temple in Nara.




A Note from Kyoto

[A few moments of reality, written while I was in Kyoto…]
I am sitting in my small room overlooking the street in a small, wood-built, ryokan (a traditional Japanese-style guest house) in Kyoto, listening to the rain as it pours down mercilessly – pouring, subsiding, and pouring again. I wonder how I am going to get gyoza and tatsuta a-ge (Japanese fried chicken) without getting soaked like I did this afternoon on my bike. I am waiting for a little easing.
Maybe it is the 'travel' mindset, but I have been slowly getting more behind in my updates. Now that I have my digital video to think about, there is additional post-editing of my hours of video, trying to find some half decent pictures to post.
I think I really need a few days between each destination to collect my thoughts and get prepared for the next trip. One afternoon in HK was just not enough, even after being up all night trying to catch up on emails, not to speak of writing, image editing, and HTML coding! When I said I was going to try and work all night, a friend who I am staying with gave me an incredulous look and replied, 'Aren't you supposed to be taking a break?'.
As it is, it is often so difficult to pull myself back and commit time to actively write and reflect. I usually feel that I would rather instead make new discoveries and collect new experiences. Writing effectively requires some semblance of total concentration and a focused mental zone, which can't be done for 15 minutes here and there.
Sometimes, I am so exhausted that I think I am not working hard enough in shooting and exploring. In Cambodia, I did a dismal 40 rolls. (I wonder whether that was because of the country or because of me.) In Tokyo, from fatigue I think, I have been getting up around 10am (as opposed to 6 or 7am), really missing half the day by the time I get rolling around noon.
Also, not speaking or reading the language here, my first day I felt lost and very helpless. Most things have been ridiculously expensive like a 5-minute cab ride for $10, or $10/hour for an internet connection. especially when I am taking a few hours to get through my email.
After the last few days, I think I have been getting a better feel for things, even though I still bumble through everything from train tickets to ordering ramen. Tellingly, perhaps, I have been to McDonalds three times in four days. Not Japanese, but definitely cheaper than that $80 shabu shabu dinner I had. And at least I can read the menu more easily at McDonalds.
But the rain is easing now, so maybe I will venture out to get some food.
---
For tons more pictures of Paul's time in Japan and the rest of his Asia Journal, go to his web site.