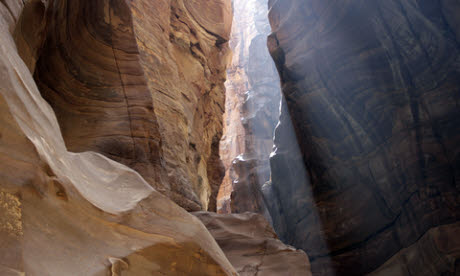 Could this be Jordan's greatest hike?
The Malaqi Trail, which snakes amid the dramatic canyons, waterfalls and rock pools of the Wadi Mujib Nature Reserve, is possibly Jordan's best hike, reckons Amar Grover
Climbing the dry, dusty trail in the muggy heat, we paused to catch our breath.
"Look," said sharp-eyed Zaib, my guide, "hyena tracks – they're pretty common round here." We were about halfway up a hill so stark it had not a solitary blade of grass nor, superficially at least, a single living thing. Behind us, the deep blue of the Dead Sea shimmered in the haze.
On we climbed through the parched landscape. The trail levelled out amid pale yellow mounds of conglomerate while rugged hills and darker mountains filled the horizon. In between lay a long, winding wadi, or canyon, and a trail that plunged down towards it. We took that trail and soon, before we could see its bed, heard its gurgling water.
Welcome to Wadi Mujib Nature Reserve, one of Jordan's largest (and the world's lowest) reserves, comprising over 200 sq km of wadis, cliffs and mountains that edge the Dead Sea. For centuries the area was a Bedouin hunting ground; now an ibex breeding programme is successfully restocking that species and the perennial Mujib River supports rich biodiversity.
It is that river, too, that helps draw visitors to what is possibly the country's most exhilarating day walk – the Malaqi Trail. In barely an hour, I'd left the sea, reached a desert and was now gazing keenly at the wadi wonderland that lay ahead.
Reeds and flowering oleander flourished at the base of brown and russet cliffs. Cool, clear water teased my ankles and flowed away into an even deeper box canyon. We scrunched upstream through pebbly shallows and on across stony riverbanks lined with tiny gravel beaches towards the place that gives this particular walk its name. In Arabic, malaqi means a river confluence; about ten minutes later, we reached one, where the smaller Hidan River joins the larger Mujib. I could clearly see – and even feel – the merging of the cooler Hidan with its warmer companion. It's a beautiful spot.
We hoisted ourselves onto a rocky ledge, removed some of our gear and waded back into the water. Upstream from this malaqi, the Mujib is closed to visitors – so the Hidan was our only route. Crowned by a slender ribbon of sky, it alternated between sheer, smooth-sided walls that bulged into bowl-like pools and slender necks of canyon. One minute we waded in knee-deep water, the next we treaded it and swam short sections.
Zaib pointed up at clusters of driftwood caught in clumps of vegetation protruding from nooks and crannies, easily five, even ten, metres above us. "That's how high the river gets after rain," he explained. If it poured now, I figured, we'd soon be in trouble. But this was June in Jordan: it never rains.
Child's play
We were soon playing like youngsters in the Hidan's sublime rock pools. Zaib and trainee guide Ali sprawled in a surreal, cave-like pool pierced by shafts of sunlight before clambering further up the canyon and perching atop a small waterfall. Then Zaib announced it was time to head back – we still had the best part of the walk to complete.
We returned to the rocky ledge, pausing briefly to examine small fresh-water crabs that crawled about in the shallows. After a few minutes' rest we set off downstream past the malaqi and the point where our trail reached the Mujib River. Just beyond, the Mujib's sheer walls closed in and, to a casual observer, the riverine trail might have seemed implausible. Yet on we strolled, the roar of combined rivers now magnified by the depth of the canyon.
I'd brought a waterproof bag for my camera, and Zaib suggested I leave it inflated for buoyancy. There were stretches, then, where I floated in 1.5m-deep water. Occasionally boulders thwarted my idle drifting, so I slid down little chutes in grooved rocks that had been worn smooth like slides.
Whereas the Hidan's navigable stretch descended almost imperceptibly, the Mujib proved rather more muscular and mercurial. The torrent had scalloped plenty of beautiful pools whose walls swirled with bands of brown, ochre and white. Within a few metres it switched from being child's play to a river requiring care and some agility. At several points, ropes were anchored to the walls and we held on to them to counter the flow of the water.
Finally we reached the most celebrated part of the Malaqi Trail. The Mujib cut past a huge boulder and flowed straight over a precipice. We stopped alongside it: we had to abseil alongside this 20m-high waterfall. Twenty metres – doesn't sound like much; it probably isn't, by abseiling standards. Yet if, like me, you haven't abseiled before, it looks awesome.
Zaib and Ali produced harnesses from their packs, and fiddled with karabiners and ropes. I asked if anyone ever turned back here, briefly contemplating the lesser shame of joining a presumed group of returnees. No one, said Zaib – everyone goes down.
"Just let yourself go…" he continued, "and use your hands and feet to keep your body off the rock." Ali went first, emerging triumphantly from the billowing spray below. Then it was my turn.
At first my instinct told me you to grip the rope with both hands – instead of using them to stop myself swinging against the cliff face. But as I got the gist it was just as Zaib said – there really was nothing to it. Mine was clearly not a polished performance but I had the most exotic shower of my life courtesy of the Mujib's curtain of water. Stepping away from the watery whiteout at the bottom, I watched Zaib's graceful, almost spidery, descent.
From here on, we met plenty of other walkers – Jordanian and foreign – heading up the canyon as far as that waterfall. We playfully navigated a few more water chutes and clung to short lengths of rope that eased the way. Gradually the Mujib became gentler, and the shallows more extensive. We re-entered the sun-lit world where people had ventured simply to wallow in its lovely water and sunbathe on smooth rocks.
Walking the final leg, I gazed back up the Mujib. It looked utterly impenetrable. Now I know better.
Wadi Mujib: need to know
The Wadi Mujib Nature Reserve has several 'dry' and 'canyoning' trails; all but one require a guide, which should be booked in advance through the RSCN in Amman. The Malaqi and other canyon trails are open 1 April-31 October, though dates may vary according to weather conditions; the trail is closed during Ramadan. Guiding charge per person is JD55 (£46). Allow six to eight hours for the walk.
Best beds: top eco-lodges and camps
Dana Guesthouse, Dana Biosphere Reserve Spectacular views over Wadi Dana and easy access to Dana village. Numerous trails of varying lengths start from here. Doubles from JD60 (£53) with breakfast. www.rscn.org.jo
Feynan Ecolodge, Dana Biosphere Reserve This remote, atmospheric, electricity-free lodge is the start (or end) point of the Wadi Dana trail; there are other short walks in the vicinity. Doubles from JD80 (£70) with breakfast. www.feynan.com
Ajloun Cabins & Bungalows, Ajloun Forest Reserve Charming tented camp (with tents on wooden platforms) in a forest clearing in the northern highlands. Several trails radiate from here. Doubles from JD65 (£57) with breakfast. www.rscn.org.jo
Mzied's Camp, Wadi Rum Protected area Several local Bedouin families run camps out in the wilds of Wadi Rum where you can sleep in a tent or under the incredible starry skies; Mzied's is a good option. www.mzied.com
5 more great walks
1. Wadi Dana Trail, Dana Biosphere Reserve A beautiful, 14km walk from Dana village down through Wadi Dana to Feynan Lodge. You are likely to see Bedouin families living in tents near Feynan.
2. Al Ayoun Trail, Jordanian Highlands Follow loosely in the footsteps of the prophet Abraham through the forests and fields of northern Jordan's softly undulating hill country, enjoying local hospitality and homestays.
3. High Places of Petra A series of trails links such spots as the High Place of Sacrifice and the Monastery. You're likely to have the path up Jabal Haroun, to the shrine of Moses' brother Aaron, to yourself.
4. Wadi Rum Protected Area One of Jordan's most celebrated desert landscapes, its 720 sq km contain an extensive array of walking (and climbing) routes. You'll need a dedicated guidebook or a good local guide.
5. Dana Village & Rummana Trail, Dana Biosphere Reserve A lofty path that leads out of Dana along the edge of the wadi and continues to Rummana camp before climbing the namesake mountain. Solitude, with magnificent views across Wadi Araba from the top.