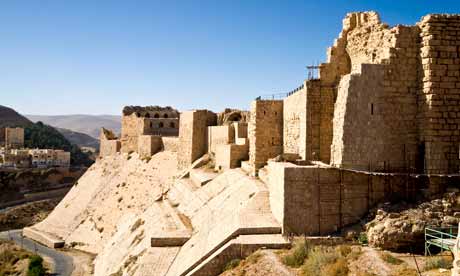 7 highlights in offbeat Jordan
When planning a trip to Jordan, Petra and Wadi Rum will no doubt feature. Here's a small selection of alternative places to track down...
1. Karak: castle on the crags
This mighty castle, built by Crusaders in the mid-12th century and subsequently strengthened by Mamluke sultans, is one of the most impressive in a land dotted with imposing fortifications. Grab a torch and dive into its passageways and courtyards – it doesn't take much to imagine life during that martial era.
Don't miss: the museum, offering a fascinating lesson in the castle's history – and, if you're lucky, access to Mamluke tunnels.
2. Azraq: wetlands and wild wonders
Azraq's fort, originally built by the Romans and chosen by Lawrence of Arabia as his headquarters, attracts many visitors – but two nearby reserves also pull in wildlife lovers. Azraq Wetland Reserve is a mass of marshes and pools that attracts some 300 species of resident and migratory birds; come between December and April for the best birdwatching, or hold off till May for the birds of prey. Shaumari Wildlife Reserve to the south-west is an expanse of desert famed for its small population of rare Arabian oryx, as well as ostrich and gazelle.
Don't miss: a night at Azraq Lodge, a simple guesthouse in an old British army field hospital – visit local villages for cultural insights.
3. Umm ar-Rasas: Byzantine glories
Designated a UNESCO World Heritage site in 2004, Umm ar-Rasas is the location of Kastron Mefaa, a Byzantine garrison town. Fine mosaic floors survive in its ruined churches, depicting cities of the Holy Land. Today, kestrels wheel around the sinister tower as winds blow across the open plains. Few locations are as memorable.
Don't miss: the ancient square tower without internal stairs: a Christian ascetic would have holed up in the tiny room at the top, praying in isolation.
4. Dana Nature Reserve: ecology and archaeology
Amid rugged mountains, spanning the edge of the Rift Valley, Jordan's flagship nature reserve takes in varied terrain, from well-watered highlands and Mediterranean forests around Dana village (at 1,500m) to open desert west of Feynan (below sea level). Watch for rare eagles, kestrels, Sinai rosefinch and Jordan's last remaining wild cypress trees.
Don't miss: the Dana Guesthouse, a wonderful place to relax – modest, beautifully designed and offering spectacular panoramic views.
5. Aqaba: the dazzling deep
Renowned for its diving and snorkelling, this section of the Red Sea offers treats for scuba enthusiasts, including great wrecks and coral at a dozen or so relatively uncrowded dive sites. But Aqaba has plenty more to offer. Inhabited for over two millennia, relics include possibly the world's oldest purpose-built church, recently excavated near the beach and provisionally dated to the fourth century AD; a Mamluke fort built around 1320; and the remains of the medieval port of Aila. Then there's the beach itself, plus windsurfing, kayaking, waterskiing or a visit to a hammam.
Don't miss: a microlight flight over the town for a novel perspective.
6. Pella: fishing for history
History? Pella has about a million years of it – inhabited for at least 6,000 years, this was where the first Christians fled when rebellion broke out in Jerusalem in AD66. Pella traded throughout the Bronze and Iron Ages, and grew during the Greek and Roman periods to reach its zenith in Byzantine times, leaving remains including a Roman theatre and Byzantine churches. Nowadays there's plenty to explore: as well as the ruins, dip into the geology museum and take off for some fine hill-walking.
Don't miss: the freshest fish dinners in Jordan at the Pella Resthouse.
7. Desert forts: castles in the sand
Desert castles – beautiful examples of early Islamic art and architecture – boast fine mosaics, frescoes, stone and stucco carvings illustrating stories of eighth-century life. The desert complexes served as trade centres, caravanserais, pavilions and outposts helping distant rulers forge ties with local Bedouin. Castles clustered east and south of Amman can be visited on one- or two- day loops. Qasr al-Mushatta, Qasr al-Kharrana and Qasr al-Hallabat have been well restored.
Don't miss: the interior of Qusair Amra, one of the best preserved castles, decorated with frescoes and colourful mosaics.