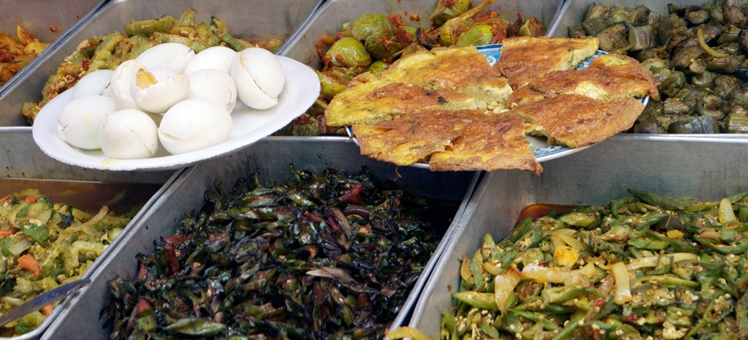 The melting pot of Kuala Lumpur has many influences when it comes to food. The city is made up of Malays, Chinese and Indians, as well as British expats, who all come together to make up the diverse Malaysian cuisine. Other Asian foods are also popular here too such as Japanese. Visit different areas of the city for a diverse taste, from high end sushi in five star hotels, to southern Indian flavors in Brickfields.
Local food:
Try Klang seafood, Klang is a nearby port dishing up some of the best and most affordable seafood which is highly popular with locals. Bah-Kut-Teh is a herbal soup dish with pork bones, eaten with rice, which is probably for the bravest foodie as locals eat the bones. Something a little less brave is exotic jack fruit and banana leaf dishes in Little India.
Golden Triangle
The signature restaurant of Laksa Shack is a great budget Malaysia restaurant in the Suria KLCC. Go up to the second floor of this upmarket shopping mall and indulge in some Malaysian laksa noodles which are Laksa Shack's speciality. Try the Assam Laksa which apparently is their top seller. This is a popular place for office workers to lunch during the week.
•
Laksa Shack
, Second Floor Suria KLCC, Kuala Lumpur.
Bukit Bintang
Head to the well-known Overseas Restaurant for Chinese food in Bukit Bintang. Book at least a day or two in advance, which will allow you to pre-order a vast array of speciality dishes. The speciality dishes are slightly more expensive, although all of the dishes are rather cheap anyway, especially considering that this is thought to be one of the best Chinese restaurants in town. Try the 'Har Lok' – prawns cooked in soy sauce or Ngow Lum – beef brisket in clay pot, both of which needs to be ordered in advance.
•
Overseas Restaurant
, 84-88 Jalan Imbi, Kuala Lumpur.
KLCC
If you're lusting after some tasty high end Japanese food, then head to Wasabi Bistro for a bite to eat at lunch whilst exploring the KLCC, or in-between shopping malls. Generous portions are served, especially considering the calibre of the restaurant. Set lunch menus are available, but be sure to book if visiting at lunch time during the week. Wasabi Bistro is also open during the evening. Try the innovative sushi rolls and Udon – hot thick wheat flour noodles with soy sauce and Unagi sets - mixed dishes with fresh water eel.
•
Wasabi Bistro
, B1F Mandarin Oriental Hotel, KLCC.
Dataran Merdeka
In the oldest part of the bustling city known as Merdeka Square, where colonial buildings dominate, indulge in a colonial spot of afternoon tea. The Carcosa Seri Negara Hotel in the Lake Gardens has a great high tea. The colonial hotel with its white painted walls and red roof is surrounded by lush greenery, perfect for relaxing. Visit between 3pm and 6pm to experience the delights of a special English afternoon tea with finger sandwiches, cakes and pastries, served in white china and cakes on a large cake stand. If you love it, then they also serve lunch and dinner.
•
Carcosa Seri Negara Hotel
, Taman Tasik Perdana, Persiaran Mahameru, 50480, KL.
Brickfields
The area of Brickfields, or Little India, is famous for its banana leaf food as well as Chinese coffee shops. Thankfully there is only one western fast food chain here, making it a very authentic Indian area to eat. Kaveri, on Jalan Padang Belia is an open fronted restaurant serving all things South Indian from meat to vegetarian. Most dishes are served on the banana leaf giving them that real Indian feel.
•
Kaveri
, Brickfields 95, Jalan Padang Belia, Brickfields, Kuala Lumpur.