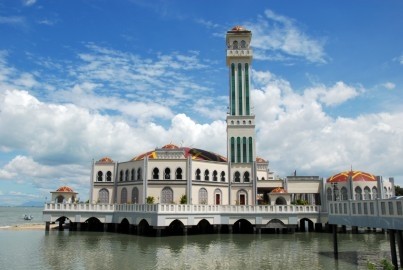 Penang is a relatively safe place for travel. However, as in all large cities, crime does exist. Bag snatching is common, but if visitors exercise caution and common sense they should face no problems. Valuables should never be on show and avoiding walking alone in deserted areas is advisable.
Customs and etiquette
Locals have a high tolerance of foreigner's ways; however, there are some important points to consider while visiting any area of Malaysia. While touring the city, appropriate dress should be worn, and beachwear is reserved for the beach only. Always remove your shoes before entering a private residence, or a religious site.

Public displays of affection are heavily frowned upon, even between married couples, so should be avoided at all costs. Tipping is not mandatory, although you may find some upmarket restaurants add a 10 percent service charge to your bill.


Money
The local currency is the Malaysian ringgit (MYR). Money changers can be found in all areas, and usually offer a better rate than banks and hotels. It is important to have some cash at the ready when shopping in markets and areas such as Chinatown or Little India; however, an ATM is usually within easy reach. Large shopping malls and the more upmarket hotels will accept credit cards.


Weather
Malaysia's tropical climate means soaring temperatures and high humidity. Visitors should ensure they drink plenty of water and avoid the midday sun.

The rain season descends on Penang in August and ends in November, so this period is best avoided if you plan to tour the sights. December until January is usually dry and is the most pleasant time to visit.
Transportation
Public transport in Penang is very poor, and visitors are often left feeling frustrated by the system. The bus service on the island is unreliable and taxi drivers often refuse to turn on their meter, leaving travelers lost and confused.

Georgetown is best explored on foot, especially during the morning before the heat sets in. Arranging transport to other areas can be very challenging. RapidPenang is the government's attempt at improving the situation, and although the vehicles are more comfortable, services are infrequent.

Trishaws are a fun and cheap way to explore the city, and the driver's are often happy to act as a tour guide. Car rental is also an option, especially for travelers interested in experiencing the remote coastal areas of the island.

The Penang International Airport (PEN), previously known as Bayan Lepas, is located around 20kms outside the city, and taxis are available outside. Always arrange the price before setting off and haggle if necessary.
Fast facts
Population: 1,518,000
Spoken languages: English, Penang Hokkien, Tamil, Malay and Mandarin
Electrical: 220-240 Volts, 50 Hertz
Phone/calling code: +60 4