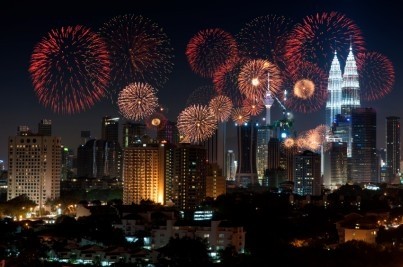 More than a mere port-of-call for visitors to Malaysia, Kuala Lumpur is a world-class metropolis with an even mix of skyscrapers and colonial architecture. It epitomizes the Malaysian melting-pot with more sharp contrasts and cultural diversity than most cities can boast.
What began 150 years ago as a tin-mining outpost has taken a dramatic turn to become one of Southeast Asia's most important hubs. From the soaring heights of the Petronas Towers to the leviathan shopping malls, this is a city for the modern traveler. Along the way are world-class attractions and dazzling restaurants, all held together by a quick and efficient public transport system.

But Kuala Lumpur is also a place for lovers of art and history. Colonial architecture still stands in city center, while the storefronts in Chinatown and Little India date back 100 years or more. The capital is also home to some of Malaysia's finest museums which explore everything from the nation's unique history to the ethnic minority cultures in Sarawak and Sabah.

No matter where they venture in Kuala Lumpur, visitors encounter a heady mix of old and new. They'll also find hospitable locals who are thrilled with the international attention given to this emerging city.


Colonial core
Kuala Lumpur City Center (often abbreviated as KLCC) has the best selection of historic sites. Fountains, parks and colonnades characterize the colonial district, but this part of town also has a few of the finest mosques this side of the Middle East.


Chinatown
Technically part of KLCC, Chinatown follows Jalan Petaling and is always bustling with locals and tourists alike. The 100-year-old shop houses here sell tourist kitsch, designer knock-offs, snacks and sundries. Shoppers will also find the best selection of handicrafts here at Central Market.


Lake Gardens
First a tapioca field and later a playground for British colonials, Lake Gardens is still the greenest escape in the city limits. Visitors come for boating on the lake, strolling through the botanical gardens and to visit a few of the city's most prominent museums.
Golden Triangle
Kuala Lumpur's ultra-modern neighborhood has the best shops, restaurants and hotels in the city. Home to the Petronas Towers, the Golden Triangle also hosts massive shopping malls and department stores. Perch on the Skybridge for a view of the skyline, or get lost in the more than 900 shops in Berjaya Times Square.


Mid Valley
A secondary shopping district south of the city center, Mid Valley (together with its neighbor, Bangsar) doubles as one of the best places to go clubbing in Kuala Lumpur. The restaurants around Megamall are also well known.


Ampang
Though not always of interest to tourists, this eastern suburb is home to most of Malaysia's foreign embassies. The neighborhoods here were built by tin barons in the early 20th century and remain especially affluent.

Find more information about Kuala Lumpur and hotels in the area:
Kuala Lumpur hotels | Malaysia hotels