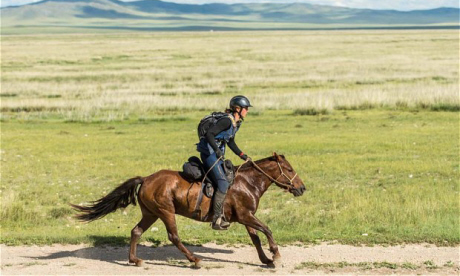 How I won the world's toughest horse race
19-year-old Briton Lara Prior-Palmer tells Peter Moore how she won the Mongol Derby – without resorting to anti-monkey butt powder
The Mongol Derby is billed as the world's toughest race. The course is a recreation of Genghis Khan's ancient postal system of 25 horse stations across the Mongolian steppe. Riders change their semi-wild Mongolian horses at each station, and stay with the local herding families that run the stations and provide the horses.
This year the 1,000-kilometre race was won by Lara Prior-Palmer, who at 19 years of age is the youngest winner as well as the first Briton to take the title.
Lara won the race in dramatic fashion when the American rider Devan Horn was disqualified after crossing the finishing line.
Peter Moore spoke to Lara, still in the wilds of Mongolia, about the race and how she won it.
Congratulations on the win. Has it sunk in yet?
I won a bit of a weird race, so not really. I didn't actually get to the finish line first. Devan did. But she'd ridden her horse too hard and got a time penalty. It's not like winning an Olympic gold medal. It's an event where you have to have a lot of luck to get through.
It sounds like your last day was really quite miserable. You were alone, in the middle of nowhere and fed up with it all.
You have the option of riding alone – and getting to places quicker – or riding with people – where you just whinge with each other and the negativity really gets you down. Riding alone, you get really lonely. That's why every evening I got really hyper, I got a real burst of energy, even though I was knackered, because I'd see all the vets and the doctors and they were always in such high spirits. That was nice, that kept me going.
I'm lucky that I am so young and my body got used to the pain. My ankles and knees were huge, but after day three or four, my body just adjusted. In fact, now, my body is really cross with me because I've just been lying in bed all day doing nothing or just swimming in a river. I had to go on a run just to wake it up again.
How long did the race take, from start to finish?
Seven days.
There were 25 stages of 40-kilometres each. How many stages would you do in a day?
I went into thinking, 'This is fun, I'll be competitive.' But I hadn't been training for months like some of the others. But you can't go into it thinking, 'I really want to win' because there is so much thrown at you that you soon loose that attitude.
The first few days I spent just trying to get the hang of it. If you analyse my first few days compared to my last four, I was so much quicker in the end. I couldn't do the navigation at first, I was useless. Even riding the horses. I just didn't know what I was doing. I didn't make them work hard enough. To do 40 kilometres in a reasonable amount of time, you've got to be cantering a lot of the time, which I learned, but only after I had a bolter of a horse that did it for me. So by the end I was doing four and a half stages a day, and staying out later at night. At the beginning it would be three, max.
On the first leg you were actually the last person to reach the next station, weren't you?
At the very beginning, they said 'Race to that umbrella' for the photographer. It was only 50 metres away and I thought, 'I'm never going to win the derby so I may as well try and be the first to the umbrella.' So my horse won the umbrella race, which was great, but then he proceeded to get lamer and lamer as we went round. So it wasn't a very sound race strategy. Three-quarters of the way through the stage I was off him and leading him up hills. So that first 40 kilometres was bloody hard. It lasted five hours, I didn't have enough water and I thought, 'Shit! How am I going to do this another 24 times?'
So it was tough. I walked in last and I thought, 'This is the end of me.'
How do you navigate the course?
You have a GPS and the co-ordinates, so that will point you in the right direction. But you also have to use your eyes, because there'll be mountains in front of you. You've got to get around them and decide which way you want to go. I had to rely on my instincts really. By the end, I got pretty good at it.
Really, the secret was to just stick to the tracks. Mongolians have been riding around Mongolia for thousands of years, so if you follow the tracks it's usually the best way through the terrain.
What sort of terrain did you ride through? Was it varied or was it just vast Mongolian plains?
It was really, really varied. And the weather was too! Sometimes it was rolling hills. Other times it was mountain passes. For fourteen stations we didn't see any trees and then suddenly there were trees, which was extraordinary. Fir trees, really beautiful. And then there were bits that were like Canada – it was like visiting a lot of different countries. I've been to Wales here, I've been to Scotland here, I've been through Irish fogs. I've been everywhere. It's an extraordinary landscape. It does vary a lot.
Sadly, particularly at the end when I was chasing Devan, I began to ignore the landscape. So today I hitched a ride with one of the vet's cars and went back around a bit of the course, to enjoy it a bit more.
At the end of each day you stayed with local families. What was that like?
That's one of the really good things, actually. They're nomadic people. You just walk up with your horse and make a gesture that you want to sleep and immediately they smile, they're happy to have you, delighted that you're English. They always leap upon my Mongolian phrase book and spend hours telling me funny things that were totally irrelevant, telling me that the phrase book wasn't very good. They'd feed me, they'd look after my horse. They'd graze it for me. They were so kind. It was calm.
So what did you eat? Did you tuck into the local food they presented to you?
Before I did the race I was told that the food was totally inedible and that I was going to lose loads of weight. But I didn't find it that bad. They just feed you loads of mutton and horse milk, which was fine. You just get used to it.
And you have to eat. I ate so much, just to keep myself going, to stave off the exhaustion.
At each stage, you have to choose a horse. How did you pick a horse?
At first I let the locals pick one for me. I figured they knew their horses best. If you go to one herder, all the horses are quite similar anyway. They're all from the same breeding stock. The determining factor was if they liked you. If they did, they would give you their best horse. One guy was very excited that I was in second place, chasing the leader. The Mongolians have the right attitude to the race. They don't take it too seriously, but they do get excited about it.
So I was lucky in some places. But in others, they'd just lie through their teeth and give me their worst horse and I was stupid enough not to go back and change it. For example, the girl in front of me, the girl I was chasing on the final day, had had another problem with the heart rate on her horse on the final day and had to wait 40 minutes for it to go down, and when I got it the locals thought it was really unfair. They'd pointed out their best horse to the vet, but when they found out that I didn't have to wait, they hid it behind their ger. So when I asked for their best horse they gave me one that had a terrible temper and was a lot slower. But it got me there in the end.
Was the race what you expected it to be?
You can't have any expectations about this event. It's indescribable what the riders go through. To be honest, I didn't have any expectations. A few people had told me that I had to be prepared for the worst. You don't expect the pain. And it's extremely tiring. People don't realise that riding 13 and a half hours a day really kills you. If it's hot, it's terrible. It's either hot or raining. It is the most extreme thing I'll ever do.
Before I did the race, I didn't think I'd finish. It has a really high attrition rate. I think only 60% complete the race, so I thought I wouldn't make it to the end, so to win was a real bonus.
Your aunt, Lucinda Green, is an Olympic medal-winning equestrian. Did she give you any advice before you went?
She said vague things about picking horses. She said more jokey stuff like, 'I don't know how you're going to get around. You're not a jockey, your legs are far too long.' She thought it was a proper horse race. She lent me her helmet and gave me some monkey butt powder, which I didn't actually use, but it was a nice thought.

For more information about the Mongol Derby and how you can take part, visit the official website here.