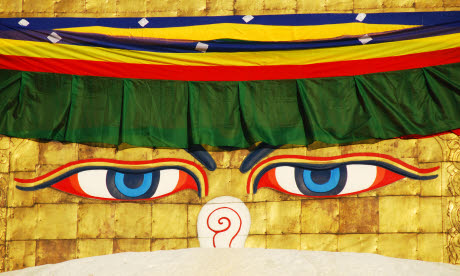 First 24 hours: Kathmandu, Nepal
Navigate the timeless temples and labyrinthine streets of Nepal's alluring capital – then hit the rivers and trails of the Kathmandu Valley, advises Phoebe Smith
Where?
Central Nepal
Why?
The gateway city for many a Himalayan adventure, crammed full of temples, shops, cafés – and monkeys
When?
Oct-May (to avoid monsoon season)
Before you arrive
A trip to Kathmandu starts as most good adventures do – with a bumpy ride! From the minute you start the descent into Nepal's only international airport, which sits at 1,400m at the bottom of the mountain-lined Kathmandu Valley, you'll likely be tossed around by the thermals. And this is just the beginning. From here on in, things get even more exhilarating.
The Nepalese capital of Kathmandu is an intoxicating mix of old traditions and attempts at the modern. On arrival, you'll be greeted by both glaring Coca-Cola signs and small local stalls selling yak wool. Through the smog, you might just glimpse the mountains that loom all around. At street level, monkeys and cows wander alongside pedestrians; manic motorbikes and cars somehow manage to drive straight at one another yet (mostly) avoid collisions; Buddhist and Hindu temples are dotted amid tempting coffee shops. It's a fantastic overload for the senses.
At the airport
All flights land at Tribhuvan International, 6km west of the centre. If you haven't prearranged a visa, you need to buy one on arrival. This is a simple enough process. Forms (in English) are readily available next to the immigration desks. To obtain a visa you will need a passport photo; there is a booth at immigration, but this accepts local currency – it's better, and quicker, to take a photo with you.
Visas start from US$25 for a stay of 15 days, which allows multiple entry; visas for 30 and 90 days are also available. You can pay in US dollars, British pounds or Nepalese rupees. There are foreign exchange desks by immigration and in the arrivals hall, along with an ATM.
Getting into town
There are no buses from the airport. If you have not prearranged a transfer to your accommodation (some hotels offer this), the best way to get into town is to order a pre-paid taxi from the desk just inside the airport. This will save you having to haggle with the taxi drivers outside.
Other ways to arrive
Many travellers cross into Nepal from India by bus. The journey is usually long and fairly uncomfortable but is certainly an experience and cheaper than flying (prices from £12). The most common route is from Varanasi or Delhi. From either city, take a train or bus to Gorakhpur, then a bus to the border at Sunauli. Here you need to complete the short walk across the border and buy a Nepalese visa, if you don't have one. Onward buses connect to Kathmandu; the total journey time between Delhi/Varanasi and Kathmandu is 20-40 hours depending on connections.
Alternatively you can enter Nepal from Darjeeling. Take a bus (or the famous Toy Train) to Siliguri, then catch a local bus to the border town of Panitanki. From there, cross the border via a bridge over the River Mechi to the town of Kakarvitta (or Kakarbhitta). It's then a 13-hour bus ride to Kathmandu, costing around £3 (see seat61.com).
Top tip:
When the madness of Kathmandu gets too much, head for the serene Garden of Dreams, a lush neo-classical oasis where you can get away from it all. There's a café too!
Kathmandu orientation
Visit historic Durbar Square and shop in Thamel before exploring the rest of the valley...
First day's tour
If you look out your window and the sky is clear, head first (and sharpish) to Swayambhunath, also known as the Monkey Temple (entry 200NPR). Situated on top of a hill, this Buddhist stupa offers great views over the city and towards the mountains, making it the perfect place to get your bearings. The resident monkeys will provide some light entertainment as you explore the monastery and gold Buddha statues, while the market stalls play 'Om mani padme hum' on a continuous loop.
Next, head to Boudhanath (entry 150NPR), the largest Buddhist stupa in the Kathmandu Valley and a meeting point for Tibetans. Here you can traverse the massive white structure, then retire to one of the rooftop terraces for tea and lunch.
From here it's worth paying a visit to Pashupatinath (entry 1,000NPR), one of the most important Hindu temples in the world, and frequented by visitors from Varanasi, India. Non-Hindus are not allowed in the buildings but can walk along the banks of the Bagmati River (where you will likely see cremations taking place) or weave through the sadhus (wandering monks) who will ask you to pose for pictures with them. A taxi to all three temples should cost around 1,400NPR.
If you still want more, head to Durbar Square, the historic centre of Kathmandu, home to the Kumari (the living child goddess) and more temples. End in the touristy district of Thamel for late-night shopping and a bottle of Everest beer.
First night's sleep
Top end: Hotel Yak & Yeti is set in a former palace, and will whisk you back to the times of the Raj with its carved windows, lush grounds and taste of Kathmandu opulence. Doubles from US$215. Alternatively, try the boutique Dwarika's Hotel for a taste of authentic Nepali culture. Doubles from US$240.
Mid range: Hotel Royal Singi is a comfortable and centrally placed option, ten minutes from Thamel and a 20-minute walk from Durbar Square. Doubles from US$120.
Budget: Right in the thick of the yak-wool stalls and DVD shops sits this classic backpacker option – the Kathmandu Guest House. It's rumoured the Beatles stayed here, as has many a mountaineer. It may offer some fancy rooms but it's still home to basic singles (US$2) and doubles (US$4) – bargain!
Stay or go?
It's got to be a bit of both. Though it's easy to get caught up in Thamel's laidback vibe, don't linger there too long – there's plenty more to see and do in the rest of the valley, using Kathmandu as your base.
Start by checking out the Kathmandu Valley's other two main towns, Patan and Bhaktapur. Both have old temples as well as durbar (main) squares that are less crowded than the one in Kathmandu. 
Patan is the nearer of the two (about 20mins by taxi) and has a good museum that's worth visiting. Bhaktapur (45mins by taxi) is a more ancient city with older buildings and fewer Westerners – it's the best option if you want a more local vibe. Aside from cities, Kathmandu is a great base for trying a number of activities such as rafting and mountain-biking. Recommended for the latter is Dawn till Dusk (www.nepalbiking.com), which offers day trips around the valley starting from Thamel's Kathmandu Guest House. Prices start from US$65 and include bike hire, lunch and a guide.
Once you've had your fill of water and wheels, head to the hills for hiking heaven. Whether you choose the Everest or Annapurna regions, there's a trail for everyone.
Insider tip: Consider visiting in winter. Most guidebooks recommend October/November, meaning these months are crowded and hotels often full. Instead try December, when most tourists have gone home and the weather is still good.
Essential info
Population: 975,500
Languages: Nepali, Hindi, English
Timezone: GMT+5.45
International dialling code: +977
Visas: UK nationals require a visa. Organise this pre-travel via the Embassy of Nepal or buy one on arrival. Prices start from US$25 for a 15-day multiple-entry visa.
Currency: Nepalese rupee (NPR), currently around 133NPR to the UK£.
Highest viewpoint: Best is Swayambhunath (the Monkey Temple), a great place to visit and situated on a hill that offers good views over the Kathmandu Valley.
Health issues: Do not drink or brush teeth with tap water. Purify it or buy sealed bottled water.
Recommended guidebook: Nepal (Lonely Planet, 2012); Nepal (Rough Guides, 2012).
Web resources: Nepal Tourist Board official site – welcomenepal.com.
iPhone app: Kathmandu Map and Walking Tours (demo free; GPSmyCity.com), features a map.
Climate: Kathmandu usually experiences warm days with cooler, milder nights and mornings. It's not too humid so is fairly pleasant most of the time.
Note: The weather can change very quickly in winter. In monsoon season (June-August) expect higher temperatures and rain – lots of it!