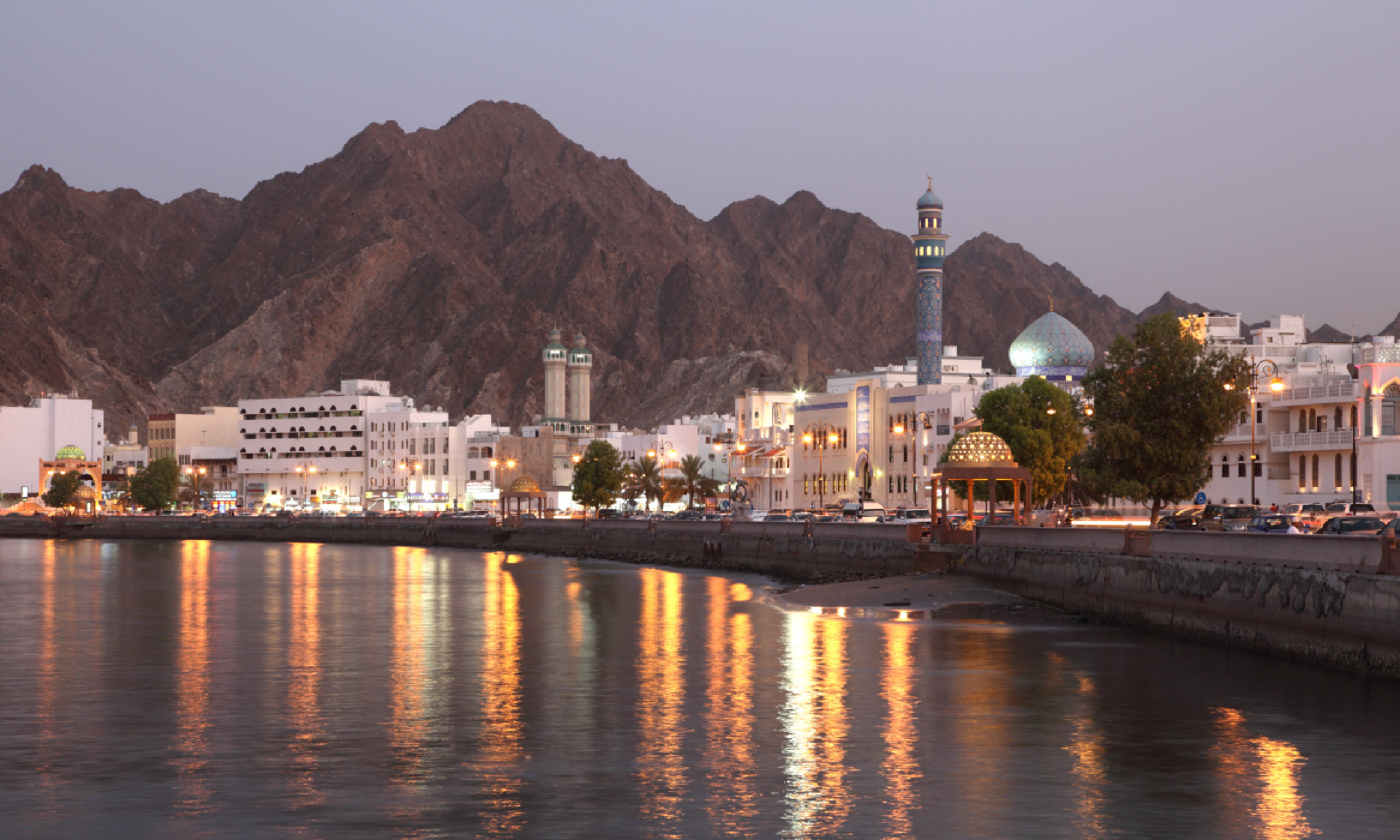 First 24 hours in Muscat, Oman
Oman's capital has never looked better – or had stronger ambition. Yet this thrusting capital combines modernisation with the romance of old Arabia
Before you arrive
Until the 1970s, Muscat was a shadow of the city you see today. Hemmed in behind high walls, the tiny settlement housed the court from which Said bin Taimur oppressed the nation. But in July 1970, his son Qaboos bin Said Al Said staged a coup, exiling Taimur to London. When Sultan Qaboos claimed the throne, poverty was rife and the country had only two schools – unthinkable now, in rich, modern, cosmopolitan Muscat.
The regeneration of the city has been big-scale and bigger budget, but hearteningly tasteful. High-rises are forbidden, and all new architecture is heavy on Middle Eastern motifs: think Arabian Nights in Italian marble. Some original buildings remain – Old Muscat, where Taimur held court, has been preserved as a heritage area.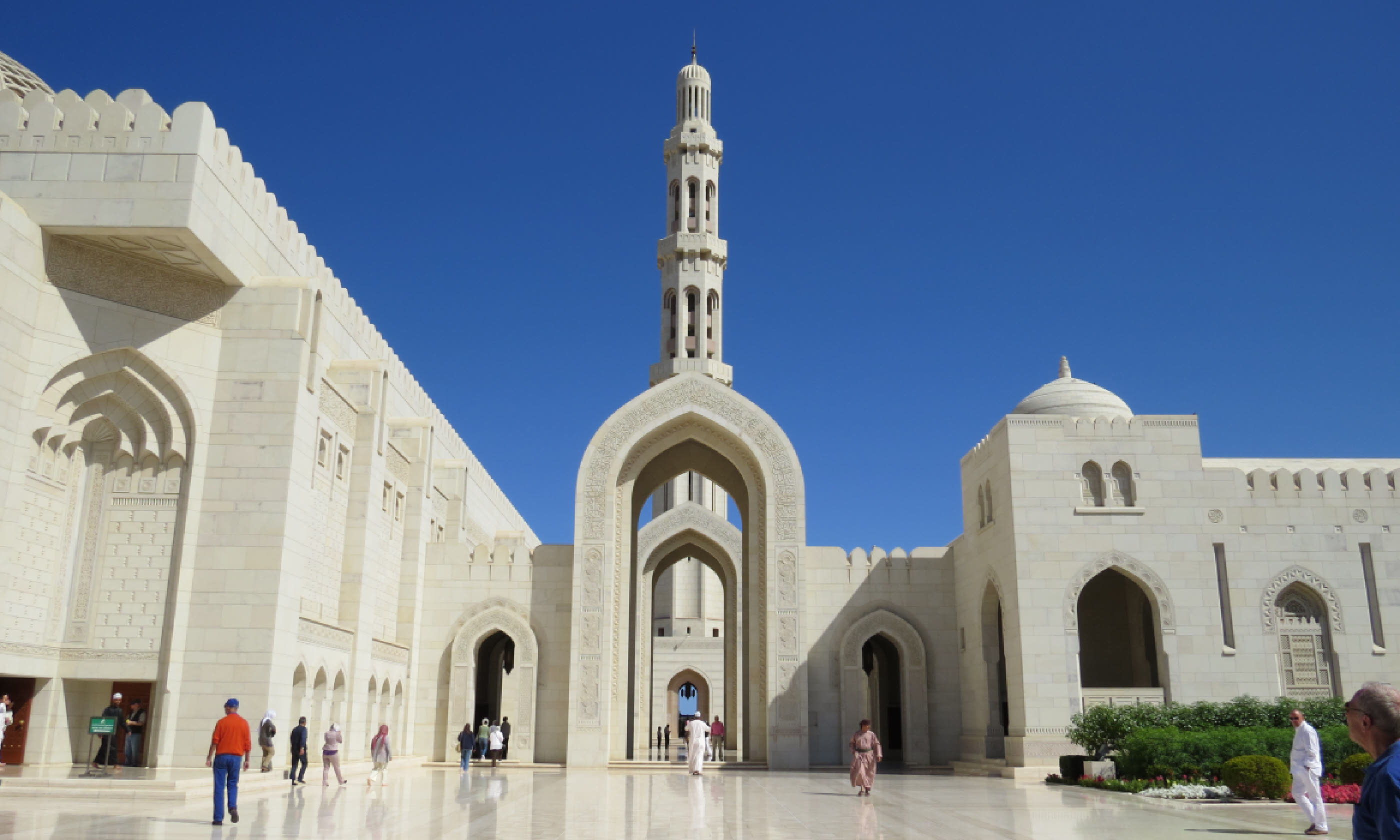 Sultan Qaboos Grand Mosque (Photo: Hazel Plush)
Oman is an absolute monarchy, but the sultan has created one of the region's most stable countries. You'll see his name and image on buildings city-wide. Sultan Qaboos Grand Mosque is Muscat's finest architectural moment: prepare for a barrage of superlatives – biggest, tallest, priciest – as you gaze at its eight-tonne Swarovski chandelier and vast Iranian carpet, which took 400 weavers four years to make.
The city, sandwiched between the Arabian Sea and towering limestone cliffs, is ever-expanding along the coast. Muttrah – with its busy harbour, gleaming buildings and hectic souk – is its heart. As the walls around Old Muscat slowly crumble to dust, new Muscat strides on.
At the airport
A new terminal is being built at Muscat International, mooted to open in 2017. Until then, only Oman Air flies UK-Muscat direct (7-8hrs). A visa-on-arrival can be bought from the Travelex desk before passport control (no prior paperwork needed). Alcohol is sold in duty free, just before Arrivals; if you buy, consume discreetly. In Arrivals you'll find ATMs, currency exchange, coffee shops, car hire and a taxi rank.
Getting into town
There are no train stations or bus stops at the airport. Taxis into town must be pre-paid at the booth outside Arrivals (40mins to Muttrah; OMR10 [£17.50]). Elsewhere in the city, haggle for taxi fares before you ride.
Other ways to arrive
Port Sultan Qaboos is a popular stop for cruise ships; ferries from Musandam (5hrs; OMR23 [£40] one-way) run four times a week. Inter-city (ONTC) buses connect Muscat with Oman's major cities; they stop at the main bus station in Ruwi. A thrice-daily bus service runs from Dubai (6hrs; OMR9 [£16] return) – don't forget your passport.
Essential info
Population:
1.15 million
Languages:
Arabic (official); English, Hindi, Urdu
Timezone:
GMT+4 International dialling code: +968
Visas:
Required by UK nationals and available on arrival. A ten-day visa costs OMR5 [£9]; 30-day OMR20 [£35].
Currency:
Omani rial (OMR), currently OMR0.57 to the UK£. ATMs are widely available.
Best viewpoint:
On the road to Old Muscat – stop en route from the Grand Mosque to the Bait Al Zubair Museum for a glimpse of picturebook Arabia: a cluster of whitewash houses and the original port, overlooked by a fortress.
Health issues:
No specific health concerns. Laws regarding alcohol, dress and conduct are strict – learn them.
Recommended guidebook:
Oman
(Bradt, 2013)
Climate:
October to May sees 20-35°C temperatures and low humidity; there's very occasional rainfall December- February. June to September sees highs of 45°C and high humidity.
Top tip:
There is no formal public transport system in Muscat, so getting around can be tricky.
Zahara Tours
offers informative half-day city tours from OMR52 [£91] per car.
First day's tour
Sultan Qaboos Grand Mosque (Sat-Thurs, 8am-11am, free) is the only place where you'll find tourist crowds, so arrive before 9am. Gawp at this feast of sacrosanct opulence and stroll through its immaculate gardens. Do cover up; women must wear headscarves.
Ditch the tourists and head to Muttrah fish market – and go soon, before it moves to glossier purpose-built digs. It's a busy, blood-spattered working butchery/ market with friendly traders and photo opportunities aplenty.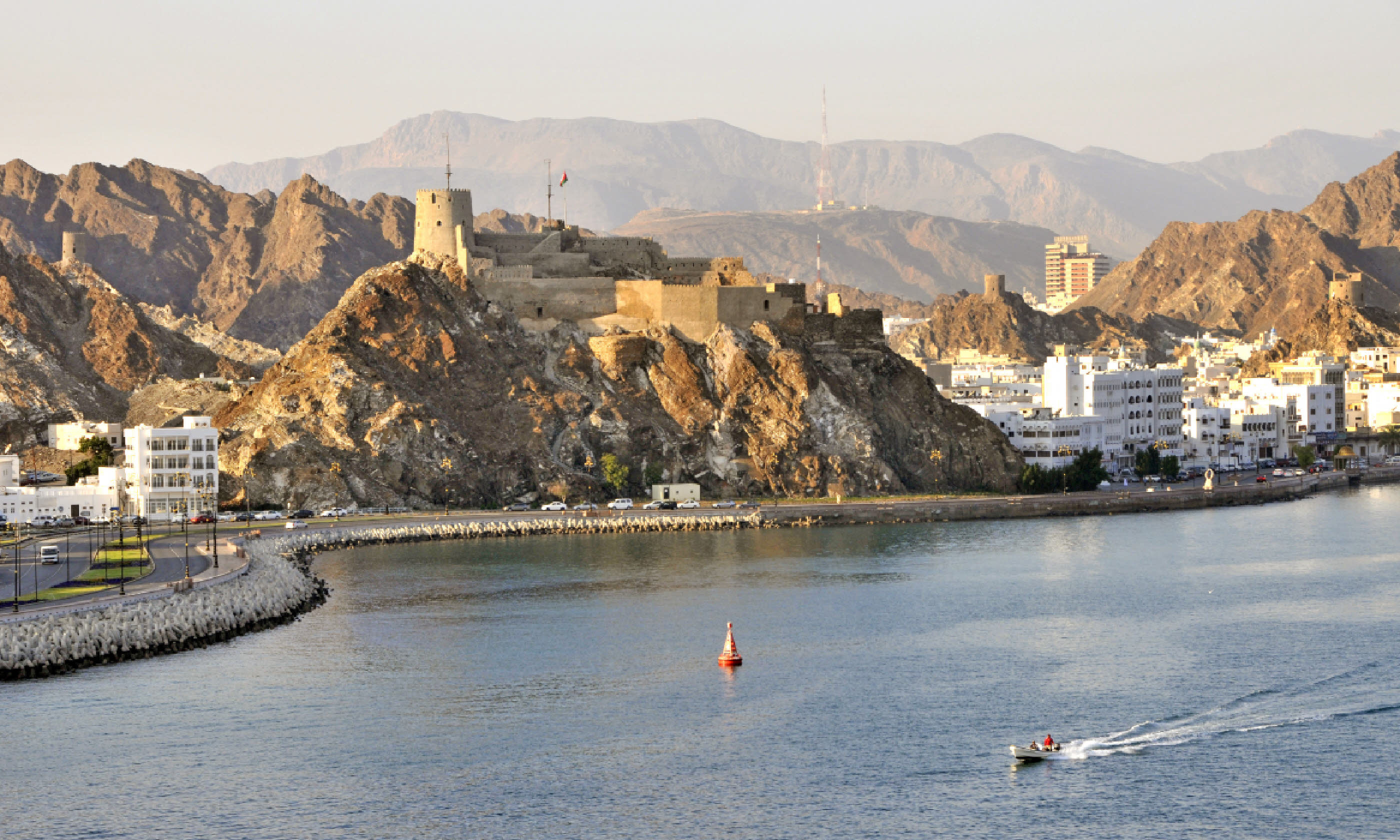 Muttrah Corniche
Nearby, Bait al Zubair Museum (Sat-Thurs, 9.30am- 6.30pm; OMR1 [£1.75]) documents Oman's national identity. Lunch Omani-style at
Bait al Luban
, one of few Muscat restaurants to serve traditional food.
The gold-trimmed Al Alam Palace – one of Sultan Qaboos's many residences – is flanked by government buildings, but don't be deterred: you can wander around. A ten-minute walk away, the old harbour bears historical graffiti by crews who've visited over the past 500 years.
Muttrah Corniche adjoins busy Port Sultan Qaboos, where the sultan's superyacht,
Al Said
, might be spotted amid traditional dhows. Across the road in Muttrah Souk (9am-1pm, 4-9pm; afternoon only on Fridays) you'll find silver curios, coffee pots and khanjars (ceremonial knives). Haggle hard. For dinner,
Bait al Bahr
serves locally-caught seafood in a peaceful beach-side spot.
Where to stay
Top end:
The opulent
Al Husn Hotel
is a spectacular 15-minute coastal drive from Muttrah. It's popular with Omanis, and a welcome retreat after a day exploring. It has frankincense-scented rooms, a tranquil pool and great restaurants. Don't miss talks by the turtle ranger: the beach is a nesting site. Doubles from OMR157 [£275].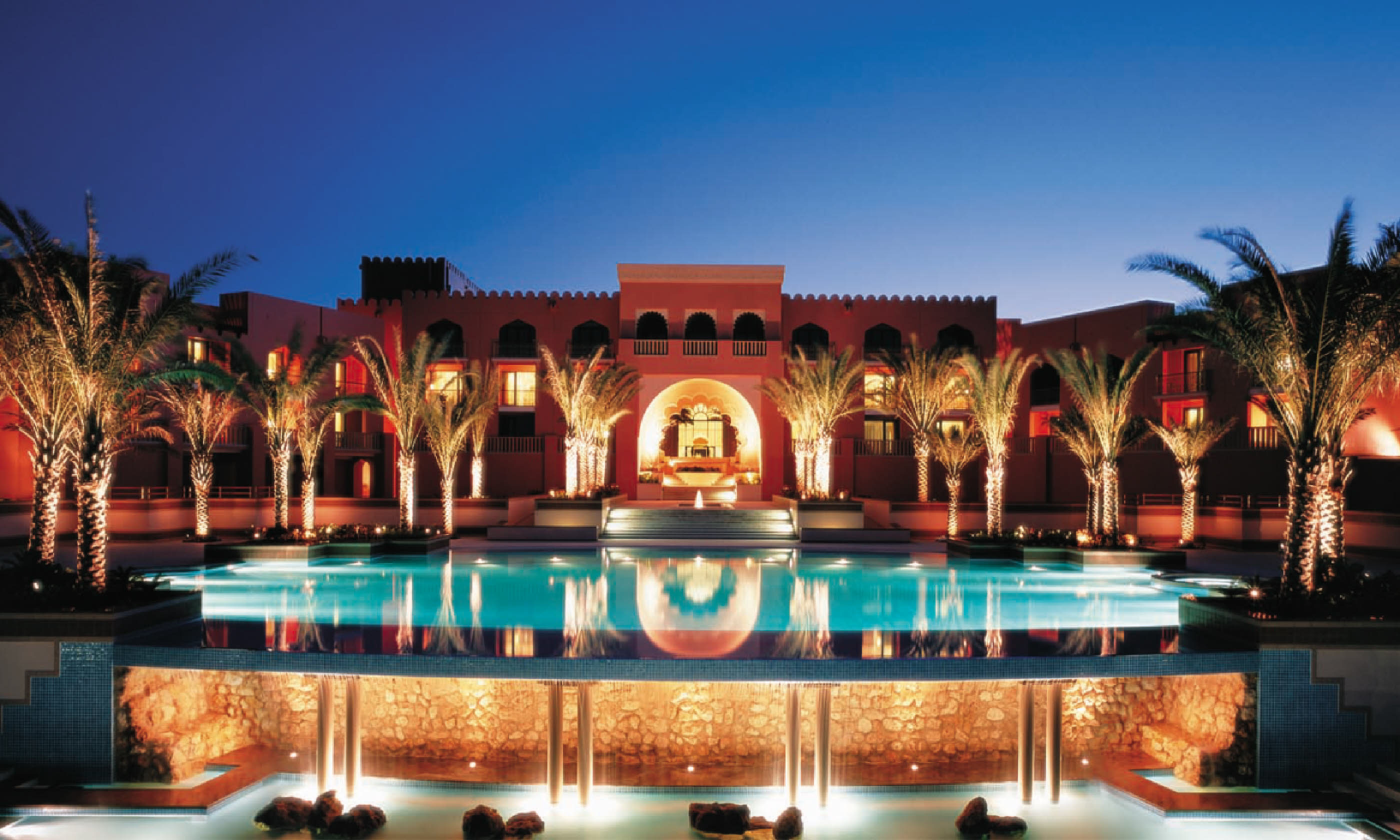 Al Husn Hotel
Mid-range:
Crowne Plaza Muscat
makes up for its business-like ambience with a great location: handy for Muttrah, and with a private beach too. Doubles from around OMR70 [£122].
Budget:
Beach Hotel
has clean, spacious rooms. The outdoor majlis-style seating area is a nice authentic touch, and the location (halfway between the airport and Muttrah) is quiet and convenient. Doubles from OMR38 [£66].
Stay or go?
Muscat's main sights can be absorbed in a day, so move on. Ras al-Jinz, a turtle nesting site of global importance, is a 3.5-hour drive south of the city along a quiet coastal highway. Stop halfway, on the cliffs near Bimmah, to see turtles swimming offshore. Stay at the
reserve's comfy hotel
, which offers daily guided turtle-watching tours (4.30am and 9pm). There's an informative on-site museum, too.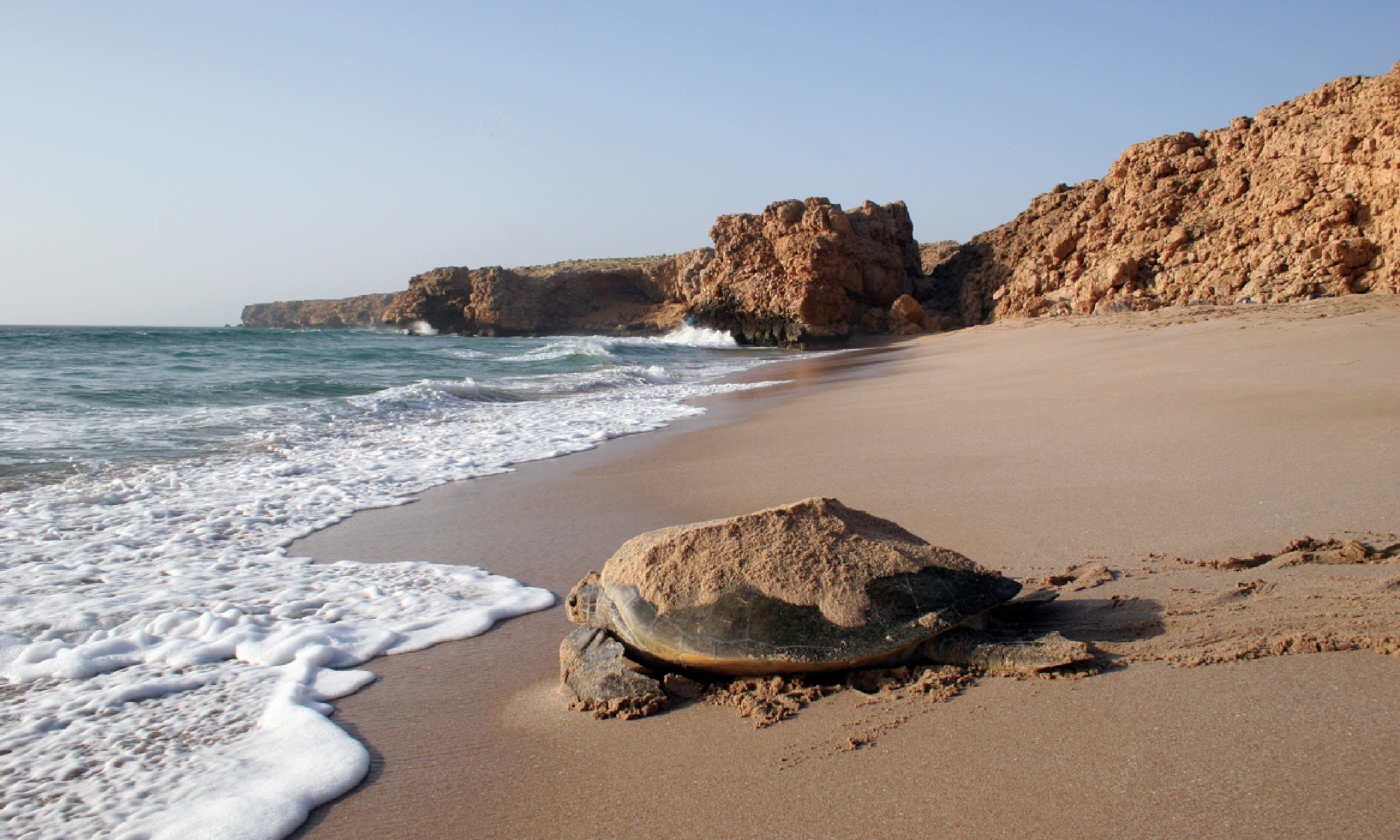 Turtle watching, Ras Al Jinz
To the west of Muscat lie the Hajar mountains – take Highway 15 to Nizwa, a two-hour drive that skirts the range. Overnight in Nizwa, a well-preserved historical city with a souk to rival Muttrah's, then depart early to explore the mountains and cavernous wadis (riverbeds) of Jebel Shams – 'Oman's Grand Canyon'. The mountain-side cabins of
The View Oman
teeter on a Western Hajar outcrop, offering thrilling vertiginous vistas.