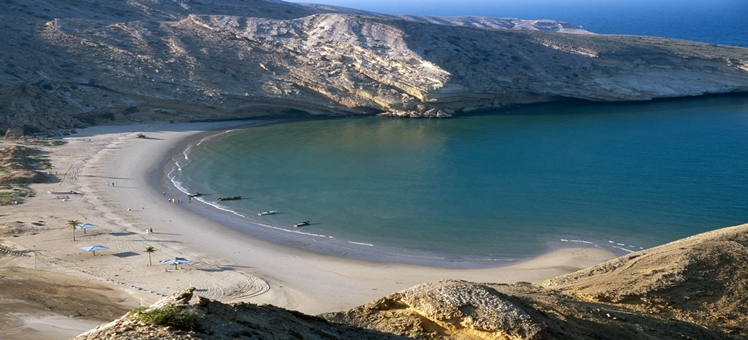 One thousand and one Arabian Nights… if you have the time to spend in Oman, each night could be a different experience. One of the most magical has to be sleeping in a Bedouin camp under billions of stars. Then there is Muscat, a gleaming city with extravagant hotels to make you feel like royalty. Salalah has beach resort hotels set in lush surroundings, while Nizwa has traditional guesthouses offering respite from the dusty desert.
Muttrah, Muscat
Curving around the Port Sultan Qaboos, Muttrah's Corniche is one of Muscat's most popular hotel districts. From the harbor, you can take in the sights of the city, most dramatic in the evening, when watercolor sunsets illuminate the minarets and domes. The main souq is located here, as well as plenty of restaurants. The hotels, which offer good value for money, are nothing short of luxurious.
Wahiba Sands
Stretching between Muscat, Sur and Nizwa, the Wahiba Sands is an easily accessible desert. Head out with a guide to get far from the cities and spend the night at a Bedouin camp. There are options to rough it with just a roll mat and tent, or you can glamp in luxury, with full beds and soft seating areas to recline in and stargaze.
Sur
At the southern end of the Wahiba Sands, Sur is a traditional town with an emphasis on the local dhow-building trade. It offers mostly beach resort hotels, which, while they don't match Muscat for opulence, do provide a very comfortable, easy stay in the beautiful coastal surroundings. A few guesthouses and eco-lodges are also available a little further from the center, including at the nearby turtle reserve.
Nizwa
Nizwa's resort hotels provide a welcome relief from the dusty expanse of desert, with cooling pools to swim in and light, airy rooms. Guesthouses offer a more rustic, authentic Nizwa experience, with handcrafted, Islamic-pattern furnishings. To escape to a less arid environment, stay at one of the hotels at the top of Jabal Akdhar, the nearby 'green mountain' with stunning views of the valleys below.
Salalah
In the land of frankincense, it seems fitting that Salalah's beach resorts are elegant and luxurious affairs, with access to the white sand beaches and furnished with tasteful Arabian design. There are also a few beach-facing B&Bs if you're looking for something simpler. Salalah is a place to relax and soak up the beautiful tropical environment, and its hotels allow you to do just that.
Sohar
Once the home of Sinbad the Sailor, Sohar today is Oman's most modern city, with clean beaches and developed resorts, offering Omani hospitality with a slick, international edge. You can shop in air-conditioned malls and sunbathe to your heart's content. The luxury hotels provide the best beach access, but there are also some budget-friendly hotels available a little further away.
Khasab
The most remote corner of Oman is the place to come for day-long boat excursions to see dolphins and to experience Arabian fjord country. There are two main hotels in the town, one offering full resort services and plenty of luxury, the other providing decent rooms for those on a budget. Both are centrally located, and there are a few other guesthouses dotted about.