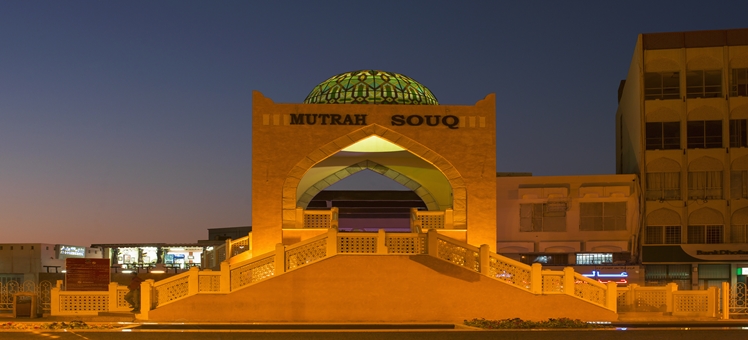 Rich in Arab mysticism, Oman's souqs are a wonderland of exquisite crafts, precious materials and local delicacies. They overwhelm every sense with the pungent aromas of spices and perfumes, a kaleidoscope of colors, a cacophony of human and animal noise. Each region has its own specialty, from the pottery of Nizwa to the frankincense of Salalah. The pristine malls of Muscat couldn't be a more different experience; westernized and airy. But for a true taste of Oman, delving headfirst into the souqs is a must.
Muscat
Muscat is a dramatic fusion of old and new, particularly when it comes to shopping. In the tourist-friendly Al Qurum district, to the east of Muttrah, you'll find bright, glitzy shopping malls, packed with the crème de la crème of western brands. It's where the affluent residents and foreigners come to shop and be seen, browsing elegant designer boutiques and picking up the latest technological gadgets. But visit Muttrah and you'll discover the labyrinthine world of its traditional souq. Beneath stained-glass domes, a vast array of products dazzles with color and scent – leather slippers and bags, ornate, highly polished silverware, stacks of spices, highly decorated fabrics. No trip to Muscat is complete without a trip here.
Nizwa
If there ever was a souq which captured the very essence of mystical Arabia, it is Nizwa's. Perhaps it is the fact that it is housed in a palatial, sand-colored building; or perhaps it is the bleating of the goats dragged reluctantly to the cattle market, but Nizwa Souq is thrilling and enchanting in equal measure. It is a veritable Aladdin's cave, full to the brim with local pottery, precious metal jewelry and an exotic variety of dates, an Omani luxury. If you can, visit the nearby village of Bahla, where the pottery is made, for an even more impressive selection and to see it being created by the talented local craftspeople.
Sur
This traditional, seafaring town excels in master craftsmanship. On its unspoilt beaches, you can watch the wooden dhow boats being built with the utmost care and skill. At the Safen Al Khaleej workshop, you can find your own dhow to take home with you; miniature souvenirs are made here, every bit as precise and beautiful as their life-size counterparts. Sur's other technical specialty is musical instruments, also expertly crafted from wood. You'll see traditional ouds – a type of lute - being played by local musicians, and you can examine them up close in the souq.
Salalah
Though Salalah may be developing its commercial acumen with new, western-style malls, when it comes to shopping here, there is really one product which people come to buy: frankincense. Visit the beachfront Al Husn souq, where the pungent, aromatic scent of the almost-mythical perfume will envelop you. Small packets of frankincense are available to buy, along with a gilded incense pot. While frankincense is everywhere, myrrh is a little less obvious, but you'll find some if you explore enough perfume stalls. Then it's just a matter of choosing the perfect gold keepsake and you'll have the wisdom of the three magi in your hands.
Shopping Tips
• Haggling is part of souq culture – take your time to get your bearings and compare prices before entering into negotiations. • The concept of regular opening and closing hours outside of the malls can be a rather lose one, but souqs generally open in the mornings and evenings, closing for several hours in the middle of the day.• Frankincense quality varies: look for light colors and large clumps, as this indicates a high quality. You only need buy a very small amount, as a little goes a long way. • Remember to dress modestly and respectfully – it will enhance relationships with the traders.