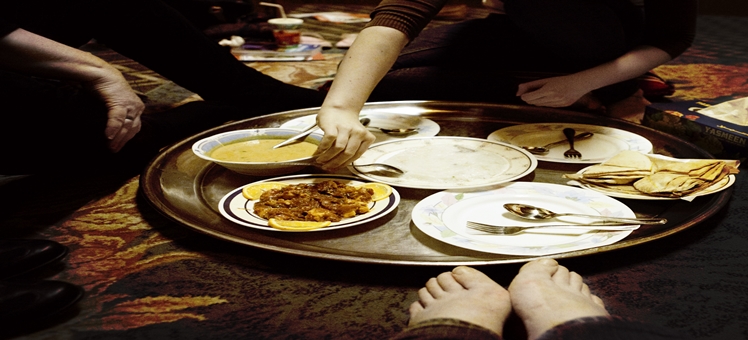 For most of Oman's history, the cuisine developed from the few native plants and animals which could survive in the arid, desert climate. Even the tropical bounty of the south was mostly confined to the Dohfar region, so a true Omani meal is simple: usually some sort of stewed meat served with modestly seasoned rice. But with an infusion of both Indian and Lebanese flavors, popular dishes in Oman today are diverse and exotic. Tea and coffee are both important drinks in Omani culture, served with sweet Halwa.
Halwa, Oman's one sweet dish, is a national treasure. With a texture similar to Turkish Delight and a fragrant taste from prized rosewater, it's served as a sign of hospitality.
Muscat
Muscat's main thoroughfare, the Sultan Qaboos Street, is the center of the city's restaurant scene. Like any capital city, it has a range of international cuisines on offer, but it has some particularly good Indian and fusion seafood restaurants. One of the best places for top-quality Omani food is the Al Angham restaurant inside the Royal Opera House, which serves freshly-caught seafood in opulent surroundings and with the highest level of hospitality. For a more rustic, low-key meal, try Begum's, touted as serving the best kebabs and biryani in the city – quite an accolade in a place with this many Indian restaurants.
Salalah
The lush, tropical coast of Salalah provides this southern city with the kind of mouthwatering fresh fruit and seafood you can only dream about in the arid interior: mango, coconut, and fresh lobster are some of the delightful treats on offer here. South Indian cuisine influences seem to have traveled over with the monsoon, so it also has some of the best dosas and paneers in the country – try Udupi for great Indian vegetarian fare. The main thoroughfares of Ar Rubat and 23rd July Street have plenty of eateries to choose from, including Western, Indian and Lebanese restaurants, attracting an international crowd.
Nizwa
Surprisingly for a desert region, Nizwa and the surrounding area has influenced Omani cuisine more than anywhere else, thanks in large part to the green mountain of Jebel Akhdar. It is here that Oman's roses are grown and where its coveted rosewater is produced. Halwa, the ubiquitous sweet dish, originates from here, and it is presented in a variety of forms, often served with strong, black coffee. This is also the place to try traditional shawarma – Omani kebabs. Lebanese and Turkish influences supplement Omani traditions, with flavorful mezze being dished out at hole-in-the-wall places. One of the best restaurants for a proper sit-down meal is the Turkish Al-Masharef.
Sur
Outside of Oman's most developed cities, and the Western-style hotels, formal restaurants are something of a foreign concept. Much more popular are simple coffee shops, which also serve Omani-style 'fast food': Shawarma kebabs, mezze and dhal. It's cheap, flavorsome food, just perfect washed down with Omani black tea or a fresh fruit juice – and Sur has plenty of these places. It does also have a couple of beachside restaurants, with freshly-caught seafood and Lebanese-influenced cuisine. Expect fragrant platters to dig into and share around, with plenty of pitta, hummus and kebabs. Sur Sea Restaurant is a popular choice with visitors and locals alike.
•
Al Angham
, Al Kharijiyah Street, Muscat.