Wat Pho, Temple of the Reclining Buddha, Bangkok
TIME : 2016/2/24 18:38:21
The oldest temple in Bangkok pre-dates the city itself and was originally founded in the seventh century with the name Wat Phodharam. Before there was a temple, the site was a school for traditional medicine and this legacy continues today with Wat Pho renowned as one of the most important centres in Thailand for traditional medicine, particularly Thai massage.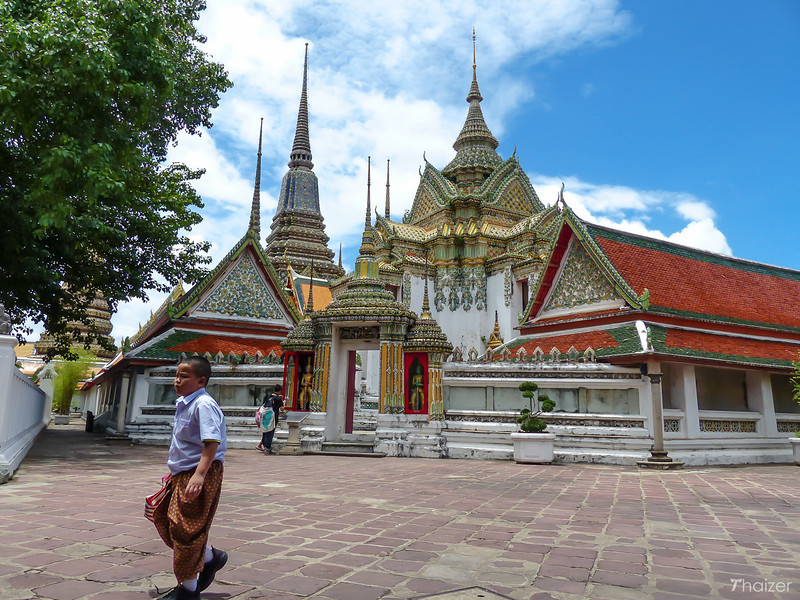 Under King Rama I, the temple was restored and enlarged and in 1801 it was renamed Wat Phra Chetuphon which is the name many Thai people tend to use rather than Wat Pho. The main bot of the temple houses a seated Buddha image known as Phra Buddha Deva Patimakorn which sits on top of a three-tiered pedestal under which some of the ashes of Rama I are still kept. During the reign of Rama III, the temple underwent further restoration and construction. At this time the temple was established as a centre for learning and Wat Pho is often referred to as Thailand's first university. In 1832, the chapel of the Reclining Buddha was built and it is this magnificent Buddha image which is the main attraction for many of the local and overseas tourists visiting the temple.
The Statue of the Reclining Buddha
The statue, which is made of plaster bricks and gilded in gold, features the Buddha in a reclining position which is the pose depicted at the time of the Buddha's death when he entered Nirvana. The statue is 46 metres long and takes up virtually all of the viharn (chapel) which houses the image.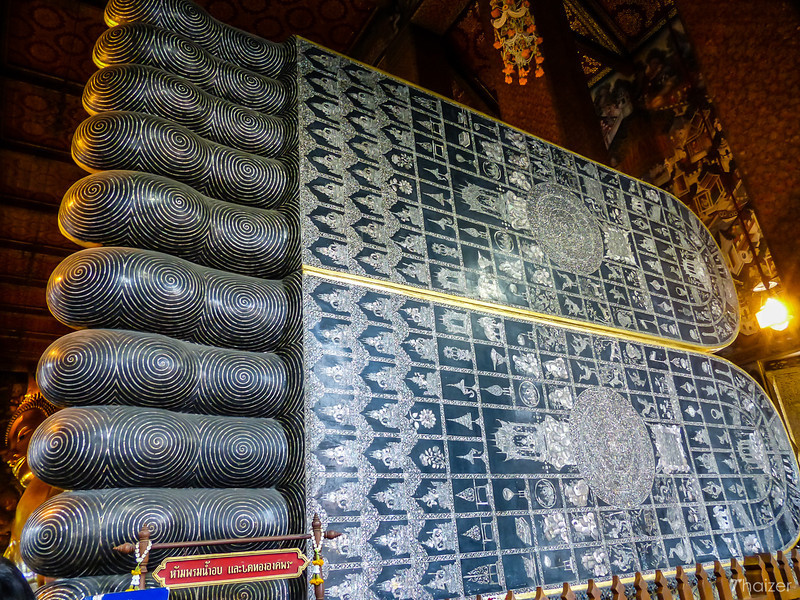 The face is 15 metres high whilst each foot of the statue is 3 metres high and 5 metres long. The soles of the feet are inlaid with mother-of-pearl which depict the 108 auspicious signs of the Buddha. Running alongside the wall of the viharn are 108 bowls which are said to bring good luck and long life if you place a coin in each.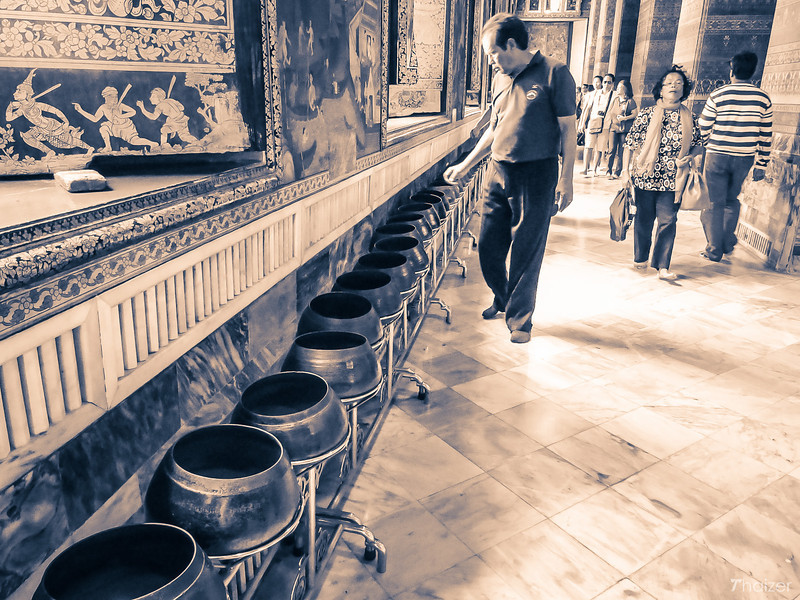 Traditional Thai Massage
Wat Pho is considered by many as the place to go for a traditional Thai massage. The massage is carried out in covered pavilions and owing to the popularity of the service you might not be seen immediately. I had a foot massage here some years ago which I remember as being very good, but also very firm. A traditional Thai body or foot massage can be uncomfortable at the time, but is said to have long term benefits. The massage centre is open daily from 08.00-18.00 with the current cost of a 1 hour traditional Thai massage approximately 300-350 Baht 420 Baht or 260 Baht for 30 minutes. A foot massage is 420 Baht for 1 hour or 280 Baht for 30 minutes (prices checked June 2013).
Click here for more details on getting a massage at Wat Pho »
Practicalities
As with any of Bangkok's major tourist attractions, any tour office can arrange a trip for you and if you go on a group tour, Wat Pho is often combined with a visit to the nearby Grand Palace and Wat Phra Kaeo (Temple of the Emerald Buddha). If you are travelling independently, one of the easiest ways to get to Wat Pho is using the river taxis that run up an down the Chao Phraya River. The stop for Wat Pho is at Tha Tien pier (which is marked as N8) and is opposite Wat Arun (Temple of the Dawn). From Tha Tien pier it is just a few minutes walk to Wat Pho. Entrance fee to the temple is 50 Baht 100 Baht (price checked June 2013) and all visitors should dress respectfully (no shorts). Wat Pho is open daily from 08.00-17.00. 08.00-18.30 (as of June 2013)
acknowledgements: Wat Pho
Photos © Thaizer
Save up to 70% on Bangkok hotels »
Bangkok boutique hotels »