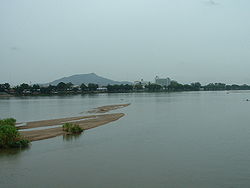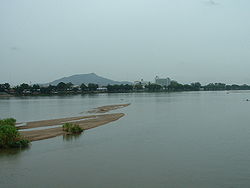 Ping River at Tak
The search for a perfect house is not likely to be easy when you can't yet speak
the local language, beyond being able to order delicious crispy pork and basil
on rice with a fried egg on top, Pad kapow moo gai kai dow, kor
kaa. Add to that the barrier of local people's assumptions about what a farang, foreigner, would want in accommodation, plus the perils
of cycling in hot humid weather while being chased by wild dogs – you get the picture. It would
have been reasonable of me to stay in a soulless box of a condo forever. But I
could not stop dreaming of a little wooden house by the Ping River. So every
Saturday and Sunday I went off on Pedro, the world's best bicycle, to find a
corner of Chiang Mai I could call home.
Not
many visitors to Chiang Mai get off the standard routes around central guest
house and market areas. Even when they see the outskirts of town, it's a
blur on the way to the elephant conservation park or the human zoos that are
hill tribe villages.
On a bike you can get into and through the truly local
neighborhoods: past markets full of banana leaf-wrapped treats, past a giant
man operating a tiny sewing machin, past a child naked and waving from the tin
bathtub on a porch, past middle aged friends throwing boules outside their
local temple. All this I saw and felt as a a community centre, as well as a religious site.
A bicycle is the
perfect way to truly see Chiang Mai – a cheerful, compact city. Traffic is unnerving at
first, but car and motorcycle drivers are careful around cyclists in a way they
are not with each other. Traffic jams are easily scooted through, parking is a
breeze. Unless you want to tackle the long rising curves of Doi Suthep, the
sacred mountain to the west (a useful landmark when
disorientation can happen even to a Human Compass), the city is as flat as a
much-runover rat. (Another common cycling sight).
I can cross the whole city in
less than an hour, but still go slowly enough to see things a motorcyclist has
no time to view, to smell things a car driver is cut off from: a waft of fresh
soap from a little laundry, frying noodles and meat, incense burning
on a shrine to the spirit of the tree it leans against,  a less pleasing,
rotten niff like the water in a vase of dead flowers, pineapple slices
at the fruit stall by the traffic lights, fresh laundry again. Local
residents soon get to remembering a curvy farang on a bike in a land of skinny
Thai motorcyclists, and flash gold-toothed smiles. Or, they shout across the road,
sometimes not Sawasdee kaa, not "Sawasdee kraap", but the
northern greeting Sawasdee jao.
What set me off at first was the soi, (street) dogs. They chase and
bark like they mean to pull you off your pedals and devour you from the ankles
up. They don't often go after motorcycles, but bicycles apparently have invisible
pork chops attached to their spokes. Initially I tried simply cycling faster,
but they took that as a dare. Then I tried packing a water pistol; aiming and balancing at the same time means doing only one thing or the other
well. A friend suggested throwing them biscuits; I refused on principle to
reward them for frightening me. One thing that was very effective was screaming
"&$@£ you!" at them until my throat burned. If they didn't understand
the English, they caught on to the sentiment with which it was expressed. It took only one horrified stare from a nearby chicken vendor to put a
stop to that tactic. Finally I stopped caring and so did they.
It was like dealing with junior high school bullies. There are still times
of a day when these soi dogs are in the mood for a wee chase; amused, I simply barked back at
them, and they retreated in confusion.
Coming
from western lands where building is strictly zoned, the intense mix of
property styles in Chiang Mai is another pleasure. On one part of the road
along the river you see this:
– A
shack made of planks with a rusted corrugated tin roof, scrawny chickens
kicking up dust in its yard
– A
large and stylish complex of wood and cement buildings, surrounded by gardens
more finely maintained than a bonsai tree, containing a massage spa for
tourists
– A
modest but lovely family home, set back from the road by a deep lawn, built in
a style which always makes me feel I've been transported to 1920s England
– A
karaoke and whisky bar, open to the road, trailing dusty strings of fairy
lights and with one bored, pretty young woman in short shorts perched on a
stool out front
– A new
and hideous McMansion, seemingly designed by an architect brought forward from
1982 for the purpose. Flanking the front porch are two eight-foot-high plaster
swans. The entire property is surrounded by gaudy blue and gold iron curlicued
fences.
–
Another wood-and-tin shack, this one a motorcycle repair shop. (These are
located in almost every block, which means I never need to carry a pump for
Pedro's tires. I just wheel in with a sad face and point, saying yangban, flat tire. It costs me 5 baht for the air service, or sometimes nothing at all. In Korea,
yangban means high level civil servant.
It took
a long while to find my dream home because I was too unfocussed, too busy
gazing at, smelling, and enjoying all that the roadsides of Chiang Mai had to
offer. My concrete hamster cage was getting me down, time to get
serious. I found one wooden house which would have been perfect had it not been
large enough for a family of twelve.
Thailand, where the extended family is
still a tight unit, does not build dwellings for singles. A friend of a friend was vacating
her dream wooden house, exciting for a day, until I learned that she
was leaving because of all the scorpions in and under it.
Down a quiet soi,
right next to the river, I found a remarkable gated compound of stunning Lanna
(northern) style wooden houses, built for the Swiss artist, Theo Meier. My enthusiasm faded after a quick Google search revealed that he had died more
than 25 years earlier. The compound was due to become yet another pricey spa
resort for well-heeled tourists with big hair. A lovely elderly lady along that
same soi took me under her wing, before throwing me behind her nephew on his
motorbike. He took me to see his available property, a soulless
concrete box just like the one I already lived in. I came close to renting a
shack near the middle of town, as its folding wooden doors in front opened on
the view of a stunning gold-topped and mosaic-tiled temple stupa. But I'd have to use the neighbor's bathroom, spend weeks and thousands of baht
sealing the thing to avoid nightly mosquito raids. That shack is now a
motorbike repair shop.
One
evening I was speeding down the river to the UN Irish pub to join my Trivia
Quiz team. (We had been doing  well at book and movie questions). I crashed, motorbike fumes bringing on a coughing
fit, I slowed down. I came upon wooden gates opening onto a grass and
gravel path, at the bottom of which was a large and evidently old teak house. A
wooden sign hanging above the gates spelled out, in gold, Tanita. There were
also signs indicating "Tree House", offering teak wood antiques. It
occurred to me that people who sell old wooden things might know where I could
find an old wooden home, so I followed my gut, and wheeled Pedro down the
crunchy path.
A charming young man walked up and met me. I asked
him if he knew of any small wooden houses to rent in the area. I was startled
when he asked me to follow him. He took me around the corner of the antique
shop, and there stood three small teak houses, plus a larger one, set in a
beautifully landscaped garden. They were clearly quite new, made of
reclaimed wood. Each had a lovely slanted roof made of old clay tiles, a
little veranda, and each was furnished inside and out with teak furniture and
statues from the shop. Panels of old green glass filled transom windows and
bathroom doors. My palms suddenly sweated so that Pedro's rubber handlebar
grips squeaked, a joyful sound. I had found home.
Khun
Aor, the proprietor, has lived in the big teak house all her life. Her old Papa
lives upstairs too, above the antiques; I sometimes see him patting the
lunch crumbs from his mustache on their balcony. In common with many people
along that part of the Ping River, they are descendants of Chinese immigrants
who worked the waters nearly 150 years ago. Their house is that old. They
are my kind neighbors. Now my old blue-and-yellow silk Chinese lantern hangs
over my secluded porch. The mosquito coil set outside my door each night makes
my room smell like incense, a holy place. I plan to live here long term. Usually tourists stay for a few days or weeks in these little gems. I can be alone if I wish, or I can meet people from Costa Rica and Italy.
Coffee is available all day, grown through a project founded
by Thailand's beloved King. It is so dark and rich, it tastes like
liquorice. The river road, along which are well known bars and restaurants with
live music on weekends and coffee shops, is right outside Tanita's gate. So too is the hum of traffic day and night but because of
the distance afforded by the grass lined path, I hear little of it. A
pepper (corn) tree guards the steps of my tranquil old new nest. Climbing next to its trunk is a young pomegranate tree, called Tubtim
in Thai. My Thai nickname, even before I found Pepper Tree House, was Tubtim,
Ruby. I fit. There is even a spot for Pedro between the house and an old red
brick wall, lined with Bird Of Paradise flowers, that serves as the local cat superhighway. Dogs and smogs are nothing to us now.
Sketch of Tanita House