Of Curries and Common Ground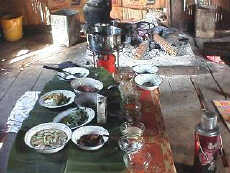 Inside the house, during one of our cooking classes. Note the open fire in the background.


As Noi cooked, I asked a few questions, noticing that cooking methods and ingredients tended to repeat themselves.
Noi's English was good, but not perfect, and sometimes funny misunderstandings occurred.
"What about duck?" I asked once, wondering about one of my favorite foods.
"Yes, the other village we go to tomorrow eat duck," he said. "Very special, eat black duck when cold."
"Oh! I like duck. Like Chinese duck with crispy skin," I said.
"Yes, they are originally Chinese people," he said.
"I think he means dog," said David
"No!" I said, "He can't!"
"Dog or duck?" I asked him.
"Duck, D-O-G" said Noi.
"Oh, no! I mean duck, you know, quack, quack…"
We quickly confirmed that we would not be eating dog tomorrow afternoon and then sat, feeling a little guilty as we ate the wonderful food on the back balcony overlooking the jungle. We tried to get Noi and the family to join in, but they wouldn't. The food was shared between everyone only after we had finished. Noi told us that this was not the type of food they commonly ate, but they were interested in trying it.
That night, once the sun went down there was not too much to do. David went to sleep and I tried to read by the dim light of an oil lamp. At night, I discovered, the bathroom becomes a scary place. The light of the torch revealed a giant spider, with thick legs, at least 3 inches across. It becomes a little difficult to drop your pants, squat, and turn your bare butt to a spider the size of a kitten, only inches away from tender flesh.
The next morning we had a breakfast of boiled rice soup with green onions, tofu, and chicken. This is a common Asian breakfast and the exact opposite of our usual American bacon and eggs.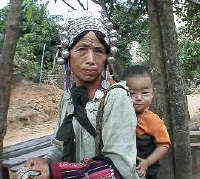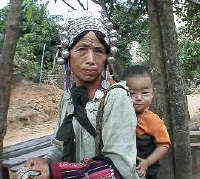 An Akha tribe woman and her baby. I asked if I could take her picture, then showed it to her on the digital camera. She was completely nonplussed – and was more interested in making a sale.


Then our "ride" arrived, and we were off by elephant to visit some of the other villages. The elephant ride through the jungle was surprisingly peaceful and we arrived in an Akha village. Noi invited us to meet the headwoman of the village, whose husband had recently passed away. I was a bit nervous as we went into her house, because right before we went in, we were told he had been dead 19 days and was still inside. As it turned out, he was interred in a small, boat-shaped, closed wooden casket. She offered us tea and showed us her silver headdress, one of the few real silver ones remaining. Most are now made of tin, the silver having been sold off long ago.
In the afternoon we had our second cooking class. Noi showed us chicken with coconut milk soup, kaeng ped (red curry with pork), pat pet mamoung kai (fried chicken with cashew nuts), pa nang (red chilies with fried pork), Thai salad with egg, and tom ma kau (smashed eggplant dip). I faithfully wrote down each recipe and was impressed with the complexity of flavors generated from about 10 basic ingredients. Rice was cooked over an open fire, and curry paste was made from scratch using a mortar and pestle.
Later in the evening there was a party in the village, given for a 12-year-old girl who was to be married in two days to a 17-year-old boy from a neighboring village. Members from his family came to meet with hers, and a pig was slaughtered to honor the occasion. At one point I ventured outside to go to the bathroom and when I returned, I heard a noise at the door. Suddenly, there was a very drunk young man sitting on our floor. As surprised as I was that he just walked inside and sat down, he seemed equally surprised to see David lying on the mat under the mosquito net. Ten seconds later a friend joined him. There they sat, not speaking English, but trying to talk to us. They offered us "whiskey," probably the only English word they knew, and we declined. David was asked if he wanted a "massage" (an odd offer given the circumstances) and said we pantomimed that we were going to sleep. They left as quickly as they came in. Later, I wondered what would have happened if my husband had not been there, but ultimately I didn't feel in danger.
The next morning I told Noi of the encounter with the drunken young men and he relayed it to the family. They said they were probably young men from the other village.
Over breakfast we had a chance to sit and talk with the 17-year-old daughter-in-law in the family, with Noi acting as interpreter. She had a beautiful one-year-old daughter and had been married for two years. It is not uncommon for girls to marry at age 13 or 14, with the marriage arranged by the families. It was her opinion though, that 12 was too young.
She then gave us the local gossip: the girl had spent the night out in a field with the boy, and now they had to get married. It was not implied that the girl was pregnant, but rather that custom states that if a boy and a girl spend any time alone together they have to get married.
She offered to show us some photos from a friend's wedding in the village, so we could see what the wedding would be like. After, I showed her some pictures from home that I carried with me, which included a few from mine and David's wedding. Her first comment was that my dress was white, very uncommon here, and that we must be rich because it looked so expensive. She had never seen such a dress before. A friend, sitting next to her, said that she had seen one once in a photo. They then poured over all the photos, asking for details about the pictures of our friends, parents, grandparents, cats, and places like the Grand Canyon, Venice, and Paris. It was an interesting cultural exchange, and while their lives were so extremely different from that of a typical American teenager, at that moment they were no different than any other young girl, fascinated by the romance of a wedding photo and faraway places.
After we had lunch, the women of the household, young and old, and many of their friends, came inside to eat a special meal for the upcoming wedding. They had a soup made out of dried bitter greens, white squash and pork, some steamed rice which was eaten with the hands, a bowl filled with fried pork intestines, and a bowl of larb, a dish consisting of spiced, chopped, raw pork. Obviously the pig that had been sacrificed the day before was being put to good use and eaten before it could spoil.
I was invited to sit on the floor and partake with them, while David and Noi sat off to the side. This was real Palong food, simply prepared but very good, yet different from Thai food. The soup was a bit spicy and salty, and the tripe was fried crispy and tasted a little like pork rinds. I did not try the raw larb; I'll try just about anything, but unrefrigerated raw pork was just asking for illnesses that my Western stomach would not be able to handle.
As we drove back to Chiang Mai, I reflected on how I had gone in search of cooking lessons and returned with a better understanding of a life so completely different, yet similar to my own. Babies are born to teenage mothers, men die, people eat, love, laugh, and get drunk at weddings. Young women of any culture love romance, and young men will get drunk and do stupid things. Food is used to celebrate and comfort. All this clarity, and I didn't even have to smoke opium to come away with a stash of great curry recipes, and a new appreciation for the family of humankind.