It's a Different World
Saigon, Vietnam
I've been walking for an hour through the unlit streets in Ho Chi Minh's nightlife district, searching for the infamous Apocalypse Now Bar. Of course, I was offered a ride by several passing opportunists on scooters. But I stubbornly refused. It's now a personal mission to locate this bar, even if it is almost midnight and the deep, dangerous holes that litter the pavement are getting more difficult to see. From nowhere, a young, ten-year-old girl is walking beside me.
"Where do you want to go?" she asks bossily.
"The Apocalypse Now Bar?" I said, unsure of what I was doing.
"Ok, I show you, and you buy my chewing gum, ok?" she storms before marching me soldier-like towards where I want to go.
Her name is Lia, and she is leading a strange, foreign man along unlit streets at midnight.
Lia is more streetwise than I could ever dream, and I don't dare argue with her!
"Where is your mother, Lia?"
"She is not here. I'm out with my sister tonight."
"Then, where is your sister?" I push on.
"Oh, she is over there somewhere," she replies as she points in no particular direction.
You buy gum from me when we get to the bar."
I did not buy any gum from Lia. Instead, I handed her a generous tip for her wit and entertainment. Only afterwards did it occur to me that I was encouraging her to continue this dangerous occupation.
I'm on my third day in the Ho Chi Minh City. The incident doesn't come across as being strange anymore. A stroll around Saigon, as the city is more commonly known in the Western world, provides a barrage of unfamiliar scenarios for the foreigner. Outside the uninspired Reunification Palace, I am being offered coconut juice by women wearing conical hats and carrying two baskets attached to a pole that rests on their backs. Then, postcards (always in a pack of ten) by a boy who is merely trying to buy his poor, ill mother medical supplies. There must be an epidemic of bed-ridden mothers, as the next young man I come across selling postcards also pleads the same reason.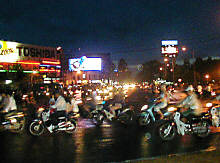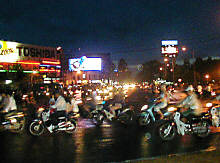 The Saigon Hells Angels. Scary eh?



Normally, I would feel badly for the appalling luck that has befallen so many mothers of postcard sellers, but all my thoughts are concentrated on Saigon's most popular and dangerous activity – crossing the road. You have never seen anything like it. There are no cars. Mopeds rule. To cross, you have to weave among several million of them. True adrenaline junkies should try the "night run" – made more interesting by many bikers not bothering with headlights. If a horn quits working, riders head straight to a mechanic. Brakes and lights are a distant second as necessary requirements for a Vietnamese scooter.
Should these daredevil activities not be to your taste, there are more traditional attractions in Ho Chi Minh, most notably the War Remnants Museum. It was once known as the Museum of American War Crimes, but this ended when American tourists, primarily war veterans, began to arrive several years ago. Even today though, the former title would be appropriate, as would Museum of Vietnamese Propaganda. You may be shocked, even amused, to be shown a black and white video of Vietnamese villagers clapping as a young girl fires a rifle that blows up an American tank. When the cheering ends, she is awarded a medal and proclaimed an "American Killing Hero."
You can feel the tourists from the United States wriggling with frustration as the ridiculous film continues to label them monsters. You can't begrudge the Vietnamese a little propaganda. Otherwise, the museum is an impressive collection of photography, artillery, weapons and memorabilia that is well worth a visit.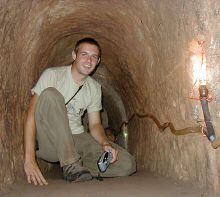 Cu-Chi tunnels. Back in the war, it wasn't this plush.



You'll need to take a day trip in an organised tour group to see the Mekong Delta and the famous Cu-Chi Tunnels. A trip to the latter is definitely recommended. Who wouldn't want to find out if they can be a tunnel rat by fitting into one of the original underground tunnels?
You can also immerse yourself in a different world of Saigon where you start bargaining at one pound for a Ralph Lauren polo shirt in the central market, a world where the big decision at lunch is whether you want a watermelon or pineapple shake with your meal along the Saigon River, a world where the only puppet shows you'll see are on water. It's a Vietnamese tradition, you know, like ten-year-old girls guiding strangers to bars. It's a different world.
——–