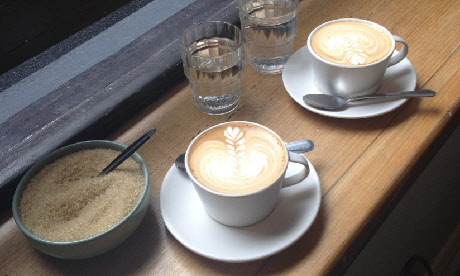 10 best cafés in Melbourne
Melbourne's abundance of cafés can make it difficult to choose the perfect place for a flat white. Marta Safin, riding high on caffeine, seeks out the best spots


Auction Rooms
Address:
103-107 Errol St, North Melbourne, 3051
Price:
Sample breakfast: three-grain porridge AUD$13; Coffee: espresso/milk AUD$4, filter AUD$5-$8
Opening hours:
Mon to Fri: 7am - 5pm, Sat & Sun: 7:30am - 5pm
Auction Rooms is located in North Melbourne, an area popular for cafés and boutiques and not far from the Queen Victoria Market (or 'Vic Market' as it's known locally). As the name suggests, this café is based in an old auction house, a beautiful space with plenty of natural light as well as a back yard for dining al fresco. The coffee served is from Small Batch Roasting and changes seasonally. Expect a lot from the food menu: it's split into 'opening bids', 'counter bids', 'bidder's choice' and 'outside bids' (you are in an auction house after all!) and includes delicacies such as warm pumpkin and ginger bread with saffron cream cheese.


Hammer and Tong
Address:
Rear 412 Brunswick St. Fitzroy, 3065
Price:
Sample breakfast: Coconut bircher muesli AUD$12; Coffee: coffee: espresso AUD$3.50, milk AUD$3.80 
Opening Hours:
Sun & Mon: 7am - 4pm, Tues to Sat 7am - late
Located in one of Melbourne's entertainment strips most renowned for its street art and music scene, Hammer and Tong is a perfect spot for a pre-shopping breakfast. Highlights of the menu are zucchini and corn fritters as well as the soft shell crab burgers which will give you plenty of energy for the activities to come, whether it is listening to live music or visiting one of the many alternative and trendy shops or galleries in the area.


Industry Beans
Address:
Warehouse 3, Crn Rose & Fitzroy Street, Fitzroy 3065
Price:
Sample breakfast: Overnight steel-cut oats AUD$13; Coffee: from AUD$3
Opening hours:
Mon to Fri: 7am - 4pm, Sat & Sun: 8am - 4pm
Industry Beans is not an ordinary café: this is where you go for the 'science meets coffee' kind of experience. Coffee has its own menu and is the centre of attention. Whether you prefer your brew hot or cold, even the most hardened aficionados will find something novel here. Made with their own coffee, Industry Beans offers you traditional flat whites and cold brews as well as more unusual latte pearls (they melt in your mouth). The food menu follows the inventive coffee theme, with innovative dishes such as a coffee-rubbed beef burger with onion straw leaves.


De Clieu
Address:
87 Gertrude St. Fitzroy, 3065
Price:
Sample breakfast: Granola AUD$9.50; Coffee: black AUD$3.70, filter AUD$5
Opening hours:
Mon to Sat: 7am - 5pm, Sun: 8am - 5pm
Based on the corner of busy shopping area Gertrude Street, De Clieu will replenish your energy with stunning cakes and exquisite coffee from Five Senses roasters. Nearby, you'll find quirky boutiques, antique shops, local cosmetic labels, music stores, contemporary galleries, designer labels… Make sure you're fuelled up and ready!


Seven Seeds
Address:
106-114 Berkeley St, Carlton, 3053
Price:
Sample breakfast: Bircher muesli AUD$10; Coffee: filter/espresso AUD$3.70, milk AUD$4
Opening hours:
Mon to Sat: 7am - 5pm, Sun: 8am - 5pm
Based in an old converted warehouse in Carlton, Seven Seeds is roomy enough to fit many coffee lovers sat around a choice of more social, communal tables or smaller, individual ones. The menu features classic breakfast and lunch dishes such as eggs benedict as well as more unusual concoctions like bruléed chai rice pudding with rhubarb compote. Due to its proximity to Melbourne University the place draws in crowds of students (and their bicycles), and is a good meeting-place. Seven Seeds roast their coffee in-house and you can also buy their beans to practice your barista skills at home.


St ALi South
Address:
12-18 Yarra Pl, South Melbourne, 3205
Price:
Sample breakfast: Big breakfast AUD$22.50; Coffee: from AUD$4
Opening hours:
Daily: 7am - 6pm
You might have to queue up for food at ST Ali but you will be seated as soon as a table is free. A big selection of daily specials as well as staple dishes will satisfy even the fussiest eaters. The coffee menu is almost as broad, and a range of different techniques is used to prepare it. Order their signature drink, an 'EK espresso', for deep and rich flavours. The café is only a short walk from the Southbank and Eureka building: the tallest skyscraper in the Southern Hemisphere. Go up the Eureka Skydeck for the incredible panoramic views of the city. If heights aren't your thing, explore what the cultural hub of Southbank has to offer: highlights include the National Gallery of Victoria, Melbourne Arts Centre, and the Australian Centre for Contemporary Art.


Clement Coffee
Address:
Stall 89/116 Cecil St, South Melbourne Market
Price:
Coffee: from AUD$4
Opening hours:
Daily: 7am - 5pm
Melbourne is a great place for fresh market produce. A visit to the foodie heaven, South Melbourne (or Prahran) Market would not be complete without a coffee at Clement. The tiny stall is located just outside the market and serves its own roasted coffee. You can buy their seasonal beans and all of the brewing paraphernalia you would ever need to recreate the flavours at home.


Patricia Coffee Brewers
Address:
Cnr Little Bourke & Little William St. Melbourne, 3000
Price:
Coffee: AUD$3.70 (black), AUD$4 (milk)
Opening hours:
Mon to Fri: 7am - 4pm
Patricia is a small coffee shop hidden in Melbourne's Central Business District (CBD). There is standing room only, with coffee available to take away, and no food offering apart from a selection of scrumptious pastries and cakes. It is a perfect spot for caffeine replenishment after a shopping spree in the nearby Emporium Melbourne designer precinct.


Dukes Coffee Roasters
Address:
247 Flinders Lane Melbourne, 3000
Price:
Coffee: from AUD$4
Opening hours:
Mon to Fri: 7am - 4:30pm
Dukes coffee serves all kinds of hot and cold coffee-based drinks in a minimalistic but friendly surrounding. The café is located on Flinders Lane – very convenient if you need a dose of caffeine whilst exploring Melbourne's famous lanes. Federation Square is also just around the corner; it is the cultural centre of Melbourne and hosts events all year round. For those who find it tricky to enjoy life offline, Fed Square is the biggest free outdoor WiFi site in Australia.


Proud Mary Coffee
Address:
172 Oxford St, Collingwood, 3066
Price:
Sample breakfast: Bircher muesli AUD$13.50; Coffee: from $4
Opening hours:
Mon to Fri: 7am - 4pm, Sat and Sun: 8am - 4pm
Chances are that if you are even remotely interested in sampling Melbourne's art scene, you will end up in Collingwood. Whilst there, visit Proud Mary Coffee for a snack and a cup of the strong stuff. Don't be scared of the exotic sounding menu (it includes ricotta and parmesan gnudi, and avocado on farmhouse toast), the helpful staff will be there to assist you and you will not be disappointed with whatever you order. They have one of the biggest coffee machines around, a custom made six-group Synesso, so you never have to wait too long for your order.





Marta Safin loves nothing more than "arriving at a destination, finding a lovely café, discovering that it serves beautiful coffee, and writing about it". You can read her musings on coffee and travel at her blog, My Daily Grind.