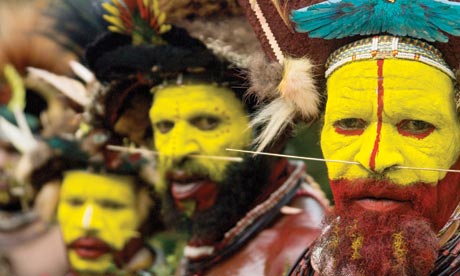 Welcome to Papua New Guinea
Soul-sapping humidity, huge crocs, polygamous tribes, 820 languages to learn – travel in Papua New Guinea is tough, surreal but always extraordinary
As Gabriel Cook clasped a wooden shield in one hand and a spear in the other, I realised I was essentially looking into the eyes of Stone Age man.
"We were living in the mountains in the 1960s and afraid to come down because we saw white men and thought they were evil spirits," he recalled as he demonstrated his old weapons inside the guesthouse at Polga. "But when we did come down, this land had another clan on it. So we fought them and chased them away."
A mock spear thrust convinced me he wasn't kidding.
Society has moved on in Papua New Guinea. But only just. A few days into my journey to this faraway land, and every rumoured story I'd heard about it was crystallising into fantastical reality. 
I'd met a tribe of polygamists who achieve manhood by weaving wigs. I'd learned how pigs are still used to settle disputes in a society governed by obligation to the wantok (clan). And I'd debated the going rate of securing a bride (Gabriel got his first wife for a knockdown 20 seashells, ten pigs and a cassowary).
Eating missionaries and headhunting, however, seemed things of the past.
The wild frontier
Although within touching distance of Australia, geographical ruggedness has fashioned this giant Melanesian island (shared with Indonesian West Papua) into the quirkiest and most uncompromisingly challenging travel destination imaginable. Colonial attentions never really permeated Papua's estimated 820 language-cultures, spread across a wild geography of mountains, rivers and impenetrable jungles. Even the arrival – post 1975 independence – of foreign wealth for gas, timber and gold has had negligible impact upon the 85% of Papuans wedded to rural subsistence.
I was visiting for three weeks, and would need every minute: PNG's undeveloped infrastructure means time and effort is required to travel here. The capital, Port Moresby, doesn't deserve long though. It's routinely voted one of the world's worst cities owing to its high crime rates. I was advised against walking its streets, so beyond a visit to the national museum – deliciously packed with ethnological treasures – I was content to unwind in the stylish Airways Hotel after a long flight from London.
His back was scarified in raised welts, cut to resemble crocodile hide 
No roads link Port Moresby to the Southern Highlands so the next morning I flew westwards to Tari, over endless tropical forests incised by haphazard rivers that corkscrewed like Arabic calligraphy. A local guide, Benson Homoko, greeted me in blazing heat – but the next minute it thundered with rain. "We have two seasons every day," he said.
We drove into the mountains, the hillsides chequered with neat vegetable gardens, typical in this nation of food cultivators. We also passed simple villages where women sat under  umbrellas selling sweet potatoes and buai (betel nut) – which almost every Papuan chews. Being spotted in the vehicle elicited broad betel-stained grins and calls of "Hello Mr White Man!".
Highland tourism is based around making tribal visits and watching birds of paradise – of which Papua New Guinea has 38 species. However, I hadn't expected my first encounter with the latter to be in the form of elaborate wigs.
At Benson's mountain lodge at Makara, the Huli Wigmen waited. Tribes display  their customs through singsing (celebratory dance and song), and soon these warriors with their yellow-painted faces, ochre beards, quill-pierced nostrils and wigs woven with bird-of-paradise feathers, were pogoing around like punk rockers. Radiantly photogenic – but was this yesteryear's Huli culture?
"We do wear modern clothes but we dress this way at many Huli ceremonies," insisted Paulus, head Wigman. "And young men attend wig-making school rather than normal school."
Wig schools, he explained, are all-male huts where young men grow their hair into supersized Afros, which will then be harvested for ceremonial toupées. It's an initiation into manhood; only after this can they take wives.
Paulus has five wives but, by Huli tradition, remains apart from them in the men's hut. Not exactly reconstructed man, he explained: "We can't have fun with our older wives after they've had many babies; they become tired so we must look for newer ones."
Heavenly birds and beings
My birdwatching began in the moist forests around Kumul, at 2,600m, where I arrived late one evening cold and hungry after a bumpy five-hour journey from Tari. Lynn, the manageress of Kumul Lodge, greeted me with a plate of fish and chips and an electric blanket.
At dawn the next morning, I expected a chilly foray into the surrounding jungle. Instead, Lynn heaped pineapple on a tree trunk and I sat on the veranda as the show began. Fan-tailed berrypeckers and Brehm's tiger parrots came and went. Then a male ribbon-tailed astrapia bird of paradise – the rightful owner of the Huli's most-prized feather – appeared like a Mardi Gras float. With its iridescent green head and 150cm-long white tail, it paraded around fully aware it was God's gift to avian good looks.
Nearby, at Tambul, the pine-fringed moorland between two of the country's highest peaks (Mt Hagen and Mt Giluwe) possessed a vaguely Scottish feel. Another singsing awaited in a mystical pine grove: the whole village had turned out to watch 'Mr White Man' enjoying a variety performance featuring Enga warriors, ashes-and-sackcloth-clad widows, and a demonstration of fire lighting that descended into farce when the protagonist ignited his own grass skirt.
"Traditional spirits and Christianity run side by side. People won't abandon their customs," explained Pastor Rambai Poponawa at Tambul Bible College, my unexpected overnight accommodation. Rambai prepared me a delicious traditional mumu of plantain, yam and chicken, cooked in a hot-stone fire pit. But, quid pro quo, he then asked if I was ready for evening service.
Inside the huge corrugated-iron church a visiting firebrand preacher browbeat the congregation. A pig wandered in and was booted out. Cold drizzle fell, but its pitter-patter was lost to the sweet harmony of hymn-singing.
The preacher had most of the assembly wailing on the floor when I left two hours later. Evangelising missionaries seemed to have much the same effect as mildly narcotic betel nut in anaesthetising the Highlanders against subsistence living's daily grind.
Heart of darkness
Two days later, our dugout sidled into the riverbank in pitch black. Nothing stirred in the stifling air save occasional lightning bolts, which X-rayed the Sepik forest in flashes of skeletal white.
I scrambled up the bank towards the village of Govermas, and the open-sided thatched shelter where we'd sleep on a sago-palm floor. As Matthew, my guide, put sweet potatoes into the fire, I asked where I might bathe.
"In the river," he replied.
But the Sepik has some of the planet's biggest crocodiles. Wouldn't that be a problem?
"Yeah," he said thoughtfully, "they bite a lot of people around here." I skipped the shower.
After the Highland's highs, a short flight had delivered me into East Sepik's coastal lowlands. I arrived in Wewak, set on the coconut-palmed shores of the Pacific. The highland chill had congealed into drenching humidity, mercifully tempered by sea breezes. It was here that Japan's World War II invasion was finally ended by Australian and American soldiers in 1945 – history I'd later encounter during a rain-sodden foray along the Kokoda Track.
Wewak is the gateway to the Sepik – one of the world's great river systems. The locals call it the 'dirty river' on account of the sediments that enrich its toffee-brown flow. On its 1,126km journey from the Highlands to the Pacific it feeds an 80,000 sq km freshwater basin of tributaries, oxbow lakes, bird-rich wetlands, waterlogged forests and swamps.
The next morning, at Pagwi, three hours inland, I stepped into a motorised dugout canoe with Matthew (who was married to both sisters of our driver, Pais) and we cast off into a watery world of isolation and adventure. During six days we'd meet some of the 250 language groups whose spiritual practices and total self-sufficiency have remained unchanged for centuries. The region is undeveloped for tourism bar a smattering of village homestays.
For the first three days we travelled westwards into Middle Sepik. The morning after arriving at Govermas I did find the courage to bathe – although quickly, because Matthew warned me about the 'ball-cutter': a fish called pacu with a taste for testicles.
Something that looked similarly eye-wincing was my first encounter with Sepik's  crocodile cult.
"Take your shirt off to show the white man," ordered Pastor Dennis, who'd commandeered my walk around the pretty village of stilted huts. Freddie obeyed. His chest and back were scarified in raised welts, cut symmetrically to resemble crocodile hide.
"He went into the haus tambaran [spirit house] to become a man," said Dennis. "It's a secret ceremony where the boys have their skin cut to show they've been initiated."
"That must hurt," I ventured.
"Not now," insisted Dennis without irony. "The skin-cutters once used sharpened bamboo but now it's better with razorblades."
I was eager to see a tambaran but unfortunately Govermas's had fallen over and was being rebuilt. However, there was another exquisite structure, its thatch trimmed to resemble bird feathers, its twin eaves topped by Pagan sculptures.
"This is the Roman Catholic church," informed Dennis. The grudging concession to Catholicism – a tiny plastic Virgin Mary on a table embossed with crocodiles – would surely prompt cries of heresy in the Vatican? "We love God," dismissed Dennis, "but have to worship in our own way."
I found a standing tambaran in Tuguimbet, where we'd overnight in a rickety lagoon-side hut built by Max, headman of the village's 400 Blackwater people. Max took me inside their tambaran, off-limits to local women although open to both male and female tourists.
Dipping under the trailing thatch, I inhaled pungent homegrown tobacco smoke, emitted by old men enjoying the shade beneath the raised floor. We then climbed a ladder into an Aladdin's loft of tambu, sacred objects that the boys must master during initiation: a didgeridoo-sized flute, kundu drums, bows and arrows, and vivid wooden masks for performing dances.
It was empty of initiates as ceremonies take place every few years. "The boys learn the skills of manhood – like how to be a father and warrior. They may stay inside for more than three months while the village elder instructs them," explained Max.
We exited under a female carving, through an opening symbolising a vagina. "The boys are reborn as men from their mother's womb," said Max.
Thereafter we ploughed along the Sepik towards its upper reaches. We stopped at villages to stock up on sugarcane and coconuts (always given – there's no cash economy), and I fell into a daze during the frazzling-hot hours spent whizzing across the shimmering floodplains.
Between fantasy and reality
Beyond Ambunti we eased into the thickly forested Upper Sepik. Matthew's own lodge sat on Wagyu Lake, backed by the Hunstein Mountains and engulfed by one of the world's largest tropical forests. Visiting scientists routinely discover new species here, he told me. Two species I was particularly keen to see were crocodiles and lowland birds of paradise.
That evening, as we floated by dugout, Matthew's torch picked out pairs of eyes piercing the reeds. Sepik crocodiles can reach 6m in length but they're shy because they're hunted for meat. Matthew drew one out by emitting a barking call. To my surprise, as I was photographing the 1m juvenile, a spear landed in its flank. "This is how we hunt them," Matthew said.
The next morning I made sure he didn't have a bow and arrow up his sleeve as we watched black cockatoos, scarlet parrots and the magnificent raggiana bird of paradise, whose frilly orange tail lit up the primordial, vine-tangled rainforest.
One final glorious expression of Sepik culture awaited a short ride from Wagyu. Tongiyamb, a sprawling village set in a sago-palm forest, boasts the most artistically enchanting tambarans in the Upper Sepik.
Shaped like thatched, open-sided, A-frame tents, these structures have striking interior decoration that closely resembles Australian Aboriginal Dreamtime designs. Every inch was bright with pictorial accounts of village customs and spirit life; carved parrots, cockatoos and tree kangaroos burst from the walls with Alice in Wonderland-like surrealism.
"We don't hold the initiations here, the boys go to the yam garden for that," said Mark, whose family built the spirit house. The occupying Japanese destroyed the last tambaran during World War II. "We had to rebuild it," Mark continued, "because the wall paintings represent generations of stories. We don't want to lose these, even if the younger ones want a different way of life today."
It was this resolute adherence to traditions that had left me travelling in disbelief and wonder on this unique island – a place that functions somewhere between the real and the imaginary world.
How to travel in Papua New Guinea:
Independent travel is daunting and requires time and local knowledge. The author worked with the following local tour operators: Country Tours; Matthew Yafei ; Kokoda Trail Adventures .
Further recommended operators include: Trans Niugini Tours, which runs a selection of more upmarket lodges and Sepik Adventure Tours.
From the UK, Audley Travel offers a 14-day tour, visiting the Sepik region and Highlands, from £7,005 pp including international flights. World Expeditions runs two-week Kokoda Track trips from £2,790 excluding international flights.
More like this
Enter Wanderlust's annual Travel Photo of the Year competition for your chance to win a trip to Papua New Guinea | Awards... More
Take a look at Wanderlust's Papua New Guinea travel guide for more trip inspiration and advice | Plan a trip... More
Tribal living in Papua New Guinea | Destinations... More

Don't miss more articles by Mark Stratton here
| Contributors...
More