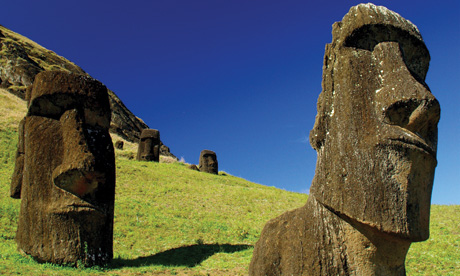 Travel Icon: Easter Island, Chile
Isolated and spectacular, the island of Rapa Nui is a worthy detour to any Latin American itinerary – here's how best to meet its moai and get a feel for island life
Get orientated
Four hours by air from the Chilean mainland, Easter Island – or Rapa Nui – is a tiny volcanic triangle whose culture is more Polynesian than Latin American. The original settlers island-hopped their way across the Western Pacific, arriving at Easter Island around AD1000; they then carved hundreds of moai, the giant monuments that made the island famous.
These iconic statues attracts tens of thousands of visitors each year to the island. As well as the statues, other attractions include hiking, diving, riding, surfing and taking in the Polynesian culture.
Getting there & around
There are no direct flights from the UK. LAN is the only scheduled airline servicing the island, with flights from Santiago (Chile; 5 hours) and Papeete (Tahiti; 6 hours) to Easter Island's Mataveri Airport. LAN also flies from Santiago to London, via Madrid. LAN is part of the oneworld alliance, which offers a Visit South America Pass, an option if you're planning multiple flights across the continent. Airfares to Chile vary seasonally; prices tend to be highest from mid-December to February, and lowest during Chile's winter months (June/July).
There are no scheduled boat services to Easter Island, though some Pacific cruises stop here. To reach Hanga Roa, the island's only village, from the airport there are taxis located outside the terminal. There is no public transport. Bicycles, motorbikes, all-terrain vehicles and horses can be rented for excursions, although it only takes around five hours to walk across the small island from Hanga Roa to Rano Raraku. Numerous tour agencies offer sightseeing trips, ranging from half-day hikes to round-island sails.
The visit
Peak season is 'summertime', December-March. January/February sees the island taken over by the colourful Tapati Rapa festival, a celebration that includes traditional dancing, singing, body painting and men sliding down volcanoes in thongs. Expect large crowds and inflated prices. March/April and October/November have generally clement weather and are quieter.
May and September are the wettest months. Hanga Roa is an ideal base for exploring the island – it's close to most of the main sights, in particular the crater and cultural village at Rano Kau. The Museo Antropológico Padre Sebastián Englert in Hanga Roa ($2; closed Mondays) is good for background info on island life.
More remote sights, such as the moais at Rano Raraku, Playa Anakena and Peninsula Poike, can be seen on a full-day loop from Hanga Roa, either independently or on a tour. There are plenty of walking trails.
Do not touch the archeological ruins or remove any items from the sites.
One of the best ways to see the island is on horseback. Pikera Uri offers a range of guided rides. There are good dive sites offshore, with many endemic fish species; Orca, based in Hanga Roa, can arrange dives and courses.
Easter Island higlights
Meet the moai of this remote Pacific island
Exploring Rano Raraku Among Easter Island's most breathtaking features are the crater lake and moai-studded slopes of Rano Raraku. In fact, the south-east rim and banks of this volcano are the cradle of the island's iconic moai. It was here that the Rapa Nui people carved the statues from the volcanic tuff and transported them across the island; today nearly 400 can still be seen, standing or toppled beside their ahu (stone platforms). The trails around the crater's outer slopes are the ideal, indeed only, way to explore the area.
Crater Lake A serene lake whose edges are lined with tortora reeds, which can only be reached through a gap in the site's western end.
El Gigante Climb the slopes of Rano Raraku to meet the largest carved moai – 20m high and 240 tonnes in weight.
Piropiro Just west of Hinariru is another 4m high moai called Piropiro – another 7m of it is buried beneath the volcanic soil.
Ko Kona He Roa A three-masted sailing ship etched into this moai's trunk is evidence of European contact.
Tukuturi The kneeling, bearded moai apparently mimics the posture of Polynesian ceremonial singers.
Hare Paenga The basalt foundations for these thatched, boat-shaped houses are immediately east of Tukuturi.
Rano Kau
Part of the national park, the water-filled crater of Rano Kau is Easter Island's most striking natural sight. The panorama from its rim, with the endless Pacific Ocean on the horizon, is one of the island's most unforgettable views. Descending into the crater is no longer permitted, but walking around its undulating rim is a great experience. On the crater's south-west side lies the ceremonial village of Orongo, a complex of 53 houses that were linked to the island's Birdman sect in the 18th and 19th centuries.
Península Poike
At the island's eastern end, 20km north-east of Hanga Roa, is Peninsula Poike. In pre-European times there was a village here, and petroglyphs from this period include
a turtle, a Birdman and a tuna fish. The area also has fascinating landmarks associated with island legend, including a 4km ditch, believed to mark a line of defensive fortifications during a war between rival clans. At the peninsula's south-west edge is Poike's most stunning asset, Ahu Tongariki – with its 15 moai, it is the island's largest platform.
Playa Anakena
On the north-east shore, Anakena is the island's only broad sandy beach – almost a caricature of the South Pacific idyll. According to Easter Island's oral tradition, Playa Anakena is the place where the first Polynesian settlers landed. Here sit the seven standing moai of Ahu Nau Nau, four with restored top-knots. From here it's possible to hike around the little-visited north coast, returning to Hanga Roa via two other
sites, Ahu Tepeu and Ahu Tahai; this requires an early start.
Top tip: Take cash (both US dollars and Chilean pesos). Easter Island's exchange rates are worse than on the mainland.
And another one: Start your journey in the south and travel north; most tours go north-south so you'll miss the crowds
Easter Island essentials:
Language: Spanish
Time: GMT-6 (GMT-5 Oct-Mar)
Visas: Not required by UK nationals
Money: Chilean peso (CLP), currently around 765CLP to the UK£
Health: No specific vaccinations required
More like this
Easter Island life: Rapa Nui, Chile | Destinations... More
Take a look at our Easter Island travel guide for more tips and advice | Plan a trip... More
Check out myWanderlust member satkinson's experiences on Easter Island here | myWanderlust... More
South Pacific travel blueprint: 4 breathtaking itineraries | Destinations... More