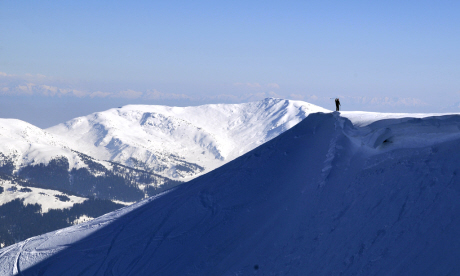 Top 8 alternative ski destinations
Turn your back on the classic Alpine-European resorts this ski season and try out something a little bit different...
1. Oukaimeden, Morocco
Two hours south from the enchanting city of Marrakech you'll find yourself in the small ski-village of Oukaimeden – Africa's highest ski resort. The one chairlift, which rises to the dizzying height of 3,258m, leads to five, unkept, ungroomed, fun-runs, which are not for the unexperienced skier or boarder. For the more adventurous snow-junkie, the off-piste is sublime, with miles of untouched, virgin snow. A guide is recommended.
The small village has all the facilities you'd find in a typical resort – ski/board hire, ski school, restaurants and hotels – but all done the Moroccan way. Expect to haggle hard for your equipment from a line of men with piles of skis and boots from the 80s, and to travel up the mountain on the back of a donkey if/when the chairlift isn't working.
Head to Oukaimeden in January and February for deep snow tainted pink from the sand of the Sahara. Lift passes are a fraction of the price of their European counterparts, and lessons can cost less than £10 an hour.
You'll soon forget you're in sub-tropical Africa when you're knee-deep in the white stuff.
2. Gulmarg, Kashmir
Kashmir's towering mountains make the Alps look like a child's Polly Pocket set. Here, the Himalaya jut into Kashmir from Nepal and light, dry, sparkling snow covers the mountains, as far the eye can see.
The gondola is the third highest in the world at 4,200m and the terrain is limitless and untracked. It's not just the mountains that are unconventional: you'll ride a pony back to your bed and hand-picking your dinner from the back yard.
Most of the time in Gulmarg, it is you Vs. the mighty Himalaya: the 'runs' are not groomed, and those that are, are done badly. This is back-country at its best and most wild. Watch out for barbed wire and head-height cables around the gondola.
A guide is recommended if you're thinking of heading into the true white-wilderness. Lift passes are only £15 and accommodation starts at around £30. Snow is at its deepest from December through to mid-March.
3. Cerro Castor, Argentina
Sat at the end of the world where the mountains meet the sea at Ushuaia, Mount Castor boasts thigh-high snow, 30km of off-piste and unbeatable views.
Due to it's location on the edge of Antarctica, Cerro Castor guarantees deep snow and cold temperatures with the longest winter-sport season in the world. Although smaller than other South American resorts, this resort is perfect for skiers and boarders of all abilities.
Dodge and wind through trees or simply enjoy making fresh tracks on the expanse of the wilderness skiing available.
The Argentinian seasons runs from June until late September; lift passes start at £32.
4. Poiana Brasov, Romania
Images of gothic castles and tacky Dracula museums are what spring to mind, when thinking of Transylvania, rather than burning leg muscles and a face full of snow. However, from December through to March, Brasov's north-facing slopes see deep snow and few crowds. Only popular with Romanians, Western Europeans rarely venture out to the purpose-built resort that was constructed in the communist years.
For advanced skiers and boarders, these slopes are limited as there are only a couple of black runs available, but for the intermediate and beginner, this little snow-gem in the Carpathian Mountains is the ultimate place to improve your skills. However, there are plenty of natural bowls, lips and off-piste mayhem to be had for the experienced rider.
As one of Europe's cheapest ski destinations, it would be mad to miss out on some of our continent's slopes, right?
Day passes to the resort start from £38.
5. Kiroro, Japan
This is the resort for snow junkies. The resort sits just out of range for most skiers and boarders in Japan, therefore keeping a constant layer of Japan's famous champagne powder on the surface.
Kiroro has everything you'd expect to find in a top-notch resort; high-speed lift systems, exceptional dining and no queues. The resort has an equal spread of green, blue, red and black runs to suit everyone and has plenty of alpine courses where your tree dodging skills will come in handy.
The patrollers in Kiroro tend to turn a blind eye to off-piste riding in this part of Japan, so take advantage of making fresh tracks, as heading into the wilderness is almost unheard of with Japanese skiers. Children are well catered for in this resort and the perfectly groomed pistes are often empty.
Lift passes start at £35 and the best snow is during UK winter months.
6. Mzaar, Lebanon
Mzaar, an hour from Beirut, is the largest ski resort in the Middle East. Not only is the snow good, but it offers skiers the opportunity to take a dip in the Med after lunch in the mountains. The resort offers 42 trails over 80km of pristinely-pisted, uh, piste and unrivalled après-ski. The locals often head to the resort for the dining, drinking and partying alone.
Lift passes start at £21. Mzaar's light powder is at its best during the European winter season.
7. Queenstown, New Zealand
Known as the adventure capital of New Zealand, this relaxed town on the South Island is set no less than 40 minutes from two 'summer' ski resorts. Our summer that is. The riding at Coronet and The Remarkables is not necessarily for the powder junkies out there, as snow fall is relatively low compared to what you're used to in the Alps. However, almost guaranteed blue skies are more than enough to keep the smile on your face. Expect to go back home with raccoon tan-lines on your face after a week here!
For anyone who really craves fresh snow and adrenaline-fuelled fun, various heli-drops are available to the New Zealand wilderness – although they don't come cheap.
The ski season runs from mid-July through to the beginning of October. Ski pass prices start at £47.
8. Hawaii, USA
OK, so Hawaii may not register on your snow-radar, but hear us out... On Mauna Kea, Hawaii's only ski destination and highest extinct volcano, there are no season passes, chair lifts or lodges, but during winter there is snow. And lots of it.
The peak tops out at about 4,205m above sea level – so be aware of altitude sickness. You'll become very aware of how unfit you are up there, too.
There is only one road to the summit and you must have a four-wheel drive to get there which serves as your lift. You'll need a buddy or two as well so you can all take turns in picking each other up from the bottom. Be aware that the runs are not looked after, so look out for exposed rocks, moguls, the odd stray surfboard…
Just imagine stepping out of a beach hut in your sallopettes. Now that's something to talk about when you make it home!