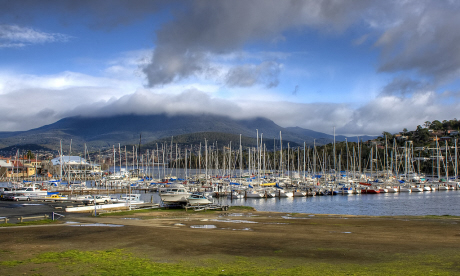 10 things to do for free in Hobart, Tasmania
Tasmania's compact capital has museums, an arty bike scheme, a restored jam factory and a seven mile beach... And none of them will cost you an Aussie cent
1. Be wowed at MONA
Hobart's Museum of Old and New Art (MONA) only opened in January. Privately owned, it's has been described as 'a subversive adult Disneyland', with thought-provoking artworks, plus an on-site café, bar and, er, cemetery. Unusual, avant garde – and absolutely free.
2. Bird-watch at the Waterworks Reserve
Just 4km outside the city this patch of pristine woodland and 19th-century reservoirs is an unexpected haven for a range of Tassie birds: large flocks of endemic green rosellas, sulphur-crested cockatoos and the state's four native species of honeyeater. Take binoculars.
3. Ride an ArtBike
Pedal between Hobart's cultural hot-spots on a free bicycle: ArtBikes are available for pick-up from Arts Tasmania and the Tasmania Museum & Art Gallery – all you need is ID and a desire for active art appreciation.
4. Walk on Mt Wellington
This 1,270m peak offers spectacular views. It's riddled with walking trails: try the three-hour Organ Pipes hike, which starts at the Springs and winds past the Jurassic-era dolerite rock formations that give the walk its name. www.parks.tas.gov.au
5. Browse Salamanca Market
Salamanca Place has been a trading hub since the 1830s; today, its colonial buildings bustle with commerce every Saturday from 8am, when artisans, organic-food purveyors and tie-dye-toting hippies descend to sell their wares.
6. Swim off Seven Mile Beach
This long, sweeping strand (the clue's in the name), 15km east of Hobart, is a beautiful spot, backed by dunes and pine trees. The swimming is safe and the surf's good too. Or simply stroll along the crashing shore.
7. Wander Battery Point
Walk around this historic warren of fishermen's cottages, old alehouses and graceful mansions, built in the 19th century. From here, nip to nearby Anglesea Barracks, the oldest military buildings still in use in Australia: the free museum opens 9am-1pm Tues and Thurs; free tours run 11am Tues.
8. Visit the Tasmanian Museum & Art Gallery
The Tasmanian Museum and Art Gallery (part-housed in Hobart's oldest building) showcases the state's heritage, from Aboriginal artefacts to colonial treasures. Admission is free.
9. Nip into the Henry Jones Art Hotel
This restored jam factory is now one of the city's top places to see and be seen. You don't have to stay the night: just pop in to view the 300-odd contemporary artworks gracing the walls. www.thehenryjones.com
10. Stroll Queen's Domain
Head to this hillside bushland reserve to stretch your legs. Don't miss the (free) Royal Tasmanian Botanical Gardens, home to more than 6,000 plants.
And one to break the bank
Par Avion's Day In The Wilderness fly-sail trip reaches Tassie's remotest parts. Take a light plane ride over mountains, gorges and wild rivers to Melaleuca, then board a boat for Bathurst Harbour – a waterway the size of Sydney Harbour but untouched by civilisation. Trips cost A$350.
More like this
Check out our Tasmania travel guide for more related articles | Plan a trip... More
Walking in the wilderness, Tasmania | Destinations... More

6 adventures to try in Tasmania | Inspire me... More
Biking Tasmania – top 4 routes | Inspire me... More
F1 driver Mark Webber reveals his love of Tasmania | Destinations... More