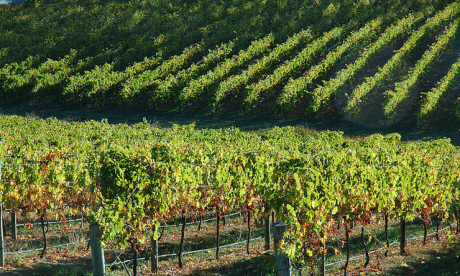 Destination Adelaide
You've arrived in South Australia's capital - what now? Valeria Singleton fills you in
Norwich... Fulham... Dover... Piccadilly... The familiar place names leapt off the map in front of me and, for a brief moment, it seemed I was back in Britain rather than standing in the centre of Adelaide.

It wasn't a surprise to find these reminders of home – South Australia, declared a state back in 1836 by Captain John Hindmarsh, was the only part of the country colonised by choice rather than convicts, and those new settlers doubtless craved their own pieces of Blighty. It was surveyor-general Colonel William Light, taken by the Torrens River and the area's fertile land, who chose this spot for the new state's capital and set about designing a grand system of orderly, gridded streets and broad terraces; high on Montefiore Hill, Light's effigy still overlooks the city.
A fine city
The Colonel would be proud of Adelaide today. Its generous avenues are impossible to get lost in, such is the planning behind them. I zig-zagged my way from Victoria Square – Adelaide's geographical heart – through the stacks of colourful fruit cramming Central Market, up to North Terrace, the most imposing of the four wide boulevards that border the city centre. The Art Gallery of South Australia, Parliament House, South Australia Museum – all stand imperious along North Terrace's sides.

It wasn't always this lavish. As the displays at Tandanya, the Aboriginal Cultural Centre, informed me, this part of Australia used to be the domain of the Kaurna people, a peaceful group who roamed what is now downtown Adelaide long before Light got his hands on it. The traditional arts and crafts on display here are exquisite and at midday I stood munching a wattle-seed biscuit as a young musician filled the place with the haunting moan of his digeridoo.

With these plaintive notes still ringing in my head I set off for the Botanic Gardens, 16 glorious hectares of plants, ponds, arbours and fountains. Forests of beautiful silver-grey gums – smooth-barked, spotted, gnarled and river – towered above and a Wollemi Pine, a species well over a million years old and considered extinct until a canny park ranger discovered one in 1994, stood within an iron cage.


The Bicentennial Conservatory was steamy with humidity and overflowing with the exotic plants normally found in tropical rainforests rather than Australia's driest state – thanks to a computer-controlled cloud-making gizmo, they thrive here. Outside once more, I narrowly avoided a man toting jars of scary-looking insects and wandered among the trees to which, at dusk, hundreds of squawking parrots return to roost.

Crossing the Torrens from the Gardens, I entered North Adelaide, a collection of shops and cafés that feels more like a village than part of a city. The houses here, many of them owned by Australia's National Trust, have gorgeous verandas edged in the distinctive wrought-iron fretwork known as Adelaide lace. Sitting on the balcony of Hotel Archer on buzzing O'Connell Street, I raised a glass of red to Adelaide's architectural frills and watched the beautiful people go by.
From vine to wine
To really get to grips with the grape, however, you have to venture out of the city into the Barossa Valley, Australia's oldest wine-producing region. Over half of all the country's finest drops originate from South Australia, making this the ideal place for a spot of degustation – the gently rolling hills and flower-flecked countryside were a pleasing bonus.

Obviously drinking and driving was out of the question, so I enlisted the services of John Baldwin – a hugely knowledgeable wine fanatic with a splendid waxed moustache – and his ultra-stylish Daimler. I relaxed into the car's creamy leather upholstery as John filled me in on the area's wineries (Barossa has 62 of them), its Germanic history (in the 1840s Lutherans colonised the valley, which is consequently dotted with distinctive churches) and the etiquette of wine-tasting.

I sniffed, gargled and slurped full-bodied reds at Charles Cimicky's charming 32-hectare vineyard, where Charles, his wife and a tiny handful of workers sweat over every bit of the wine production process themselves. Then I moved on to the sprawling Orlando vineyard, home to a state-of-the-art visitor centre and the world-famous Jacob's Creek.
Wild & wonderful
Having refuelled at Maggie Beer's wonderful lakeside Farm Shop we headed for home, only to be stopped in our tracks by a suicidal frill-necked lizard that had crawled out into the middle of the road. One too many glasses of shiraz, perhaps?

"No," said John. "He's just out of hibernation and still a little dopey."

Lizard rescued, we were about to proceed when the trees nearby quivered and an emu with seven chicks appeared from the undergrowth.

"You're lucky," John explained. "Even locals don't often see emus with their babies."

I smiled, pleased with my good fortune but slightly unnerved by the memory of the mixed grill I'd eaten the night before, which had contained kangaroo, wallaby, crocodile cakes... and emu sausages.

Thankfully I hadn't eaten any of the weird and wonderful creatures that confronted me at the Warrawong Earth Sanctuary. Pademelons, potoroos, bettongs, bilbies – an array of strangely-named critters hid in the bush during my nighttime walk. A teasing rustle emanated from the darkness and a tour-group of torches swung round in glowing anticipation, searching out the source of the noise. Here, in this peaceful piece of wilderness only minutes from the city centre, I was able to observe endangered mammals I had never even heard of.

Hopping on the tidy vintage tram the next day, I rattled out to the lively seaside town of Glenelg, where outdoor cafés and stately Victorian mansions overlook an inviting sweep of sand. I strolled along the beach, taking in deep lungfuls of clean South Australian air, and meandered inland to the Old Gum Tree.

It was under these branches that Hindmarsh proclaimed the existence of the state of South Australia nearly 170 years ago. Having spent several days exploring the city's parklands, avenues and outskirts, I was inclined to congratulate him on his choice of settlement; the colonising Brits couldn't have picked a better spot.
When to go: March and April (early autumn) or October and November (heading for summer) are the best times to visit, with pleasant temperatures. The worst time to go is Australia's winter – July and August – when rain is fairly frequent and the maximum temperature is around 15°C. If you like it hot, summers can reach 28-32°C with low humidity. Lack of heavy industry means the air is clean and unpolluted.