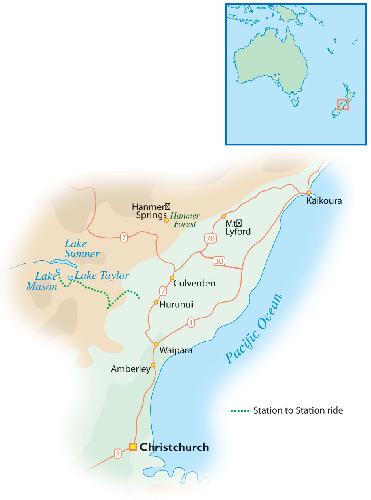 Wet 'n' wild
Lyn Hughes takes to the water and the saddle in New Zealand's rugged Alpine Pacific triangle.
"What's happening in Coronation Street?" After three hours of learning about Maori culture it was the last question I expected to be asked when I revealed that I was British. "We're a few months behind here," explained Maurice, a Maori whose family have lived in the Kaikoura area for 700 years.

It's easy to forget that this region of New Zealand's South Island was heavily populated by Maoris long before the first European settlers arrived. More recently it is tourists who flock to the coastal town, attracted by the marine life. But Maurice has set up a tour company offering an insight into Maori life over the centuries. At various significant points around the peninsula he told us of his remarkable great-great-great-grandmother who learnt to write and so recorded much of the local history, while in Maurice's home we met his extended family and were able to quiz them on how Maoris live today – not too dissimilar to anyone else seemed to be the answer. 

When I first visited Kaikoura in 1990 it was an unremarkable, slightly sleepy, town with just a handful of places to stay. Now tourism has arrived with a vengeance and the locals are grumbling about the price of property. However, it's a wonderful place for a visitor, with enough activities offered to leave you exhausted: walking, astronomy and wine tours are available on land, while out at sea there are excursions to see sharks, dolphins and seals. The key attraction remains the one that lured me over a decade ago – whale watching. 

The whale watching experience has certainly become more sophisticated over the years. Instead of bouncing along in an open Zodiac, the sole operator (also Maori-owned) now has a far more comfortable enclosed boat. But the excitement still remains and, with an experienced crew and echo location equipment to guide them, an average of two sperm whales are seen per trip, usually 'residents' who are well known to the crew. My excursion was to be no exception, featuring encounters with Kaupepe and White Dot, along with close-ups of albatrosses, fur seals, sea lions and a huge pod of playful dusky dolphins. It was this last species who were to be the focal point of a quite different and no less thrilling ocean experience on another excursion out of Kaikoura.

"Dolphins are one of the few species other than man known to have sex for fun." The Dolphin Encounter guide was keen to share her knowledge but, as I was already nervous about getting into the rather rough sea, I started to wonder at the wisdom of swimming among more than 200 randy cetaceans.


We'd only been out on the water for 20 minutes or so when the shout of "dolphins!" went up, and soon they were all around us, many of them flashing their pale underbellies as they swam upside-down at the surface – a sign of a frisky dolphin, I was told. As the boat stopped we were exhorted to quickly put on our masks and snorkels, but the choppy sea had gained its first victims and about a third of the passengers had their heads in buckets. My stomach was churning with excitement rather than sea-sickness, so I put my fears aside, pulled on the gear, and took the plunge into the dolphin's world.

I'm not one to spontaneously hug total strangers but that is just what I did on my return when Lynette Buurman, one of the owners of Dolphin Encounter, asked me how the trip had gone. Describing those moments with dolphins has that kind of emotional effect on people. It wasn't as if anything earth-shattering had actually happened. Just an awful lot of dolphins swimming around me, some close enough to touch, a few even brushing oh-so-gently against me. All you know is that it is so special that you want to laugh, or cry, or hug somebody. 

Kaikoura had been one of several highlights on my exploration of the Alpine Pacific Triangle – an area of the South Island with Kaikoura, the Waipara Valley and Hanmer Springs as its corners. With the promise of wine, whales and wilderness, it sounded like my sort of place and, having picked up a hire car at Christchurch Airport, I headed north to Waipara Valley, one of New Zealand's newest and fastest growing wine regions. Despite being so far south, this is also one of New Zealand's warmest and driest spots in summer, and this, combined with a variety of soils, has allowed a wide range of grapes to thrive here. 

On impulse I stopped off at Pegasus Bay, one of the first wineries I spotted. A family-owned business, and one of the pioneers of the region, it is known for its pinot noir wines, especially a feisty reserve known as Prima Donna. I tasted a couple of the wines while wishing I was hungry enough to sample the imaginative menu – like several of the wineries, Pegasus Bay has its own restaurant. In this one, a designer-clad couple were elegantly draped over a leather sofa, nibbling on a selection of cheeses while gazing over the landscaped gardens. 


It was a complete contrast to the famed and far more down-to-earth Hurunui Hotel half an hour up the road. Driving along the highway, one of the famed nor'wester winds had started up, so it was a relief to sit in the snug atmosphere of the bar in New Zealand's oldest continuously licensed hotel. During the evening, a varied bunch of characters dropped by. At first it was mainly daytrippers from Christchurch who were on their way back down from the resort town of Hanmer Springs. Meanwhile some of the local guys gathered, nicely scrubbed-up, ready to head to Christchurch on a stag night. Although only an hour away, this was a big adventure and it was clearly a very long time since some of them had ventured into the city. "Just carry a cell phone and order a chardonnay, and you'll be OK," joked one of them to another who was expressing apprehension about them hitting some "yuppie" bars.

The pub has its own vineyard attached, and produces its own wines. I was advised to steer clear of the pub's own white that was apparently too young and needed a few more weeks. However, several people recommended the annual festival, which was to take place a few days later, as the ideal place to taste most of the region's wines. So, although I was heading out to Kaikoura the next day, I planned an early return.

The Waipara Wine & Food Celebration is held in an idyllic setting in the grounds of an historic church. No tourist event this, it was very much a community affair with whole families socialising under any shade that could be found on a surprisingly hot day. The entrance price included a wine glass and with this you could wander the stands representing the various wineries and sample their produce at anything from one to three dollars a time. I rued the fact that I was driving. The public certainly seemed to know their stuff with long queues forming at some tents, and favoured wines selling out within a couple of hours.

The food stands also reflected how sophisticated Kiwi tastes have become. Ostrich kebabs and barbecued venison sausages were proving more popular than beefburgers, and the renowned Nor'Wester Cafe from nearby Amberley was selling several imaginative dishes using local produce. Perhaps the busiest stand of all was the one selling olives, olive oil and bread. Athena Olive Groves is another local success story, producing wonderful olive oil and highlighting another product that New Zealand could become world class in. Forget kiwi fruit. The boot of the car clunked with wine and olive oil as I headed up through long country lanes into the high country and my next stop.


Hurunui Horse Treks specialises in long trips such as a nine-night 'Mountains to the Sea' journey from Hanmer Springs to Kaikoura. However, I was on limited time and so opted for what owner Rob Stanley termed a "sheet and showers trip" (although, his strong Kiwi accent made me initially think he was describing it as something far less appealing). The 'Station to Station Trek' takes a maximum of four riders through high country sheep stations, staying in homesteads each night. It particularly appealed because I would get a taste of life on the remote working farms. Rob enthused about the high country. "You don't just buy three days of horse-trek, you buy three days of our life." His down-to-earth partner, Mandy, was full of homespun philosophy, "After six hours riding, it doesn't matter who you are – we've all got a sore arse."

In such rugged countryside, I'd imagined us riding tough little ponies, but Hui was a huge handsome hunk of a horse, an aristocratic Cleveland Bay despite being born in such archetypal Lord of the Rings land. Challenge number one was just getting onto him, with rocks having to stand in for a mounting block or stepladder. It was like riding an elephant, and taking him up or down slopes, that I never imagined any horse could cope with, sometimes took a great leap of faith.

Camille, the wrangler who led our trek, was the epitome of cool; a female Clint Eastwood with a quiet but confident manner. She'd sit as still as a statue, seemingly glued to the saddle, as her horse spooked at imaginary ringwraiths behind the bushes, or she'd stride along out front, reins looped nonchalantly over her shoulder, her horse at heel like a well-trained dog. 

On the long days we followed her along sheep tracks and drovers' paths, or sometimes forged our own trail across hillsides, gasping in disbelief at the sheer slopes that Camille would calmly tackle. Every now and then, we would dismount and lead the horses, gladly stretching our own aching limbs, as well as relieving our mounts of their burden. One of the most memorable times was when we rode the horses through an ice-blue fast-flowing river. "I meant to tell you not to look down!" said Camille as we regrouped on the other bank, laughing with adrenalin and relief.


On the longest day of all, a last minute change of plan meant that we rode for nine hours. Although tough, it was the best day's riding of all, particularly the stretch through a beech forest where we crossed and recrossed a creek, aptly named Rough Stream, 20 or so times. Hui was not a horse to wade through anything he could jump, and so time and time again I found myself clutching his mane as he leapt the water, or plunged up and down the steep banks, clambering over rocks and tree trunks. We all felt a sense of exhilaration at the end, but it was a few more gruelling hours before we arrived at Lake Taylor Station. The sun sank down behind the mountains as we quickened our pace, and I was so exhausted that I was having to prop myself up in the saddle as we trotted into the farm, washed by the light of a full moon.

Lake Taylor is typical of these remote high country sheep stations. Rosemary and Dave had taken over the farm from Rosemary's father and had raised their family here, 50 kilometres from the nearest school. They have 6,500 sheep, mostly merino or merino cross. Having bought a merino wool top in Auckland, I had become swiftly converted to the benefits of this superfine wool.

We settled into the converted shearers' quarters with its bunk beds and sagging mattresses... but at least the showers were hot and there was a large lounge for our use. Once we'd cleaned up a bit, and hidden any food from the possum that was sniffing around the veranda, we headed for the farmhouse. Leaving our shoes at the door, we enjoyed a hearty home-cooked meal with Dave and Rosemary. This was good honest cooking that looked completely different from the designer dishes I'd tasted in Kaikoura and the Waipara Valley, yet was rooted in the same principles of making the most of fresh ingredients.

Mandy was right about the sore arse. Three days in the saddle left me in just the right frame of mind and body for my final destination. The thermal resort town of Hanmer Springs has been popular with New Zealanders for a century or more as a place to chill out. As I soaked in the hot pools that have made the alpine town so famous, I could feel the aches and strains of the ride ebb away. The effort had been all worthwhile, and I'd enjoyed discovering that there was more to this part of New Zealand than the honeypot that is Kaikoura. I lay back in the steaming water, trying not to think about frisky dolphins.
When to go:
Summer is November to February but spring (Sep-Oct) and autumn (Mar-Apr) can be ideal for outdoor activities. The ski season runs from June to August. The inland region (the Hurunui) that the author covered, has warm dry summers and cold winters. The weather on the coast is more changeable.
The author flew to Auckland with Cathay Pacific and then to Christchurch with Air New Zealand