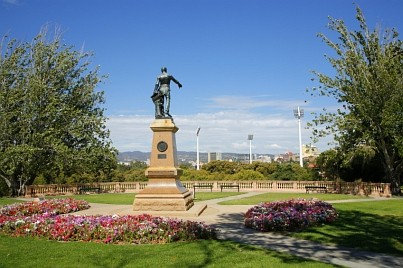 Adelaide is loaded with historic highlights: churches, museums, galleries and manor houses. Also comes with beautiful parks and gardens. Its collection of attractions will appeal mostly to the discerning traveler looking for history as well as fun in shops and bars.
Must-see attractions of old include the grand Parliament House, the Old Adelaide Gaol, St Peter's Cathedral, and Carrick Hill Estate. The latter is just out of town and has a decent amount of art on the grounds, while the Art Gallery of South Australia is highly revered. Kids will love Adelaide Zoo.


Parliament House
Parliament House is one of Adelaide's main sights. It is grand and features marble cladding and huge pillars on the outside and a plush interior that can be seen on a guided tour. Parliament House was put up in the 1800s and can easily be seen on foot as it is downtown.


St Peter's Cathedral
St Peter's Cathedral is one of Australia's finest churches and comes with lofty spires in a neo-Gothic style. The cathedral was built in the late 1800s and has an impressive interior filled with carvings and stained-glass windows.


Adelaide Zoo
Adelaide Zoo is one of the best done in the country, with its lovely setting and range of animals. You can get to Adelaide Zoo on foot from the city center, or by ferry along the Torrens River, and if you are here in October, National Zoo Month (Zootober) is a bonus.


Old Adelaide Gaol
One of Adelaide's most historic buildings, the Old Adelaide Gaol (circa 1840) was an active prison until 1988. It was designed by George Strickland Kingston, a British colonial architect, and can be toured on foot.


Adelaide Hills
A major attraction near to town, the Adelaide Hills contain famous vineyards and fine views of the city and coast from Mount Lofty. There is a restaurant up here, to boot, although prices are somewhat on the steep side. You can drive up here or walk.


Carrick Hill Estate
Carrick Hill Estate is a grand manor house with lush gardens located in the city's environs. Sir Edward Hayward had it built in the 1930s and today it is an open museum of art that regularly stages special exhibitions. Get here by bus or taxi and stroll the grounds on foot.


Art Gallery of South Australia
The top gallery in South Australia, the Art Gallery of South Australia houses an array of paintings, sculptures and prints. There are four sections to the museum: the Australian, European and Asian decorative arts; paintings and sculpture; and drawings and prints. Some of the British art goes back to the 1500s.