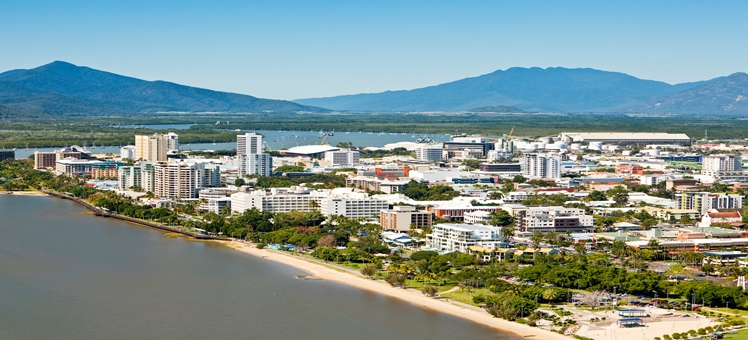 Travel far enough north up Australia's Sunshine State of Queensland and you will eventually reach the picturesque town of Cairns. Known as the gateway to the Great Barrier Reef, Cairns has developed into a hub of activity, popular with all types of travelers. An eclectic mix of tropical waters and lush mountain ranges provide the perfect place to spend a few days.
Cairns City Center
The city center has come a long way since its humble beginnings. The tropical town has turned into a metropolis with many local shops, restaurants and a stunning new marina development giving visitors much to do during a visit. Many of Australia's thousands of backpackers choose to end their journey in the Queensland town, which means there are dozens of great places to celebrate special occasions.
Cairns Esplanade
Despite not having a beach itself, Cairns has created a fantastic lagoon just off the water's edge, which offers a great way to cool off from the heat. As one of the most popular spots in town, the lagoon is always a hive of activity. Head down to relax in the cool waters, or have a drink at one of the many bars looking over Trinity Inlet to the Coral Sea and into the horizon towards the Great Barrier Reef.
Port Douglas
Just north of Cairns is the stunning settlement of Port Douglas. This well-known tourist destination is known for its beautiful 4-mile long beach which stretches all along its shores. Due to the lack of beaches in Cairns itself, many visitors take the 50-minute journey north to get their toes in the sand in Port Douglas.
The Great Barrier Reef
This is what Cairns is most famous for. By being the most accessible point from which to get to the reef, Cairns is known across Australia as being the Gateway to the world's largest living marine reef. Thousands and thousands of people are attracted to the reef each year to be in the presence of a true natural wonder. Dozens of boat trips each day make the trip out to the reef where you can watch from the boat or dive in to try to find Nemo himself!
Palm Cove
Head around 27 kilometers north of Cairns city center and you'll arrive in Palm Cove, a stretch of pristine beaches and seafront paths that attract sun worshipers, joggers, anglers and seafront strollers. Named after the palm trees that line the sand, Palm Cove is a tourist mecca thanks to its natural beauty, climate and proximity to Cairns, the Daintree Rainforest and the Great Barrier Reef. It has also been named Australia's Cleanest Beach.
Yorkeys Knob
A little closer to Cairns, at 13km away from its city center is the beach suburb of Yorkeys Knob. A great place to come and swim or relax on the sand the area has a scattering of shops and three restaurants as well as the popular Half Moon Bay Golf Club and marina. The future for Yorkeys Knob is a bright one as 2014 sees a major development in the region with Aquis Resort starting construction – due to open to the public in 2018. It is set to be Australia's first fully integrated resort with retail outlets, hotels, villas, entertainment and sports facilities putting North Queenstown even more firmly on the global tourist map.