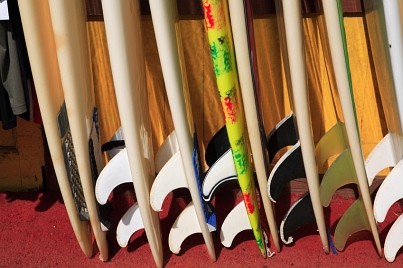 The Gold Coast is loaded with shopping malls, duty-free stores and boutiques - in particular at Surfers Paradise – and is the best place in Queensland for high-end goods. Souvenirs, designer labels, and sports goods are widely available here, while handicrafts and souvenirs can also be had at regional weekend markets.
The Carrara Markets behind Broadbeach and Surfers Paradise have loads of stalls where cheap clothing can be had, while the small town of Biggera Waters is also good for cheaper items. In addition, away from the glitz and glamour of Surfers Paradise and Broadbeach are historic villages where knickknacks and arty items can be picked up.


Surfers Paradise
Surfers Paradise easily has the best shopping on the Gold Coast, featuring large malls and arcades and some flashy department stores. Cavill Mall is in the center of town - a bustling pedestrianised precinct between the coast and Esplanade - and is the most popular shopping place. It also has cafés, bars, restaurants, and some attractions.


Downtown Robina
The small town of Robina, southwest of Surfers Paradise and inland, has cheaper shopping in a shopping mall, supermarkets, and boutiques. There is a K-Mart and Woolworths here, as well as hundreds of specialty stores and plentiful food courts and restaurants.


Pacific Fair, Broadbeach
Lying just a few miles south of Surfers Paradise is the stunning Broadbeach, known for its surf as well as for its shopping. The Pacific Fair shopping complex is the big attraction for shoppers and is one of the best in the region. It is located on Nerang Broadbeach Road.


Australia Fair, Southport
Southport is north of Surfers Paradise and is ideal for those staying toward the north of Surfers or on Main Beach. Australia Fair is a huge shopping center on Scarborough Street and has a ton of shops and eating options. There is also plenty of shopping in the streets nearby.


Biggera Waters
Located north of Surfers Paradise and Southport, Biggera Waters is an interesting area for tourists. It is especially known for Harbour Town mall and for its clothes shopping. If you don't mind being a little out of the fashion loop, you can snag good bargains here and even wholesale prices.


Marina Mirage
Marina Mirage sits on the waterfront up in Southport and has a good range of sophisticated shopping at the likes of Tommy Hilfiger and Little Joe. It is a fairly new development and also comes with some great eating.


Gold Coast shopping tips
Surfers Paradise is the best bet for shopping and you need not go anywhere else. It has obligatory late night shopping, while duty-free shopping can be had by tourists — GST tax can be reclaimed when shopping at participating stores. High-end stuff can be had all over the Gold Coast, but you're better off heading north to Southport and Biggera Waters for off-season deals.