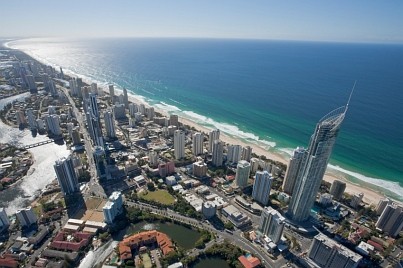 Sandwiched between Brisbane and the New South Wales border in southeastern Queensland, the Gold Coast conurbation is a hugely popular beach-based tourist destination. It is essentially a collection of cities, towns and villages along the coast fronted by excellent surfing beaches and pockmarked by waterways.
From its humble cotton and sugar cane plantation days, the Gold Coast reinvented itself when the full potential of its beaches and proximity to Brisbane were realized. It now boasts a fantastic tourist infrastructure with innumerable hotels, restaurants and entertainment options.

The weather here in this region is sublime and there are many distinct areas to enjoy. Surfers Paradise is the hub and is characterized by high rises and a busy beach, while either side is more laid-back beach areas. Inland are quieter towns and villages, plus there are national parks in the hinterland to enjoy some bushwalking.


Surfers Paradise
Of all the towns and villages along the Gold Coast, Surfers Paradise is the most commercialized and the best known. It is a veritable haven of shops, restaurants, lively attractions, and bars, not to mention a good surfing beach, and is central to the area.


Broadbeach
Just south of Surfers, Broadbeach is slightly less built up than its noisy neighbor and is much more easy-going. It, too, is a tourist magnet, though, with masses of shops and restaurants, and also comes with a casino and mega hotels.


Main Beach
Another suburb of Surfers Paradise, Main Beach also has a lively beach area, yet is decidedly more upmarket. There are plenty of high rises and resorts here and the surfing is also good, while just north is the beautiful Main Beach Park.


Robina
Robina is a small, inland town on the Gold Coast a few miles back from the water and is more residential. It has cheaper shopping, eating and hotels and is directly connected with Brisbane by train and the Pacific Highway.
Coolangatta and Tweed Heads
These twin towns lie in the south of the Gold Coast on the New South Wales border and are surrounded by beaches that offer excellent surf and scuba diving. Golfers in particular tend to head for this area, while fine bushwalking can also be had in the Tweed Valley.


Gold Coast hinterland
There are three stunning national parks in the Gold Coast hinterland, where mountains, valleys, rainforests, waterfalls and amazing views can be enjoyed. The main areas are Currumbin Valley, Numinbah Valley, Springbrook, and Mount Tamborine.

Find more information about Gold Coast hotels and hotels in the area:
Gold Coast hotels | Australia hotels | Gold Coast Hotel Special Deals