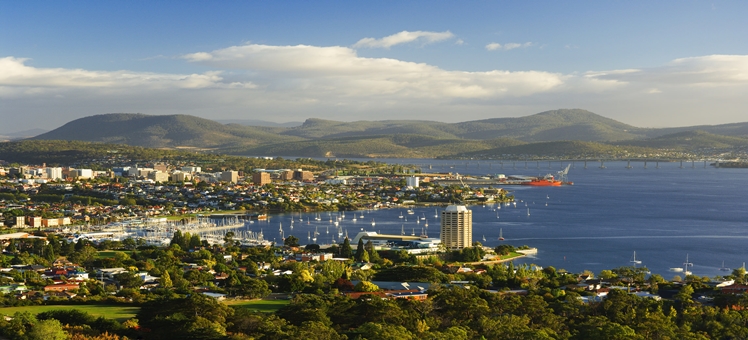 Aboriginal and convict history, Word-Heritage wilderness, a provocative museum and adrenaline-fueled adventures await on a break to Tasmania. With some of the world's most bewitching outdoors and top-rated exhilarating activities, Tasmania is an adventure wonderland. A unique colonial heritage, however, is what gives the island its melancholic mystique. No visit to the island is complete without savoring its culinary delights: feast on delicious salmon, sip on world-class wine, and try famous local berries.
Historic relics
Once its weakness, today Tasmania's bleak past is one of the islands' most captivating charms. Often against the backdrop of some of Australia's most spectacular colonial architecture, Tasmania's convict relics are showcased throughout the island. Contemplate how the reigning melancholy silence of a colonial prison highlights its gloomy past at Port Arthur. Take a stroll along Salamanca Place, Australia's best-preserved historic urban precinct, for a glimpse at the British colonial era still alive in the 19th century buildings and waterfront. An hour-drive from Hobart, explore the days of the early European explorers on Bruny Island.
Culinary delights
While Tassie's first-class ingredients give the island its mouthwatering quintessential flavor, its blossoming dining scene is a phenomenon on its own. A sophisticated food culture from across the Bass Strait has revolutionized Tasmania's dining scene in the last few decades, and today the island offers a fine cuisine comparable to that in cities like Sydney and Melbourne. However, some delightful culinary experiences can also be had in rural regions specialized in British cuisine. Either in a five-star restaurant or a tucked-away fish and chips eatery, seafood in the island is must-have for every foodie.
Outdoor adventures
With impressive outdoors boasting untamed rivers, glaciated mountains, fern-filled gorges and vast pristine wilderness, Tasmania lives and breathes heart-thumping adventures. In fact, Tassie's bushwalking, cycling, rafting and kayaking opportunities rank among the best on the planet. One of the many high-adrenaline highlights on the Island is rafting the Franklin River, one of the wildest rivers in Australia. Nature lovers will have a blast bushwalking the last wilderness secret in Australia, the Tarkine, featuring one of the oldest rainforests on Earth, while kayaking nuts will have the chance to admire Tasmania's impressive coastline paddling from Coles Bay or from Hobart to the Tasman Peninsula.
Coastal culture
Whether on the beach or afloat, coastal culture is a central part of life. It might be a cliché, but any visitor Down Under expects surfing spots. Are you looking for monster waves? In Tasmania, they've got them; just head to Shipstern Bluff, King Island or Marrawah and ride like a pro. Dive into a fascinating underwater world filled with curious creatures off the east coast or take a dip in the pristine beaches with a tropical twist in the Bay of Fires. Get a thrill out of fabulous shipwrecks around King and Flinders' Island. Unleash your inner pirate on an Arthur River Cruise to the 'Edge of the World'.
Wildlife
Home to bizarre wildlife species that have only survived on this island, Tasmania is an authentic geographical Noah's Ark. Go west or to wildlife parks to see the most iconic and beleaguered of Tasmania's unique species - the Tasmanian Devil. Just outside Cradle Mountain there's a 'Devil Sanctuary', called Devils at Cradle, where you can view these marsupials, however every wildlife park in the state has Tassie Devils. The island is also home to other unique creatures such as the Eastern Quoll, Pademelon and Bettong, while some Australian wildlife can be seen throughout the island such as wallabies and wombats. Kangaroos can be found on the east coast. Along the shoreline you might spot a penguin colony at dusk or seals and whales from the Tasman Peninsula.