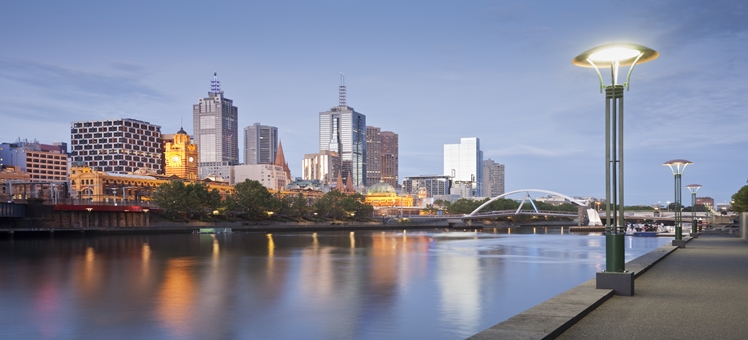 Melbourne is a city of contrasts. Its many international influences means that every neighborhood has something unique and exciting to offer, be it a vintage market filled with handmade goods, or a plush and high-end restaurant. The city has both an urban center and a beachside area, giving plenty of options for any traveler.
CBD (city centre)
Perhaps the busiest part of Melbourne, the CBD erupts from the city in a series of highly organised skyscrapers and apartment blocks. The neatly divided streets form a grid-like layout, making navigation very simple. The CBD is full of history and new cultures, allowing visitors to experience and admire its many faces in a number of ways: watch a game at the Melbourne Grand Prix Circuit, idle through one of the public galleries or go on a spree at some fantastic markets.
Hotels in the CBD
In keeping with the cosmopolitan surroundings, hotels in the CBD are generally vastly tall buildings chequered with glass windows. Top-notch accommodation allows for a cosy and comfortable base for a short or lengthy city break, right in the heart of the action.
Hotels in Mornington Peninsular
The Mornington Peninsular has a mixture of high-end hotels and holiday homes to let. Luxurious waterside estates are picturesque retreats and line the area's discreet parts of the bay. Chain hotels provide a comfortable and easy option and a cheap alternative for many.
St Kilda
St Kilda is a youthful area just south of Melbourne's CBD, a seaside playground loved by backpackers and locals alike. The beachside suburb is home to the enjoyable Luna Park, has cool cafés along its Fitzroy and Acland streets, as well as restaurants, bars, music stores, book stores and plenty of fashion boutiques. If you're lucky, you may even see a few penguins scuttling about the area at the St Kilda Breakwater.
Hotels in St Kilda
Catering to backpackers on a budget, St Kilda is full of great value accommodations, with chain hotels, hostels and motels in abundance. Ready to include all types of travelers, however, St Kilda supplies contemporary studio apartments, guest houses and the obligatory swanky, urban hotels for business travellers.
Carlton
At the cusp of Melbourne's northern perimeter, Carlton is a lively neighborhood with a distinctly Italian vibe. The area's 'Little Italy' province on Lygon Street is home to a number of notable Italian restaurants, namely Toto's pizza house, which is Australia's first established pizzeria. On a short walk to the city center Victorian-style buildings are a sight to behold, as are the Carlton Gardens, one of Australia's limited man-made World Heritage sites.
Hotels in Carlton
Stylish, delectable and comfortable hotels are the done thing in Carlton. On the list of hotels to choose from are large manor houses that provide a plush place to rest your head as well as contemporary, boutique hotels that exude an eclectic vide.
Southbank Promenade
Southbank Promenade is considered one of Melbourne's leading entertainment areas, with its Southgate Arts and Leisure Precinct. On the banks of the Yarra River the buildings are eye pleasing and designed by leading architects. The Crown Entertainment Complex is a hub of activity, with a number of promenade restaurants.
Hotels in Southbank Promenade
For sweeping views of the Yarra River, the Southbank Promenade is the ideal location for a base. With multi-storey hotels, the views are unbeatable, with the accommodation both comfortable and stylish.