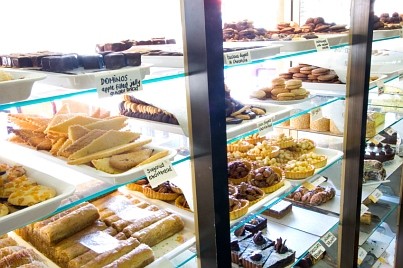 The cosmopolitan city of Melbourne is known as the food capital of Australia, with literally thousands of choices available in the central city area alone. The city enjoys a wide variety of flavors and cuisines from around the world, which are complemented with the exceptional produce available in Australia.
Food lovers will be in heaven, with numerous award-winning restaurants available to try. There is a large Italian community in Melbourne and no shortage of Italian restaurants, from inexpensive traditional pizzerias to contemporary and modern Italian fusion.

While there are many fine dining choices which are sure not to disappoint, visitors can enjoy a large range of inexpensive eateries including street stalls serving classic Australian dishes such as meat pies with mash potato and peas. The Docklands district has some of the best restaurants and is a great spot to enjoy the day.


Chapel Street
Chapel Street located in South Yarra is a dining paradise with an abundance of restaurants, café s and take-away eateries. There are all cuisines present, with Asian, Australian, European and Indian options although the main focus is on Italian flavors. You will find a host of outdoor alfresco restaurants which are perfect for enjoying a meal while people watching along the busy street. Some of the city's best coffee shops are also located on Chapel Street.


Chinatown
Situated on Little Bourke Street in the CBD, the Chinatown district is one of the best in Australia, with an abundance of restaurant choices coupled with a colorful and authentic atmosphere. The street and side laneways are particularly charming with picturesque cobblestone pavements and old-style street lighting. The flavors and cuisines in Chinatown cover all of the Far East including Chinese, Japanese, Korean, Thai, Vietnamese, Lao, Cambodian, Malaysian and Mongolian.
Docklands and Waterfront City
The modern Docklands district has emerged as a trendy and cosmopolitan dining area with an array of restaurant choices. There are numerous award-winning eateries positioned at Docklands which enjoy spectacular views of the city and the Yarra River. You will find great seafood and modern Australian restaurants serving contemporary menus with fresh local produce.


Melbourne restaurants
Cumulus Inc.
45 Flinders Lane, CBD
Phone: +61 3 9650 1445
This modern and trendy eatery is open all day and night, providing the perfect spot for breakfast, lunch, dinner, coffee or a snack. The contemporary menu uses fresh local produce with an emphasis on organic and healthy options.

Café Italia
56-66 University Street, Carlton
Phone: +61 3 9347 0638
Café Italia is a fantastic restaurant offering lunch and dinner services each day. The comfortable and charming dining room and courtyard provide the perfect setting for enjoying the fantastic classic Italian cuisine, which is reasonably price.

Bottega
74 Bourke Street, CBD
Phone: +61 3 9654 2252
Bottega is an award-winning modern Italian restaurant serving fantastic contemporary dishes that are sure to please food buffs. The restaurant is situated in the dining district of the city and has an impressive and extensive wine list to complement the bold food menu. With its close proximity to several theatres, Bottega provides a great spot for a pre-theatre dinner.