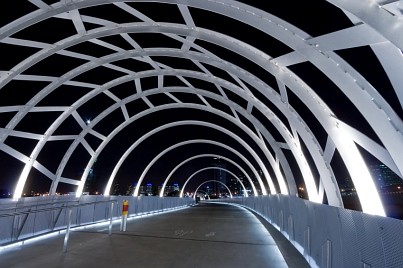 Melbourne is a truly spectacular city with an abundance of interesting attractions, magnificent sites and beautiful landmarks. The city is filled with culture, history and heritage, which provides a fantastic atmosphere for visitors.
History buffs will love the National Gallery of Victoria, which was established in 1861 and boasts an impressive collection of both local and international fine art. The beautiful Royal Botanical Gardens are worth visiting with their over 10,000 species of plants on 87 acres.

For modern entertainment venues the Crown Entertainment Complex is second to none with a wide array of facilities including gaming rooms, restaurants, bars, nightclubs, theatre and a five-star hotel. To get a bird's eye view of Melbourne and the surrounding region head to Eureka Tower, which has a viewing deck on the 88th floor.


Federation Square
This centrally located plaza is a famous landmark in the city of Melbourne and a popular meeting spot. The area was originally opened in 2002 and serves as a cultural hub with a museum, art gallery, auditoria and countless shops, restaurants and bars. Federation Square is best explored on foot with plenty to see everywhere.


National Gallery of Victoria
Established in 1861, the National Gallery of Victoria is the oldest and largest art gallery in the country. The gallery was opened during the Gold Rush days of the 19th century when there was an appetite for fine art. Over time the National Gallery of Victoria has developed into a premiere venue for Australian and international artwork.


Royal Botanical Gardens
Opened in 1846, the historic Royal Botanical Gardens in Melbourne are truly magnificent with over 87 acres of landscaped gardens. The gardens are located approximately 30 km from the CBD and are easily reached by train, bus or car. There are over 10,000 species of plants and fauna and more than one million visitors pass through each year.
Crown Entertainment Complex
Positioned along the banks of the Yarra River, the Crown Entertainment Complex, also called Crown Casino, is a large Las Vegas styled venue with a host of activities, restaurants, bars, live show halls and a five-star hotel. The complex is a popular nightspot for celebrities and is consistently busy year round. Visitors to Crown can easily spend a few hours walking through the large sprawling complex.


Eureka Tower
Situated along the Yarra River, Eureka Tower is the world's tallest residential tower, which measures in at 984 feet with 91 stories. The building was built between 2002 and 2006 and has an observation level on the 88th floor named Eureka Skydeck 88. The Skydeck offers uninterrupted views of Melbourne and the surrounding region and is a must-visit, especially on a clear day.

Find more information about Melbourne and hotels in the area:
Melbourne hotels | Australia hotels | Melbourne Hotel Special Deals