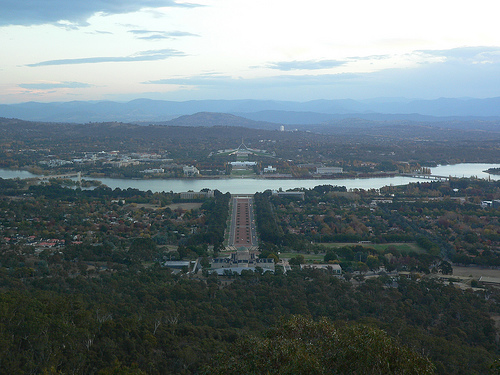 When taking a trip to the nation's capital, Canberra, it helps when planning a trip to 1) make sure you know how to navigate roundabouts, 2) book a cheap flight if you don't plan to drive, and 3) look up all the fun things to do in Canberra. To continue with these helpful tips, we are now going to take a look at all of the free things there are to do in the capital city of Canberra.
Parliament House
See where the nation works by visiting the Parliament House. This building from the outside is a sight to see with a giant flagpole from its top and a ceremonial pool out front (it makes great evening pictures). You can take part in free guided tours or even sit in on the action at 2pm on days where Parliament is having Question Time.
National Library of Australia
Being a library, this building is free to enter. Inside the National Library of Australia, one can find all there is to find on the documentary history of this country – everything from newspapers, oral histories, music, art and books. There are even free guided tours of the Treasures Gallery every Tuesday and Sunday at 11am and 12:30pm.
Canberra Deep Space Communication Complex
The Canberra Space Center visitor's section is onsite at the complex. You can pay the center a visit for free 7 days a week and learn about space and the role Australia has played in exploring it. Inside, you can see images from across space, investigate spacecraft and learn about space food.
Canberra Museum and Gallery
There is free entry into the Canberra Museum and Gallery, which is open 7 days a week. Browse through various art collections on display in this visually stunning gallery that has a focus on the regional social history.
Old Bus Depot Markets
The Old Bus Depot Markets happen every Sunday in Canberra's Kingston Foreshore Redevelopment area. The markets run from 10am to 4pm and feature over 200 stalls that include food, homewares, jewelry, ceramics, silks and so much more.
Red Hill Lookout
Red Hill Lookout is located to the south of the city. Once there, you can get great views of many of Canberra's icon from this elevated lookout. There is even a cafe and a restaurant onsite to make an afternoon or an evening out of it.
Australian National Botanic Gardens
The Australian National Botanic Gardens are open daily and are free to visit, walk around, have a picnic or even take a jog. The gardens are home to both local and national plant life, along with endangered plant species they hope to maintain so that they do not disappear out in the wild.
Photo Credit