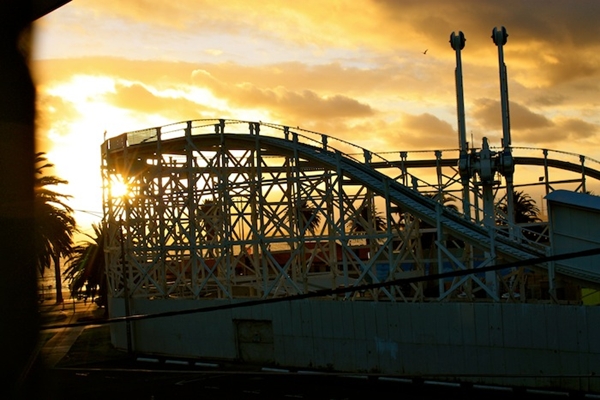 If you've only got one day to spend in the beachy Melbourne suburb St Kilda, make it a Sunday: it's when the locals come out to eat, drink and play.
Breakfast at The Galleon:
It's been a St Kilda institution since the 1980s—I found it listed in the Lonely Planet from 1993! It's unpretentious, laid-back and just a hint alternative, but most importantly—the food is fabulous. There are heaps of vegetarian options and a wide variety of perfectly-spiced Bloody Marys.
Check out the wares:
The Esplanade Market sets up shop along the palm tree lined Esplanade every Sunday from 10 a.m. to 5 p.m. Local artisans offer handmade jewelry, kitsch homewares and gorgeous paintings. Interested in contemporary Australian clothing, shoes and accessories? Popular chain stores line Acland Street—and if you need to sustain yourself through shopping, just stop at whichever cake display window grabs your attention.
Put your hands up: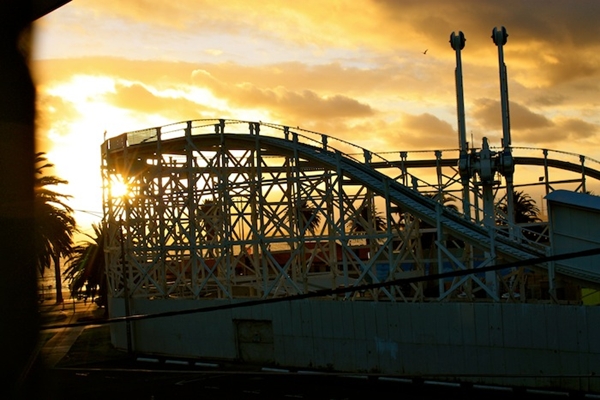 The enormous grinning face and rickety white roller coaster at Luna Park has been an iconic part of the St Kilda skyline since 1912. The Scenic Railway is the roller coaster that wraps around the park—and it's a must, if only for the sweeping views and adrenaline rush.
Eat on the beach:
Pick up some perfectly crispy fish and chips at Clamms Seafood, and sprawl out on the sand at St Kilda Beach. (Side note: this is the best fresh fish in town—stop back later if you feel like cooking some yourself.) You might have to fight off the seagulls, but it's worth it for the salty sea breeze and brilliant blue skies. If you feel like indulging your sweet tooth, pick up some gelato from 7 Apples or a cake from the many shops along Acland Street before wandering down to the sand.
Watch the footy:
You're in Melbourne now, where AFL reigns supreme. Head to the Doulton Bar in the Village Belle to watch with the locals: this pub isn't really anything special, but they've always got the game on. Place a bet, drink a beer, and cheer on your team.
Peek at the penguins: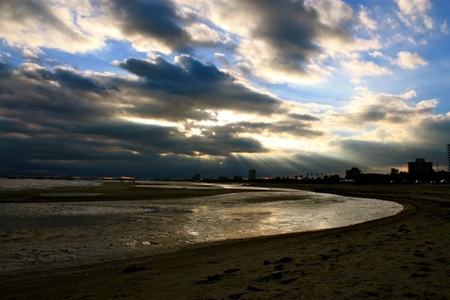 Around dusk, walk out the end of St Kilda pier, beyond the sailboats and the kiosk. Hidden in the breakwater that protects the harbour, there's a colony of little penguins. Totally unexpected, and completely adorable.
Have a Sunday sesh:
Head to The Branch for live music, cheap pizzas and a ridiculously fun crowd—odds are you'll find me here! If you want something a bit more historic, The Espy is a St Kilda legend: heaps of live music throughout the weekend and a terrace perfect to watch the sunset over the bay.

A California girl at heart, Christine is currently living, working and eating her way through Melbourne. Follow her Australian adventures at C'est Christine, Twitter and Facebook.