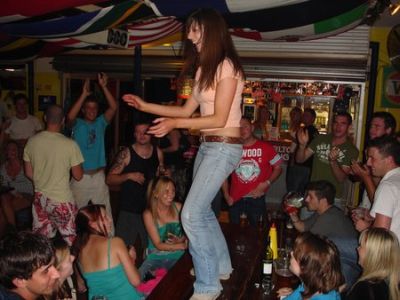 Known for its easy lifestyle that has recently become punctuated with a sleeker, more cosmopolitan façade, art galleries, live music and a vibrant café culture, Brisbane is the third largest city in Australia as well as the capital of sunny and warm Queensland, Australia. Located along the curving banks of the Brisbane River, Brisbane is known for its dynamic neighborhoods and despite being originally established as a penal colony in 1824 is known to be home to some of the friendliest Aussies down under.
In a nation known for its drinking culture (its rumored that rum was used as currency during the Convict era), some budget travelers and backpackers will be looking for social accommodations located near Brisbane's bustling nightlife district in Fortitude Valley, while others will seek a quieter (but still cheap) hostel in calmer neighborhoods like Spring Valley.
Map
Hostels in the West End
Somewhere to Stay

Perched atop a hill and shrouded in the shade of palm tress, this hostel manages to stay cool in the hot summer months. With clean rooms and rooms featuring private balconies and awesome city views, this hostel also provides mopre than just a great, laid back and social atmosphere. Rooms are clean (and simple) and the vibe is casual and friendly.
This hostel also features a great salt water pool, where guests can cool off from the hot temperatures and take a dip. Somewhere to Stay is situated in the West End of Brisbane, and is just minutes from cafes, resturants, supermarkets, banks and anything else travelers could use. The hostel also features a free courtesy bus to the city center and local pubs and clubs as well as an internet café and great indoor and outdoor dining areas.
Prices start at $14.46
Brisbane Backpackers Resort

This huge hostel, which can sleep over 200 people, has a great reputation among its former guests. Most hostel goers love the TVs, en suite bathrooms, en suite fridges, private balconies, large saltwater pool and perfect location in the heart of the vibrant and exciting Southbank neighborhood. Rooms also have air-conditioning (which will be very welcome during hot summer months).
This backpackers resort also has a free mini-bus service to the Brisbane Transit center as well as free parking. Most impressive, however, is that this hostel lives up to its name as being a backpackers RESORT. With a tennis court, pool, spa and changerooms, bar and restaurant and free internet, the Brisbane Backpackers Resort has everything any backpacker could dream of.
Prices start at $16.31
>>Book Brisbane Backpackers Resort


Hostels in Spring Hill/City Center
Banana Bender Backpackers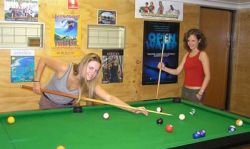 This is a cheery, old-school hostel located near Spring Valley on the other side of the river from the West End and Southbank hostels. With a breezy balcony perfect for cocktail hour, a great location close to Brisbane's center. Outdoor eating and BBQ area, fan cooled rooms, squeaky-clean communal bathrooms and a job club for those trying to get employment, there is not a whole not to like about this hostel.
The Banana Bender Backpacker's hostel also has free internet access, free airport shuttles door-to-door, regular backpacker party nights, a cozy tv and video lounge with nightly videos, a pool table and happy hour specials, hostel goers will be comfortable and are sure to have a great time all at once. This hostel also caters towards an international and generally social crowd.
Prices start at $18.92
TinBilly Travellers

This is a funky hostel located in the heart of Brisbane. Situated just across the street from the Brisbane Tranist center, guests can ditch their bags and set straight to exploring the city immediately. Budget travellers can choose from a great range of dorms, twins, or king-size motel suites, all fully ensuited and air-conditioned. Each bed has its own private security safe and hanging space.
However, while the location of TinBilly next to Brisbane's cvity center and many bars and clubs makes it a great party hostel in itself, this hostel also features the Tin Bar and Grill attracts a great mix of Brisvegas locals along with the international jet set. It goes off with groovy dance nights, weekly live music, sports events and music videos on the big-screens, plus the bonus of free product promotions.
The Brisbane River is only a block away, which means it's easy to jump on a ferry (after all Brisbane is known as "The River City"), or cross to the West End – a great place for galleries, museums and other alternative lifestyles.
Prices start at $19.58
Cloud 9 Backpackers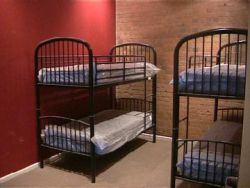 Another hostel located in the heart of Brisbane and just steps from the transit center, the new Cloud 9 Backpackers is brand new, clean and has a great location. The hostel features it's very own party bar and live entertainment, or if you are feeling like exploring a little more, Cloud 9 is also located just a 5 minute walk to one of Brisbane's top nightlife and café precincts. Caxton St and the Paddington area with lots of pubs clubs cafes bars restaurants etc.
Cloud 9 is also just a 10-15 walk to the West End, which offers multi-culturalism and diversity at it's best with many colorful locals, artists and students residing here. Over 50 restaurants cater to every taste and budget alongside coffee lounges, tea houses, poll halls, cocktail bars and bistros offering live music or DJ's. The main dining and entertainment areas are located in Boundary & Vulture Streets and Hardgrave Road (which leads to the West End Ferry and beautiful Orleigh Park along the river).
This hostel also features a great rooftop deck where guests can sunbathe, socialize or check out the 360 degree views of the city.
Prices from $11.09
Palace Backpackers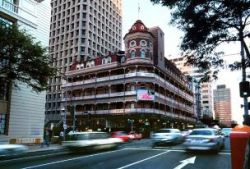 This colossal hostel is a backpacker institution in Brisbane, as it was one of the first hostels in the city. Palace Backpackers can hold an astonishing 380 guests and employees more than 60 staff to keep these guests housed, fed and drunk around the clock. If you are hoping to meet traveling friends (or lovers), Palace is a great place to do so. Renowned for keeping the party going year-round, by gathering so many backpackers under one roof, this hostel is an ideal place to find new friends. With nearly 400 guests, you are bound to find at least handful of people to get along with.
This hostel also has a great job center for those looking to re-supply diminishing funds. While the dorms are a little cramped, there are plenty of comfy tv rooms and a communal kitchen. There is also a fantastic rooftop sundeck where you can work on your tan. For those looking to get down in true Aussie fashion, there is also the Down Under Bar at Palace, which touts the motto "Go hard or go home" and pumps all night every night.
Prices from $19
Hostels in Fortitude Valley
Bunk Backpackers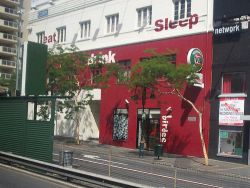 Looking more like a boutique hotel than a hostel, Bunk Backpackers is situated in the heart of Brisbane's busiest nightlife district. Fortitude Valley, the hub of nightlife entertainment in Brisbane, with art galleries, pubs, nightclubs, cafes, ethnic shops of every variety; all 100 metres from Bunk's front door and ten minutes walk from the city centre.
If you are looking to stay at a hostel where people love to come to party and drink, then you also can't go wrong with Bunk. With a swanky bar is packed every single night of the week with trendy travelers and locals alike. The hostel also features a great pool and heated Jacuzzi, where drinking is also not only accepted, but recommended as the web site states: "You can also drink beer in the hot tub… just ask for a plastic cup!"
This hostel also has a weekly Sunday pool party, where travelers can listen to the DJ, BBQ, drink beer and ingle with fellow travelers. From pool parties to a swanky bar, those looking for a comfortable and totally hip party hostel need look no further than Bunk.
Prices start at $18.92
>>Book Bunk Backpackers
Valley Verandas Friendly Backpackers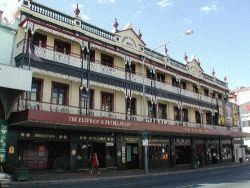 Located in the heart of the bustling nightlife district of Fortitude Valley, this hostel is located in a colonial style Queenslander house dating back to the 1860s. Full of character and homey comforts as well a superb location close to bars/clubs, restaurants and the city center.
This Property is small enough that you can get to know the other guests with ease, but large enough that you won't feel hemmed in or packed into tiny rooms. With ample facilities and large, spacious common area's both inside and outside, you'll find this a great place to relax, and to our friendly staff, you're more than just a number.
While there is no pool at this hostel, Valley Verandas does have a free breakfast every morning, free parking, free pick-up from the train station and transit center, a common room with TV and movie collection and mostly a fantastic location. The old-fashioned building and extensive verandahs of the hostel lends a nice feeling to it. There always seem to be people around, even though it certainly isn't a large hostel. There is also a nice garden/patio area overlooked by the verandah at the back of the building.
Keep in mind that this hostel is located in an old building, and while it can be a great place to crash for a night after partying, it does not have s stellar reputation when its comes to cleanliness.
Prices start at $15.01
>>Book Valley Verandas Friendly Backpackers