APEC Week, News From Sydney
TIME : 2016/2/25 11:35:51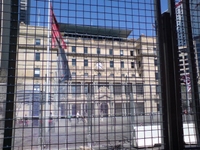 APEC week has officially shut down Sydney Until September 9th 2007. As you read through and watch some of the some of the attached serious articles and associated silly stuff, it does make one wonder about calling Australia the land of the free. A police state has been declared in the Central Business District of Sydney. While Security is obviously important, many feel Australia has gone overboard.
As one TV spokesperson stated: "George Bush wanders around the rest of the world with out all of this fuss." Many people are speculating that all of the media coverage of "violent protest" preparedness is really just encouraging the few that might have had such ideas and giving validity to their cause. Another Aussie I talked to today stated "We are a relaxed group, all this noise about violent protests is just raising fear. Sending actual criminals home for the weekend to make room in the jails for protesters is just crazy!"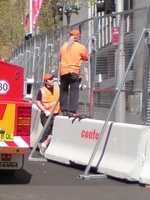 The final linked article I added today is one that really got my blood boiling. I've never been accused about being overly political. In line with that, I've been pretty neutral in general about the 3 meter tall Great Wall of Sydney. While I certainly don't endorse skipping school, but the idea of the police specifically targeting students with the intention of preventing them from taking part in their lawful right to make their opinions heard, whether through protest or not, seems fierce, unfair, wrong, and a major loss to the youth. Is a day of school really worth having children targeted by police and more important than the opportunity to see history and democracy at its finest? Isn't free speach the foundation of a democratic society? (update- the students staged a 300 strong walk out, supported by their parents. They led the first peacful protest of the Summit. President Bush and John Howard both stated their support for the action as being a right for belonging to a democratic society)
Personally- I organized to get out of Sydney this entire week due to the chaos…and I have to report, the traffic on Monday was an absolute nightmare with most major roads resembling parking lots from Manly to Homebush and on all major highways out of the city. The press later that evening stated how "smoothly the traffic had gone" and that there were no problems. It certainly does make one wonder about the accuracy of reporting and the amount of propaganda that is being thrown at Sydney during the hosting of this conference.
Regardless of your opinions, here are a couple of articles on the state of the Emerald City:
Song: Axis of Awesome- a cheerful ditty.
More News Releases
Photo Tour and Commentary on the APEC Ghost Town
John Howard's you tube APEC Greeting
Don't even think about skipping school to go to APEC Protests.