The Rocks, Satisfy your Java Craving: July 22nd, 2007
TIME : 2016/2/25 11:36:06
The Rocks, Satisfy your Java Craving: July 22nd, 2007
Mark your diary for a day of indulgence in heavenly treats at The Rocks Aroma Festival – for lovers of coffee, chocolate, tea and spice.
This year The Rocks Aroma Festival takes on new dimensions with close to 100 stalls, including a Chocolatiers Boulevard, Spice Bazaar and Teas of the World in addition to coffee from more than 25 roasters.
Make your first stop the coffee roasters at First Fleet Park or George Street, where you can pick up a freshly brewed cup of coffee for just $1. Take your pick of coffee from boutique roasters or the larger coffee houses, and enjoy tasting the different roasts as you wander through Sydney's heritage quarter.
Coffee in hand, stroll on to the Ford Focus Lifestyle Forecourt near the Overseas Passenger Terminal to pick up some tips and ideas on cooking with spices and chilli at the free cooking demonstrations.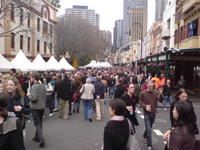 Visitors with a penchant for sweet treats should head straight to the Chocolatiers Boulevard at West Circular Quay, near Campbells Cove. Leading chocolatiers will be offering a vast array delicious goodies including fine chocolate, handmade gourmet fudge, pistachio and cherry nougat, rocky road, cupcakes, hand-made cookies, pure honey and freshly toasted macadamia nuts.
The health-conscious can cleanse their palates with an organic green masala spice chai tea or choose their favourite tea from a wide selection of black, green and exotic teas along George Street….read the rest of the entry…
Other Related Articles on the Rocks and Coffee:
CoffeeSnobs.com.au
Tours
Free Internet Hot Spot
Belgian Beer Cafe'