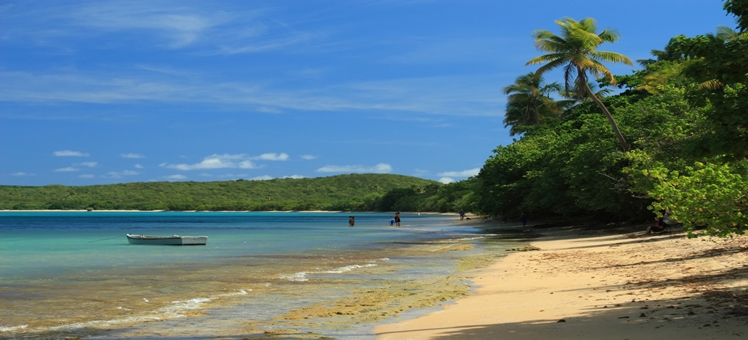 Where you stay in Puerto Rico can really define your trip. If you're looking for an all-encompassing resort, a luxurious hotel, or simply a bed to rest your head at night, the island has something to suit everyone.
Boutique
Set in a preserved 17th century convent in Old San Juan, Hotel El Convento is a glamorous boutique hotel with a traditional, authentic feel. The Spanish, hand-painted tiles and rich mahogany beams alongside lavish antiques and decadent four-poster beds create a rather majestic atmosphere. Contrasted with the state of the art mod cons you'll not want for anything during your stay. After hours at the beach, you can end your perfect day relaxing in the garden with complimentary cocktails and hors d'oeuvres. Ideal.
Bed and breakfast
If you're planning jam-packed days of sight-seeing and want accommodation simply for sleeping in, then the Casa Castellana Bed and Breakfast Inn in Condado is ideal. A restored 1920s style colonial villa, the interiors are beautiful and you'll feel truly at home in the cozy bedrooms. Each morning, the owner will cook up a home-style breakfast to your taste to set you up for the day ahead, with freshly brewed coffee from a local plantation and gourmet pastries.
Spa
If you want to truly indulge and pamper yourself silly on your stay, the Rio Mar Beach Resort and Spa in Rio Grande is double decadence. As well as the onsite spa, there are three swimming pools, two golf courses and 13 tennis courses so you'll never be twiddling your thumbs. And for those times when you fancy sitting back and admiring the view, the resort is surrounded by the dazzling Atlantic waters out front and the lush El Yunque Rainforest behind- what could be better?
Ecolodge
If you're looking for a tranquil stay where you can feel at one with nature, then Casa Cubuy Ecolodge in Rio Blanco encompasses the beauty of the rainforest. During the day you can take a dunk in the natural Jacuzzis, have a sleep in a hammock on the verandah or sunbathe on the smooth granite stones alongside the waterfall. The resort is full of spots where you can really contemplate the splendor of nature.
Casino
The El San Juan Hotel and Casino caters for those with deep pockets. As well as being a luxurious hotel with high ceilings, chandeliers and nine gourmet restaurants to choose from, come sunset, the 13,000 square foot casino is dazzling with the rich and famous, where tuxedoed staff wait on you hand and foot. During the day, the beach side pool complex has billowing linen curtained sunbeds as well as waterfalls, swim-up bars and pool side concierge. True luxury.
So, whatever you fancy, be it extravagant luxury, authentic style or natural beauty, the coastlines of Puerto Rico are abuzz with wonderful accommodation for you to take you pick of.