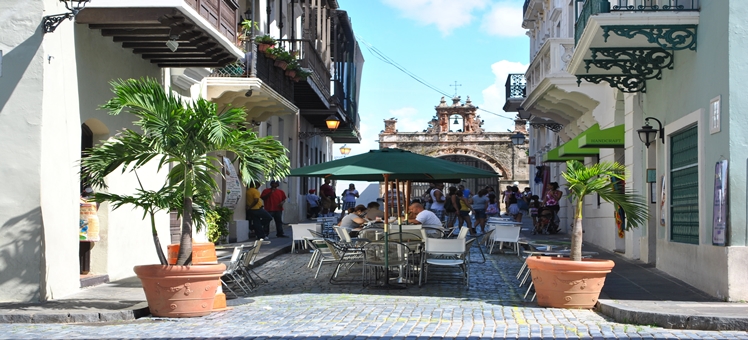 Puerto Rico has a dazzling dining scene, from cosy local eateries serving traditional dishes, to sophisticated establishments offering cuisine sculpted by internationally recognized chefs. Whatever you fancy, it's on your doorstep. Being in the Caribbean, a lot of the restaurants and staff tend to work on 'island time' meaning being rushed off their feet is not on their priority list. However, most tourists don't go with the expectations of the chaos and quick turnaround of a bustling city, so if you can adapt to the relaxed pace of life and enjoy a glass of wine while your food is delicately prepared, then it's the place for you.
Known locally as 'Cocina Criolla', Puerto Rican cuisine is a combination of many different cultures. Fried plantins are perhaps the most iconic Puerto Rican dish, and mofongo, fried plantins combined with a garlic and butter mash, is a must try item on any culinary wish list. Beans and rice are a household staple while yucca is eaten throughout the island. Fritters keep the street vendors trading as Puerto Rican street food revolves around them – tostones a particular favorite (enjoyed with a mayo ketchup dip) while empanadas are stuffed with a variety of fillings before hitting the oil. For something sweet flan is spotted on many menus while cakes, pastries and dulce de leche offer up tempting alternatives.
Fancy food
Mere steps from the Santurce farmers market in San Juan; Santaella is a sexy, sultry, stylish venue serving up fantastically flavorful food. Using fresh, local ingredients, the chefs celebrate the islands tropical roots and create flavour fusions, which will redefine your experience of Puerto Rican dining. The interior is centered on the tropical garden focal point and the low ceilings and artistic wallpaper create an exciting vibe. It's a popular haunt with locals and tourists so booking is advisable especially for evening dining.
Budget food
If you can't face getting dolled up for the evening and want to grab a bite whilst still in your bikini, Café Tresbé in San Juan has taken the tradition of street food and given it a modern twist. Great for lunch, the restaurant serves food in an old storage container painted in dazzling yellow and joined by a relaxing sundeck. The name Tresbé (or three B's) stands for Bueno, Bonito, Barato, meaning good, pretty and cheap and that's exactly what you get. With a mix of Puerto Rican, Caribbean and American you can expect burgers, sandwiches, tacos and fresh fish; a delicious treat for any time of day.
Meat feast
If you're a meat fan, Che's on the western end of Isla Verde is a must visit. Known for their Argentine and Puerto Rican fusion, the most popular dish is the churrasco, a grilled skirt steak which is tender and delicious. With an easy-going atmosphere and friendly staff, it's the ideal night out for family, groups of friends or lone travelers.
Veggie heaven
For the eco-warriors, vegans and those simply after a nourishing meal, Roots and Fruits in Luquillo is an organic haven. With the entire restaurant outside, there is a wild garden with banana trees and the owner is a health guru, hosting community yoga each evening. The menu comprises a variety of fresh juices, falafel and hummus to die for and a concoction of raw cakes like the brownie or coconut slice.
Fun dining
Designed like a Mexican wrestling ring, La B de Burro in Ocean Park, San Juan has a really fun atmosphere. There's a margarita machine and a 2-for-1 happy hour deal daily. With more burritos, quesadillas and fajitas than you can shake a stick at it's the best place to refuel after a day at the beach, either in the restaurant or to take away.
Reference info
:
•
Santaella
, 219 Calle Canals PR 00907, +1 787 725 1611•
Tresbe
, 1765 Loiza Street 00911, +1 787 294 9604•
Che's
, Caoba 35, PR 00913, +1 787 726 7202•
Roots and Fruits
, Calle Principal Route 955, PR 00721, +1 939 981 9215•
La b de Burro
, Calle McLeary, PR 00911, +1 787 242 0295