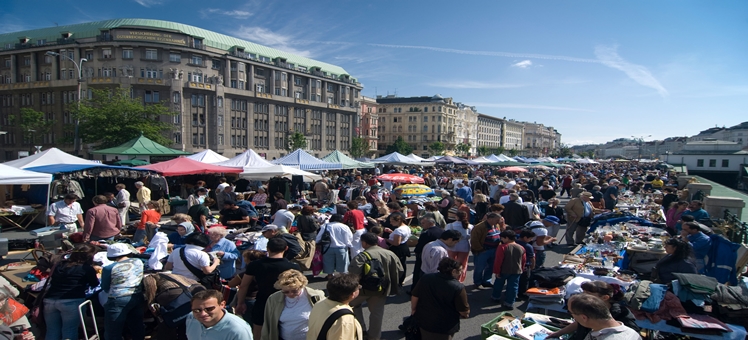 Shopping is a favored past time in Vienna, so much so that many of its popular shopping streets have been pedestrianized so shoppers can amble along care free, laden with purchases. From luxury goods, designer boutiques, antique shops and art stores which are housed inside flagship stores or in quaint one off shops in various shopping districts, Vienna has it covered.
Grarben Street (1st District)
Graben is one of the most famous streets in all of Vienna; it starts at Stock-im-Eisen Platz and ends at the junction of Kohlmmarkt and Tuchlauben. It was one of the first residential streets in the city serving as a marketplace since its beginnings in the 13th century to becoming the first pedestrian zone in 1974. Today, due the size of the Grabeb, it is often used for festivals and processions. Golden Quarter is a new luxury shopping centre in Vienna's Old City, offering top designer brands.
Mariahilferstrasses (6th District)
One of Vienna's busiest shopping streets is Mariahilferstrasses which runs through the bustling 6th district. It is the longest and most lively shopping street in Vienna. Home to the Naschmarket, it used to be only known to the local Viennese as a well-kept secret, but now more and more tourists float around as the secret has got out. Here, you'll find exotic fruits, vegetables, cheese and bread. Venture off into the side streets where quirky shops have started to spring up.
Flohmarkkt (between 4th & 6th District)
If bargains are more your thing as opposed to large shopping centers, visit the Flohmarkt on a Saturday morning. Just next to the Naschmarket is this attractive flea market, selling antiques, collectables and other charming pieces. Although, as with most flea markets, beware you aren't taking something worthless to be more than it is! This is also a great Saturday morning people watching spot with besis (small eateries), cafes and pubs nearby.
Kohlmarkt (1st District)
If you are on the lookout for some traditional Viennese jewelry or international luxury jewelry brands, then look no further than Kohlmarkt in the 1st district. Known as the Golden U, the area of downtown Vienna was formerly the area of court appointed jewelers. Today, the mix of marble and wood at the entrance to the Kohlmarkt gives a taster as to what you can expect inside; modern design mixed with craftsmanship.
Brunnenmarkt (16th District)
In the newly fashionable 16th district is the largest street market in the whole of Vienna, selling everything from vegetables and fruit to clothes. Surrounding the sides of the markets are Turkish kebab houses, perfect for a mid-shopping snack. They reflect the majority of the inhabitants of this district who are of Turkish Balakn descent, culminating in a vibrant area and an even more vibrant and diverse market.
Neubau (7th District)
If you want to return home with a one-off quirky new item in your wardrobe, or a great souvenir, visit the husband and wife run shop of Mot Mot in Neubau. This graphic designer duo create custom clothes with a difference. Choose from over 20 comic-book like designs to be screen printed on your choice of t-shirt or jumper or if you'd prefer to be a little more low key, accessories are on hand in the form of mugs and posters.
Shopping tips
: In markets bargaining is second nature, so don't be afraid to offer a sensible price. Carry cash as most markets won't have the facility to pay by debit card. At flea markets, try to be sure you are buying the real deal, especially if it's a hefty price.