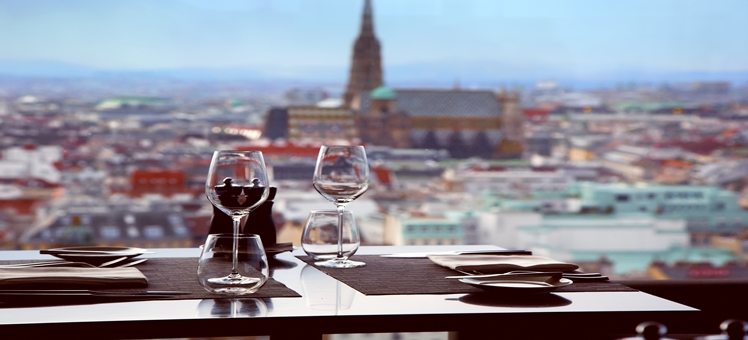 Vienna is without doubt, recognized all around the world for its coffee-house culture. Locals spend hours inside the walls of these informal national institutes to soak up the oasis they call Gemütlichkeit – translating as a happy, peaceful and welcoming place. Austria's central European location and imperial past means traditional Viennese cuisine contains mixed influences, but the schnitzel remains a firm favourite. Viennese cuisine is the only cuisine in the world to be named after a city too, so that's saying something!
Local food: The wiener schnitzel is perhaps the most iconic food of Austria, which is huge in Vienna. Thin cuts of meat are covered in bread crumbs and fried, like an escalope. Everyone is after the best schnitzel in town. Not forgetting the sweet apple strudel pastries, which go perfectly hand in hand with Vienna's real coffee house culture.
Innere Stadt (1st District)
Just inside the ring road, is family run Café Prückel, a firm favorite with the locals due to the Gemütlichkeit atmosphere. This old and traditional coffee house has been running for over 100 years, and is thus one of a few of its kind left. National and international newspapers adorn the tables for customers whilst fresh homemade pastries lure people in. Seating over 100 people outside on the terrace during the summertime, Puckle offers Viennese classics like boiled beef and vegetarian specialities as well as the strudel and historical named coffees like 'Maria Theresa'.
•
Café Prückel
, Stubenring 24, Vienna A-1010.
Landstrasse (3rd District)
Salm Bräu Klosterbrauerei is a restaurant and a brewery in the 3rd district of Vienna, Landstrasse. The highlights of this restaurant cum brewery, otherwise known as a gastropub, are the famous whisky distillery and the 25 cm long ribs. Salm Bäru also sells its own brewed beers adding that personal and attractive touch. The restaurant is known for its good service and even better large portions of Viennese food, which is still very reasonably priced.
•
Salm Bräu Klosterbrauerei
, Rennweg 8, next to Lower Belvedere Palace, Vienna 1030.
Widen (4th District)
Just off of the shopping street, are lots of besis (small eateries) wafting the smell of their freshly cooked food towards the hungry shoppers of the nearby markets. There are also lots of cafes and pubs to enjoy people watching from. The Anzengruber restaurant which has a café/ pub atmosphere near to the Naschmarkt, is family run with a small but appetising menu. Try goulash, stuffed peppers and the wiener schnitzel which is popular with the locals and wash it down with the original Czech Budweiser beer.
•
Anzengruber
, Schleifmuhlgasse, Vienna, 1040.
Neubau (7th District)
Maschu Maschu in the 7th district of Neubau has a great relaxed atmosphere and is known for its quick service, falafels, hummus and salads. Food is reasonably priced and the Middle Eastern and Israeli food is authentic and generous. The menu is varied and it is a great place for a quick bite or a romantic dinner for two. Not forgetting the veggies, Maschu Maschu also does its own version of the Viennese favourite, a veggie schnitzel.
•
Mashu Mashu
, Neubaugasse 20, Vienna A-1070.
Brunnenmarkt (16th District)
For the best place to get really good Turkish food any time of day, (well until 2am), head to Kent in the 16th district. Keeping up with the culturally diverse food in Vienna, Kent offers authentic Turkish food. In the summer, the garden is one of the prettiest outdoor places to eat in town. Whilst the menu offers everything from breakfast to deserts, it is all available to take away too. Specialties are the ispanaki pide – a long Turkish pizza with sheep's cheese.
•
Kent
, Brunnengasse 67, Vienna 1160.