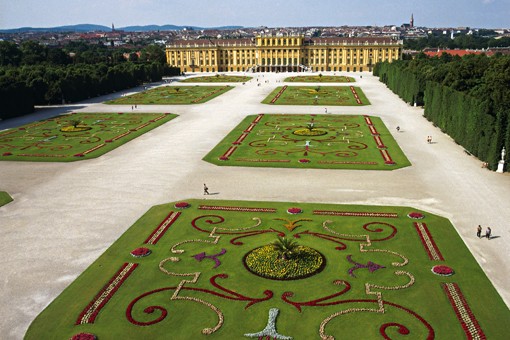 Book a Vienna hotel for a romantic whirl of chandelier-lit coffee houses and storybook Hapsburg palaces. Waltz along the blue Danube or take a dizzying ride in the Riesenrad Ferris wheel. Use this guide to find your vision ofRomantic Vienna.
Sachertorte at Café Sacher
Slip into the romance and red velvet of the 19th century at Café Sacher. Chandeliers and gilt-framed oil paintings create a grand setting while you crack the icing on a rich Sachertorte chocolate cake with apricot jam. The romance is heightened by an afternoon pianist.

Philharmonikerstrasse 4, 1010 Vienna


Seeking The Kiss in the Upper Belvedere Gallery
Hidden away in Prince Eugene of Savoy's 18th-century summer palace is Gustav Klimt's captivating The Kiss. The Viennese artist's most famous work, the gold-brushed, mosaic-like painting portrays a couple locked in a tender embrace on a bed of flowers.

Prinz-Eugen-Strasse 27, 1030 Vienna


Butterfly feelings at the Schmetterlinghaus
Ensconced in a graceful Art Nouveau glasshouse in Burggarten park, the imperial Schmetterlinghaus (Butterfly House) is aflutter with hundreds of near-noiseless wings. It's a hotspot for weddings.

Burggarten, 1010 Vienna


Rising above Vienna on the Riesenrad
Get a giddy view of Vienna's cityscape with a spin on the Riesenrad Ferris wheel. Candyfloss smells and merry-go-round music fade as the wheel gently turns above the greenery of Prater park, as it has done since 1897. Take a ride after dark to see Vienna illuminated.

Riesenradplatz 1, 1022 Vienna


Opera at the Staatsoper
Nothing says romantic Vienna quite like a night at the Staatsoper (Vienna State Opera). Shaped like a horseshoe, the red-and-gold auditorium sets the scene for world-class opera and ballet, with the celebrated Vienna Philharmonic in the pit.

Opernring 2, 1010 Vienna


Tracing the Danube on Donauinsel
Strauss composed a waltz to its beauty and there is something lyrical about the way the River Danube snakes through Vienna. Get a closer look from the Donauinsel, a green slither of an island east of the centre, with riverside promenades, bathing areas and pedalos made for two.

Donauinsel, 1220 Vienna


Sipping wine at Esterházykeller
Tucked away in a cobbled courtyard in the bowels of Esterházy palace lies this 17th-century Heurige (wine tavern). Brick vaults and wooden booths make the cellar an intimate place for tête-à- têtes over homegrown Riesling and Grüner Veltliner wines.

Haarhof 1, 1010 Vienna


A horse-drawn carriage through Vienna
If you hear clip-clopping from your Vienna hotel, it's a horse- drawn Fiaker carriage. A spin is most romantic by night when gold light bathes the Innere Stadt's monuments and cobbles. Carriages line up for custom on Stephansplatz, Albertinaplatz and in front of the Hofburg.
A walk in the park at Schloss Schönbrunn
Follow in royal Hapsburg footsteps in the whimsical gardens of baroque Schloss Schönbrunn. A languid stroll takes in dancing fountains, flowery parterres and romantic follies like the Star Pool ringed by marble nymphs. Lose yourself in the hedge maze before visiting the Carriage Museum, filled with gilded Cinderella-worthy coaches.

Schloss Schönbrunn, 1130 Vienna


Hapsburg fantasies at the Hofburg
Once the centre of the 600-year Hapsburg Empire, the Hofburg palace is fairytale stuff, sheltering exuberant imperial apartments and a treasury glittering with plum-sized rubies. Time your visit to see snow- white Lippizaner stallions trot gracefully at the Spanish Riding School at 10 a.m., or to hear the revered Vienna Boy's Choir sing Sunday mass in the chapel.

Kaisertor, 1010 Vienna