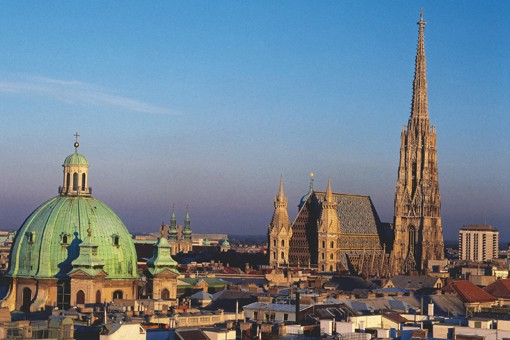 A Vienna city break glides effortlessly between the past in gilded Hapsburg palaces and art galleries and the present in slinky lounge bars and design-driven boutiques. Book a Vienna hotel to discover a city full of fairy tales and 21st-century fantasy.
Get your bearings
Vienna divides neatly into 23 districts, spiralling out from the Unesco-listed Innere Stadt, home to smart Vienna hotels, restaurants and landmarks like the Hofburg palace. Trams rattle around the monumental Ringstrasse boulevard, nicknamed 'The Ring', which encircles the Innere Stadt. East of the centre lies Leopoldstadt, where the Riesenrad Ferris wheel turns above the Prater park, flanked by the Danube River. Going clockwise south from Leopoldstadt is low-key Landstrasse, hiding the Belvedere Gallery, and arty Wieden centred on Art Nouveau Karlsplatz. Continuing west leads to Mariahilf's high-street shops and foodie Naschmarkt, and forward-thinking Neubau's innovative boutiques, bistros and MuseumsQuartier.


Speciality shopping
Vienna rises to the buzz of street markets like Naschmarkt, where shoppers pick up fruit and spices before grabbing a breakfast of Palatschinken (crêpes). Wander down Graben for made-to-measure fashion, fine porcelain and century-old sweet shops filled with handmade Viennese pralines. Nearby, Kärntner Strasse harbours Österreichische Werkstatten, a showcase of Austrian-made crafts, and design-oriented department store Steffl. Roam Mariahilfer Strasse for high-street brands. Individualism trumps conformity in Neubau, where idiosyncratic boutiques sell gadgets and avant-garde fashion – some doubling as hair salons.


Relaxed dining
Laid-back Vienna city breaks unfold in coffee houses over a grosser Brauner (double espresso) and Sachertorte chocolate cake. Some are temples to rococo, dripping with stucco and chandeliers, while others are wood panelled and filled with rustling newspapers. Look for a fir branch identifying a Heurige (wine cellar) to sip local Rieslings in the vaults. Neubau serves fusion cuisine in arty bistros and cool DJ supper clubs. Wash down Wiener schnitzel with foaming beer in one of Prater's leafy beer gardens. Late-night nibblers grab a cheese-infused Käsekrainer hotdog at a Würstelstand (sausage stand) on Hoher Markt.
Rich culture
Hapsburg coffers funded the Kunsthistoriches Museum, a rambling attic of Egyptian sarcophagi, Roman sculptures and Old Master paintings from Vermeer to Caravaggio. At the Upper Belvedere Gallery, art fans swoon over the world's largest Gustav Klimt collection and the painter's famous The Kiss. For first-rate contemporary works, hit the MuseumsQuartier, a cluster of dynamic galleries housed in the former imperial stables. Daring Viennese artist Friedensreich Hundertwasser gave flight to his fantasy at Hundertwasserhaus and KunstHaus Wien, which astonish visitors with color explosions, mirror mosaics and wonky floors. Dress up for opera at the palatial Staatsoper or to hear the Vienna Symphony Orchestra play the Konzerthaus.


Imperial history
Get a glimpse of ancient central European civilisation by pondering the voluptuous Venus of Willendorf, an 11cm-high statuette dating from 22,000BC, at the Museum of Natural History. Go Gothic at mosaic-tiled Stephansdom (St Stephen's cathedral) by climbing the skeletal tower for a gargoyle's-eye view over Vienna. The Hofburg's lavishly gilded apartments chronicle 600 years of the Hapsburg Empire. Waltz back to Vienna's golden age in the sprawling baroque palaces of Belvedere and Schloss Schönbrunn.