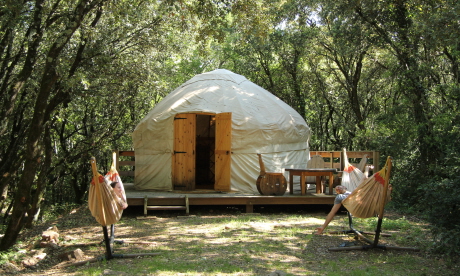 5 cool campsites in France
Sleeping bag and guidelines at the ready: Here are 5 cool French campsites you don't want to miss, taken from Cool Camping France, 2nd Edition
1. The Alps
Camping Le Grand Champ
Situated at the foot of the Mont Blanc mountain range, Le Grand Champ offers beautiful views across the stunning Chamonix Valley. Upon arrival, ask for a room with a view, and hope that you can soak in the expansive vistas as well as breathing in the crystal Alpine air.
This is a great place for skiers, although not for the faint-hearted. The majority of visitors are here for the walking, climbing, mountain-biking, paragliding, and rafting, but if you're up for the challenge, you can hire a guide to get you to the top of Mont Blanc.
Or simply order a coffee and sit in the town square looking up…
2. Ardèche 
Mille Étoiles
The beautiful Mille Étoiles, overlooking the Ardèche River, is easily one of France's loveliest campsites. The forested land, sitting high above a canyon of sparkling, turquoise waters, is fairy-tale-perfect. It's the extra special touches, like the lanterns at night, and posh toiletries in the wash-rooms, that make this campsite really stand out.
Experienced campers who celebrate the great outdoors, who like being active, and who can always opt for a little luxury (a proper bed to sleep on) will get the most out of a stay here. One look at these nomadic Mongolian yurts and fancy family bathrooms suggests that there's a lot more to this campsite than just the enchanting surroundings.
3. Languedoc
Camping La Cascade
Salvinsac, 48150 Meyrueis; 00 33 4 66 45 45 45; www.camping-la-cascade.com
If the views along the Gorges de la Jonte don't make your jaw drop, then the fantastic atmosphere at La Cascade certainly will. The campsite itself is big, but in a good way. Wherever you pitch your tent you'll get lots of space and lovely open-sky views, either of the handsome Causse Méjean or the fresh, towering pines on the other side.
There's also a sizeable boules court, a small library, a playground for kids, and a badminton net stretched across one field. Next door, there's a waterfall to splash about in, or you can go on a guided hike during summer. Since the site is located within the Parc National des Cévennes, there's an abundance of activities off site, too.
4. Midi-Pyrénées
Caudet Radha Yoga Centre
If it's good old-fashioned French family hospitality you're after, then look no further. Les Tilleuls has the kind of open, comfortable atmosphere that makes you feel immediately at home.
It's a singularly attractive site too: enjoying sweeping views over a breathtaking mountainscape, taking in Campbieilh, Coumély, Le Cirque de Gavarnie, and an array of old stone houses. The main camping area has been separated into four tiers, all of which have spectacular views, so there's no need to fret over bagging the best spot. Just don't forget your camera!
Cool Camping France, 2nd Edition
100 exquisite campsites with added ooh-la-la
(Punk publishing, £16.95)